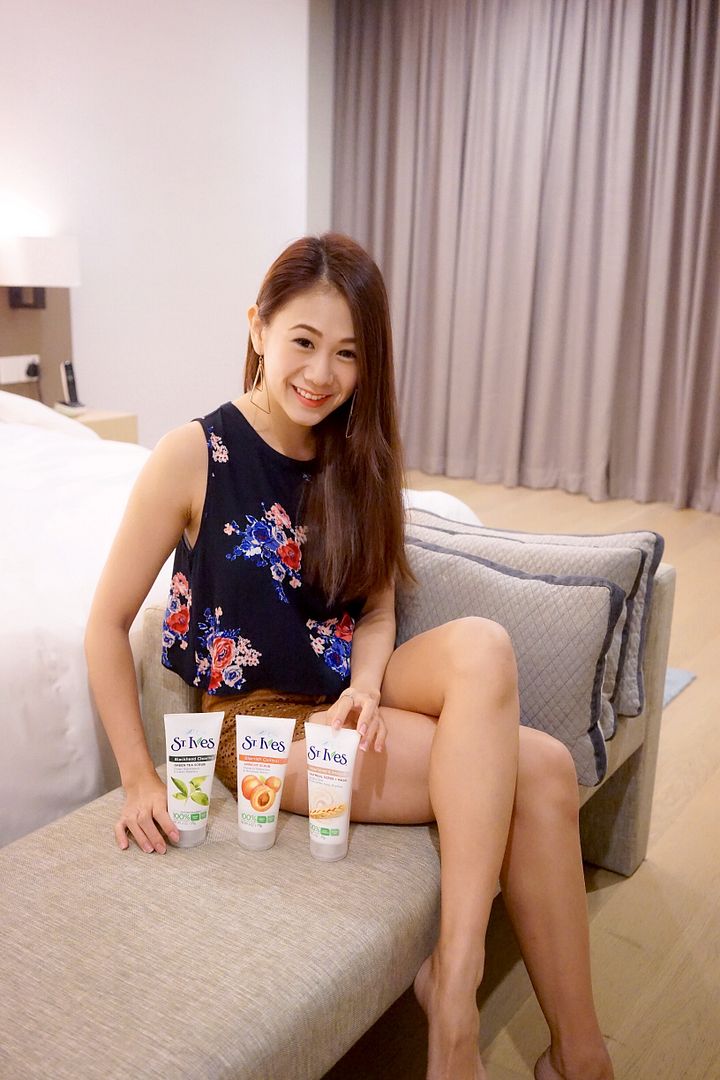 The last time round, I shared through a
blog post
about St. Ives range of bodywash and how each variant's ingredients will be beneficial to our body! This time round, I got to try their range of facial scrubs that got me excited because I know how important exfoliating is to keep my skin radiant!
You would already know now that St. Ives is a brand that is made with nourishing and refreshing ingredients and is made with 100% Natural exfoliants, extracts and moisturisers. The brand knows that girls don't want to put harsh chemicals on their face and body, which is why St. Ives is important for every face and body cleansing/care routine! These scrubs I got to try are incredibly popular internationally and are actually the USA's number 1 scrub!
Here is St. Ives range of Facial Scrubs I reviewed over the last week or so! There are Apricot Blemish Scrub, Oatmeal Scrub and Green Tea Scrub (they also have a Pink Lemon and another Apricot 'Fresh Skin' product available in Singapore).
I told St. Ives about some of my main skin issues and they said I should try these 3 great products to cater for my needs! Each product is specially formulated to solve your greatest skin concerns!
Apricot Blemish Scrub (Hero product!)
St. Ives includes an extra special ingredient into this Apricot Blemish Scrub- corn kernel meal from dried corn, which I just learnt is a gentle but powerful exfoliant that promotes new cell growth for softer, more radiant skin! Another ingredient in this scrub, Walnut shell powder, also gently exfoliates, revealing a brighter complexion!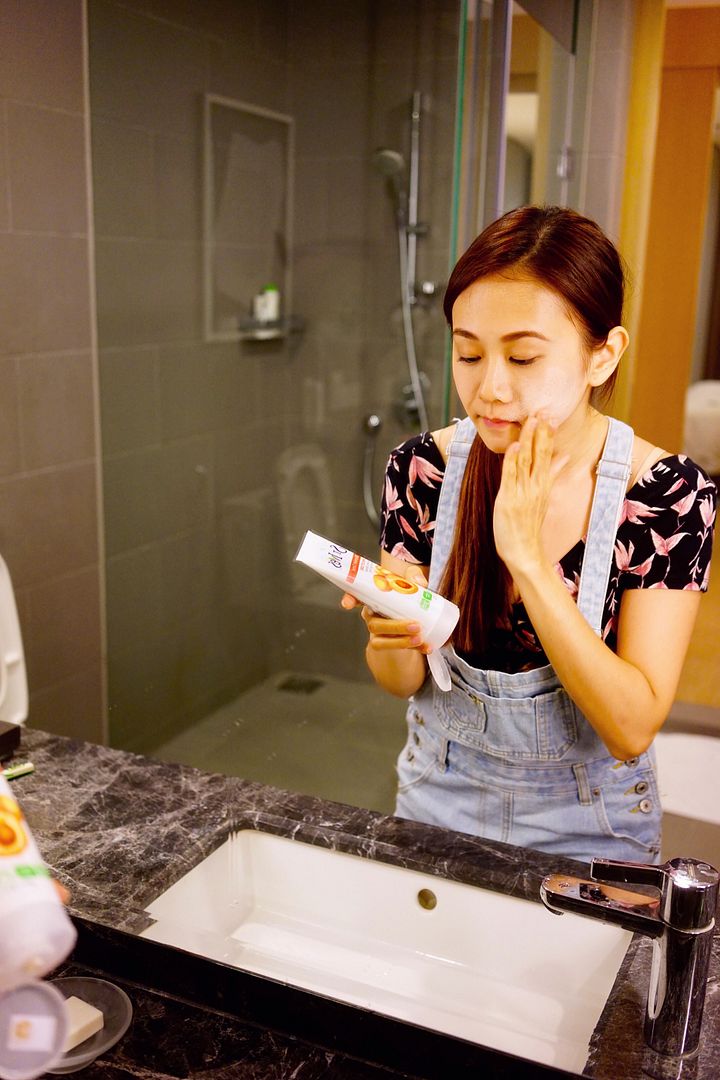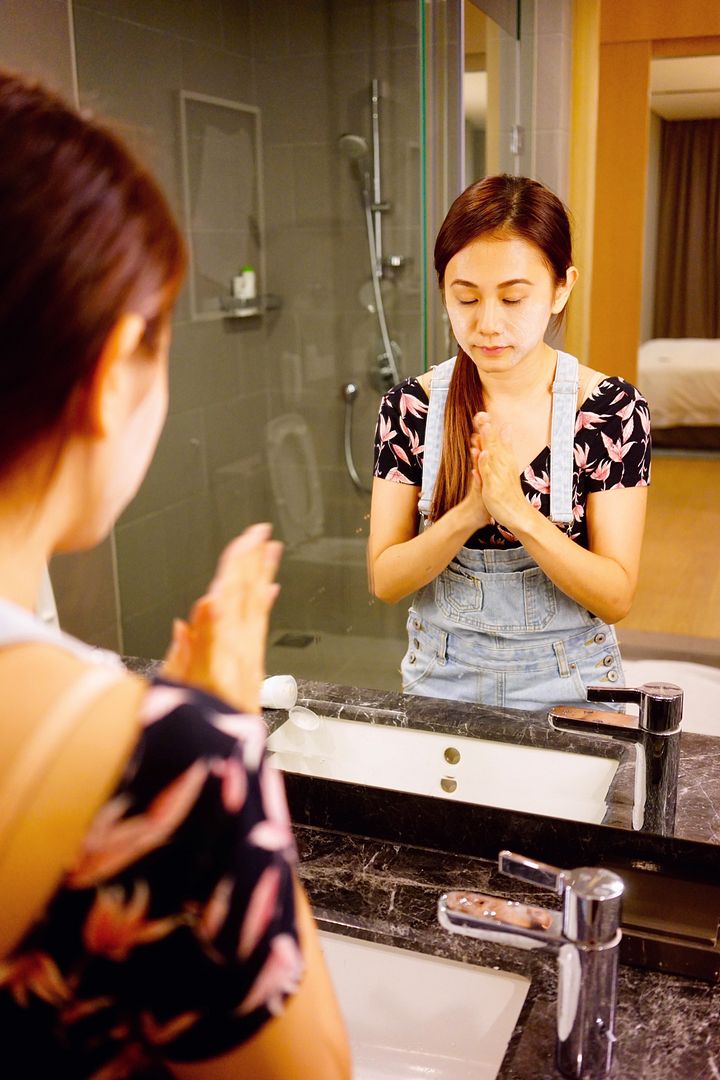 My skin felt really soft right after I wash off! This got to be because apricot extracts have high levels of purifying carotenoids (like Vitamin A) and antioxidants, so they're effective in cleaning, polishing, and nourishing skin!
If you are prone to blemishes and have dry skin, Apricot Blemish Scrub is best suited for you!
Oatmeal Scrub
Combining creamy oatmeal with 100% natural exfoliants, this variant can be used as a scrub to smooth away dullness or a mask to help moisturise and soften your skin! I personally prefer to use it as mask after I get home from a long day out in the sun.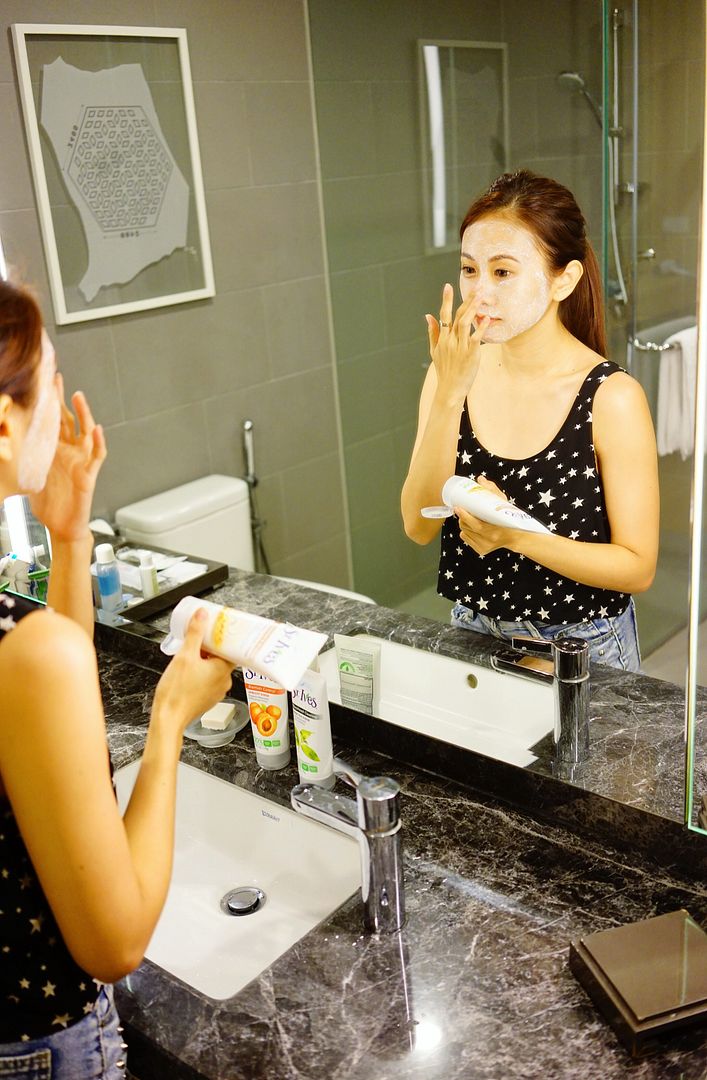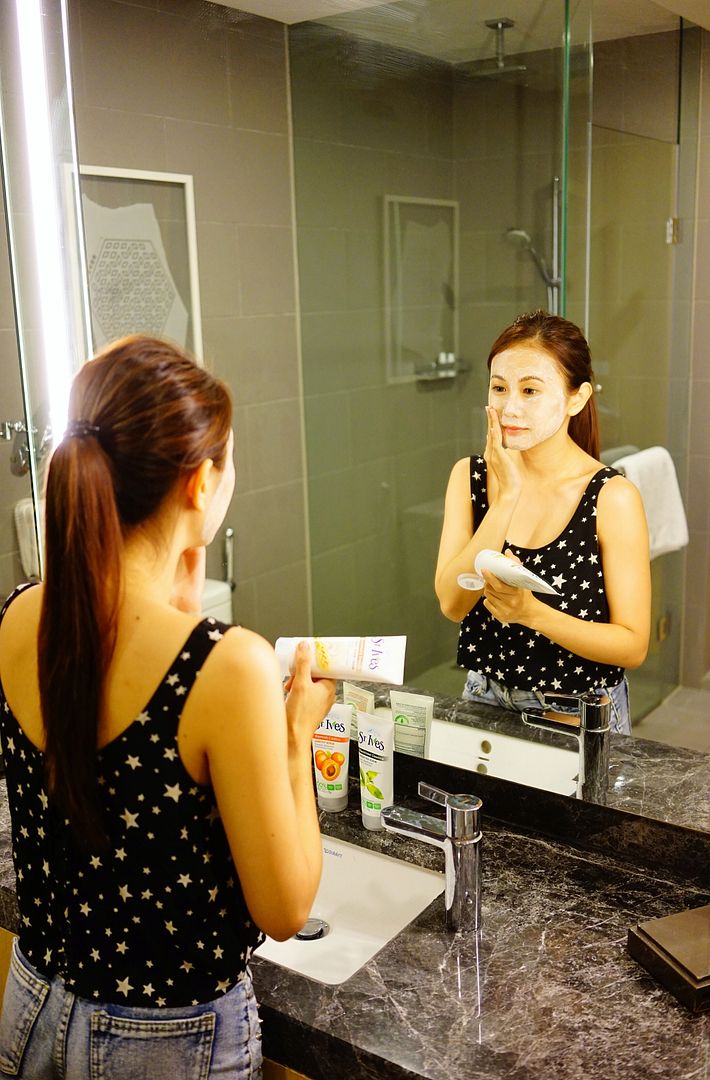 I would take my long shower, slap on a generous amount and do some work on my laptop or read my magazines. I leave it on for 5 to 7 minutes before getting up to rinse off!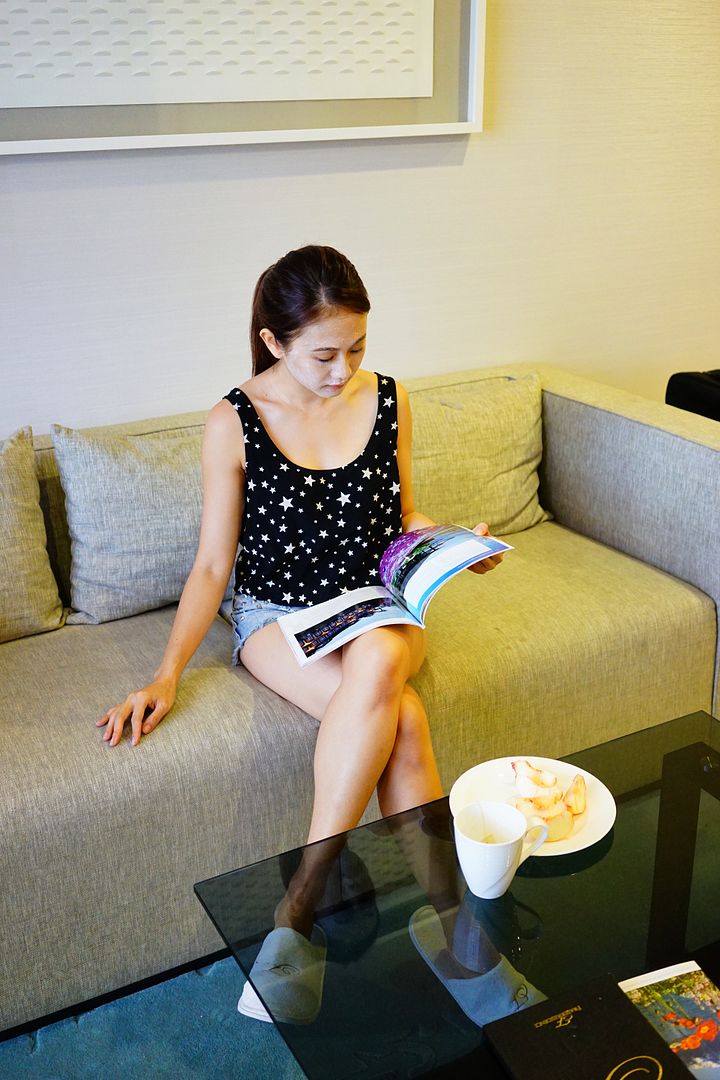 If you have dull skin, the Oatmeal Scrub is for you! And for those who loves masks, you would like how this variant can be doubled up as a scrub or mask!
Green Tea Scrub
This is the scrub for those blackheads! The scrub blends green tea, olive leaf extract and 100% natural silica exfoliants which will also work to calm redness of skin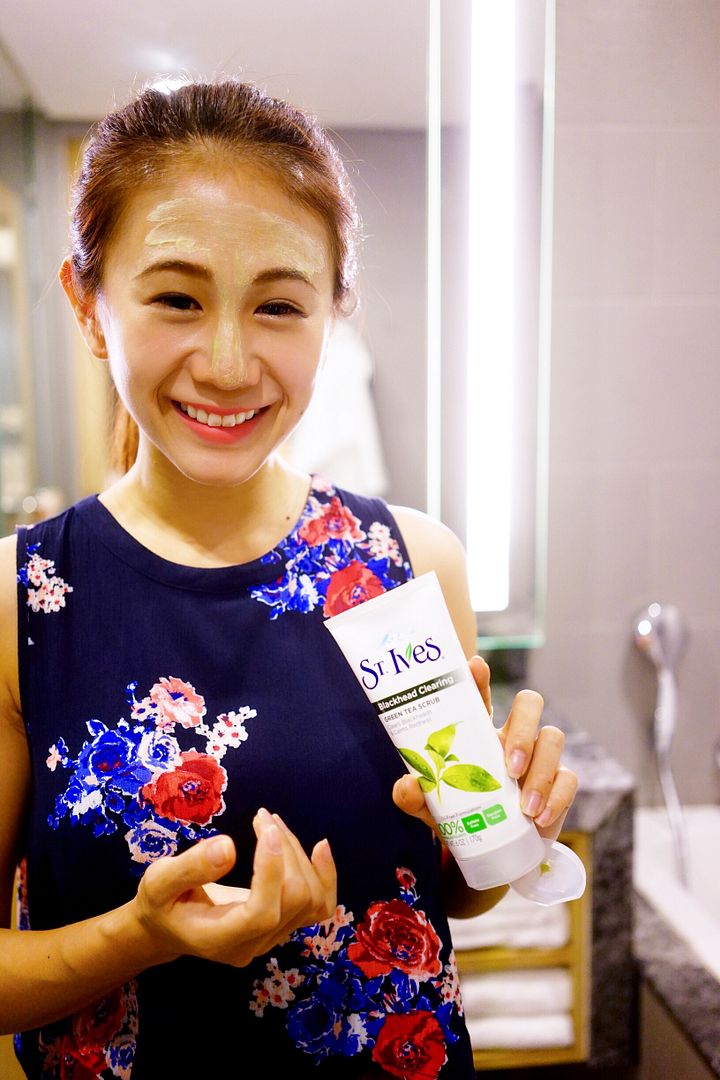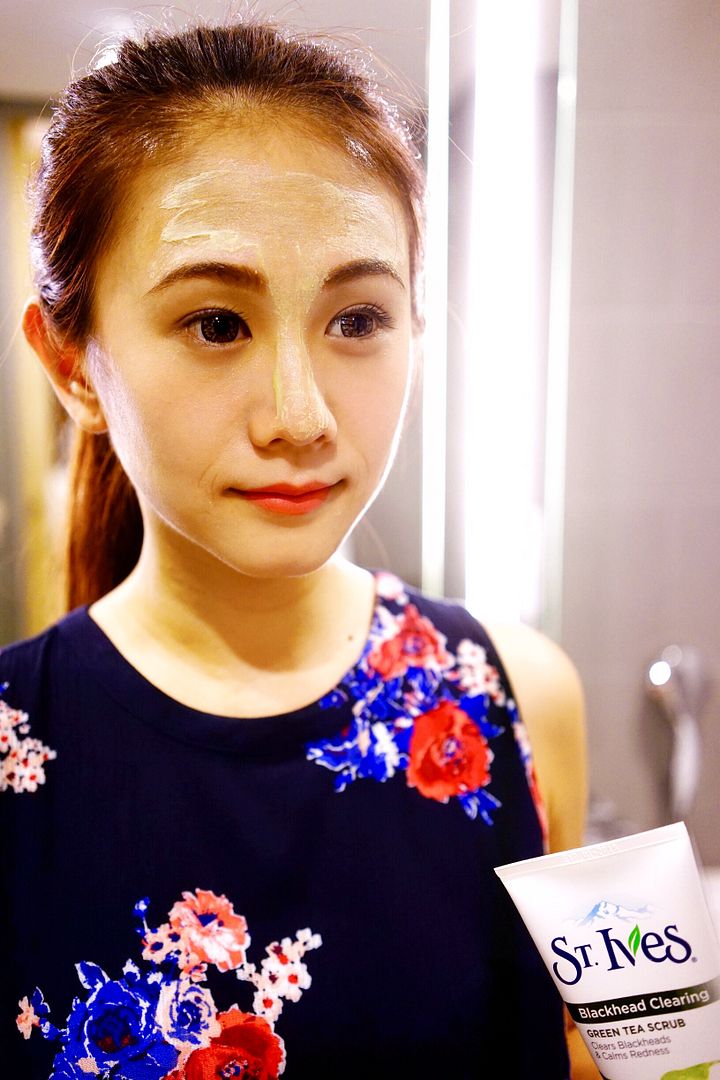 I prefer to target especially my nose area where the blackheads form more frequently. If you have pretty serious blackheads too, then this variant is for you! It is formulated to help prevent blackheads and acne blemishes from forming!
So just to summarize why you should start on St. Ives too:
Naturally cleanses and exfoliates the skin.
Nourishes your skin from the outside in! I am big on eating clean, I believing in nourishing from the inside! We eat and stay healthy, advice on how we are all concerned about what we eat and exercise to keep healthy, don't you want to do the same on the outside? All products are made with 100% natural exfoliants. Some of their other natural exfoliants and moisturizers include apricot extract, shea butter, soy bean oil, and many more!
Not just the ingredients are natural, St. Ives's packaging is also eco-friendly! Packaging and distribution uses as many renewable, recycled materials as possible too! You can read more about their Natural Philosophy here!
For me, my favorite variant is the oatmeal scrub! I like it's versatility of being able to use it as a facial wash or a leave on mask on days where my skin are more troubled! It's not harsh, moisturises well and my skin feels soft and supple after application! There's nothing not to love about this variant!
Each product has its own unique claim and benefits! So there's definitely 1 variant which will work best for your skin! You can make your purchase right away via
Redmart
!