Day 3 was our day trip to Ipoh! Another scenic view as we drove for 1.5 hours!

First stop was ipoh noodles at Tricycle Chicken & Prawn Kuey Teow at Thean Chun Restaurant!
Haven't been to Ipoh so I was excited to have a bowl of their popular Ipoh noodles! We waited for more than 30 minutes for our noodles because we went there at lunch time and there were a lot of locals having their lunches there too.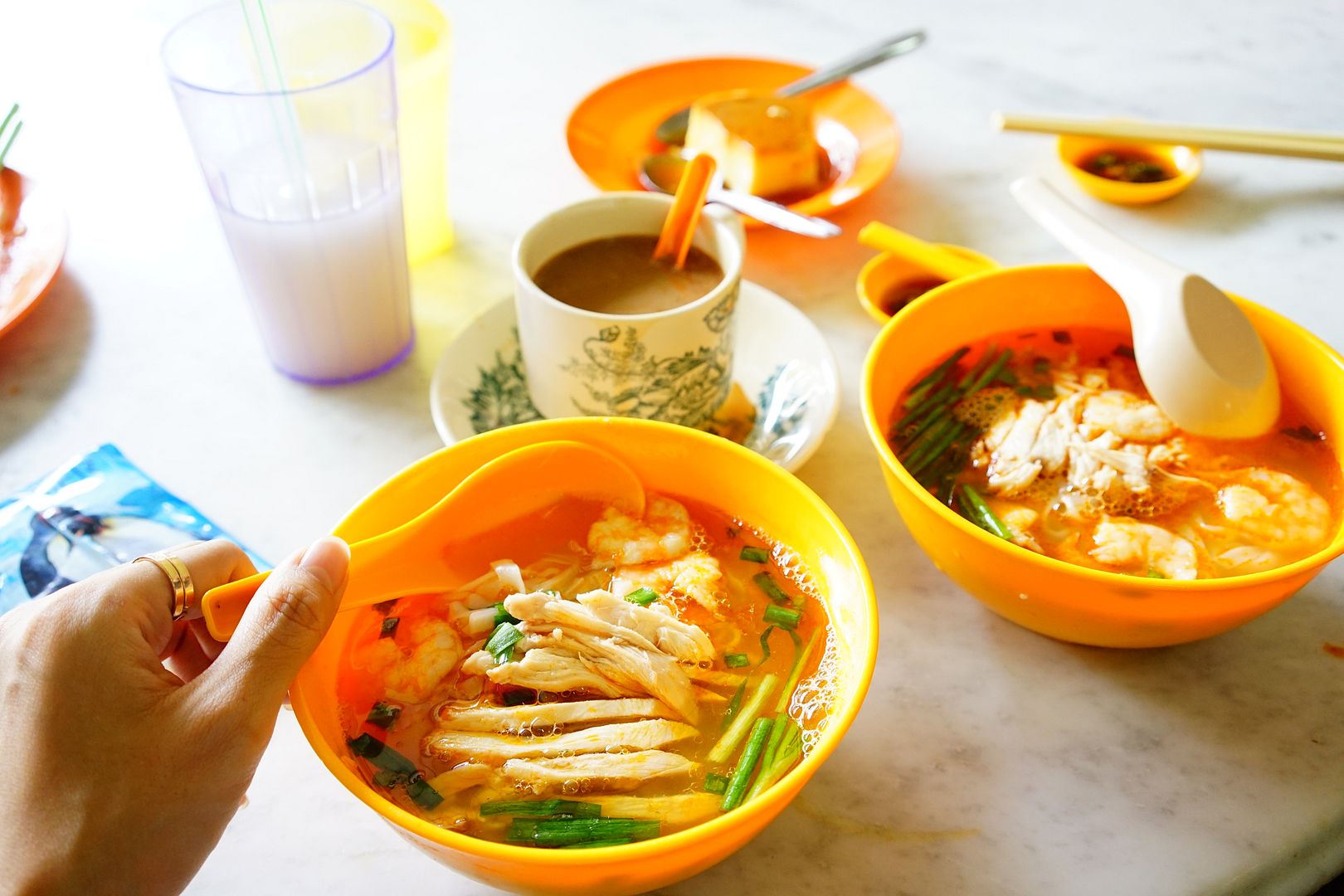 Sar Hor Fun (Chinese : 沙河粉) - Ipoh is famous for its flat rice noodles, which is prepared with local unfiltered spring water. There are two varieties: Kai see hor fun (Chinese : 鸡丝河粉) is served in a clear chicken and prawn soup with chicken shreds, prawns and spring onions.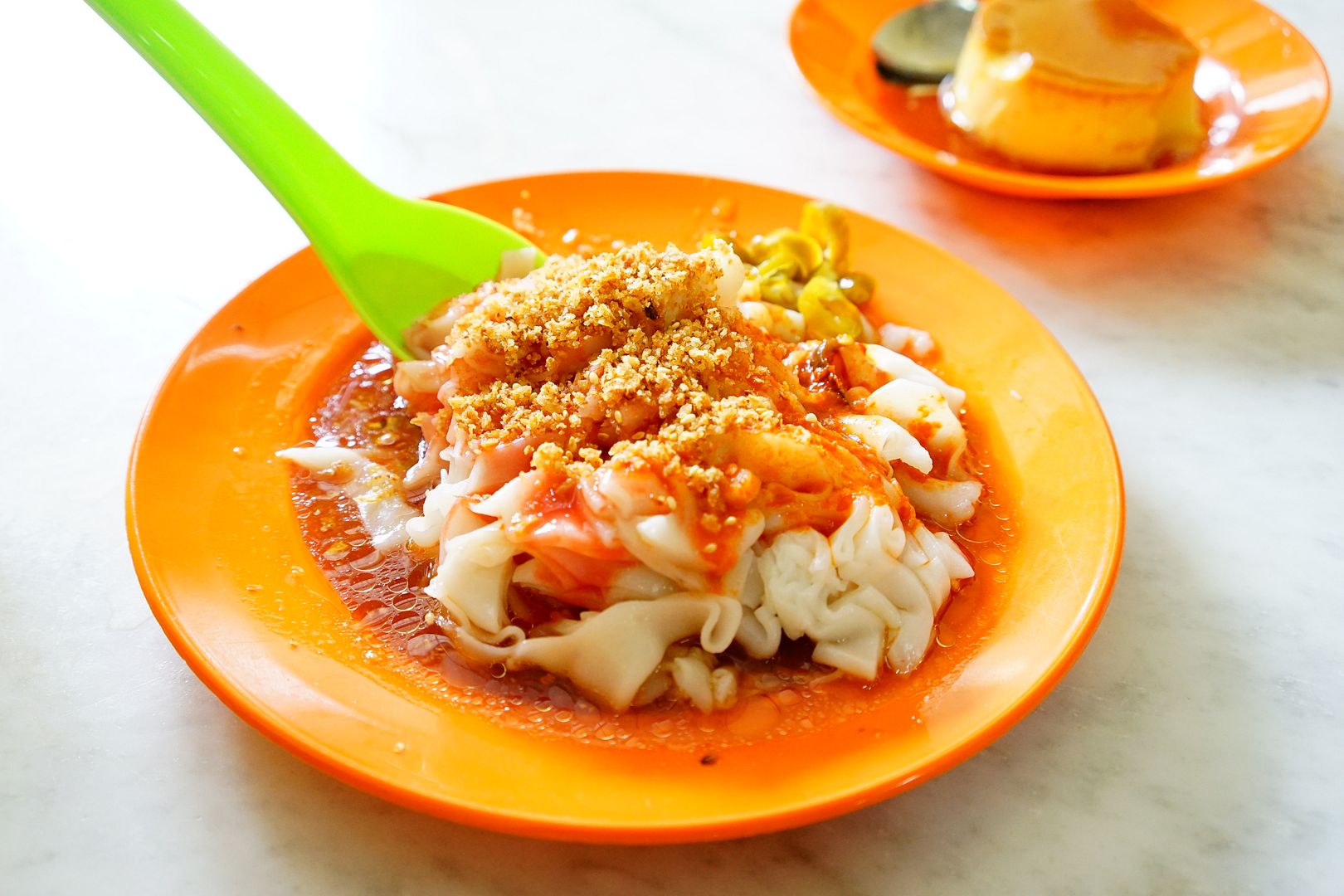 We loved the chee cheong fun so much! It was really different from what we have in Singapore but we couldn't finish the caramel egg custard, it was too sweet for our liking.
Tricycle Chicken & Prawn Kuey Teow at Thean Chun Coffee Shop
73, Jalan Bandar Timah, 30000 Ipoh, Perak, Malaysia
More pictures in Ipoh cause even their metal shutters are all vibrantly colored!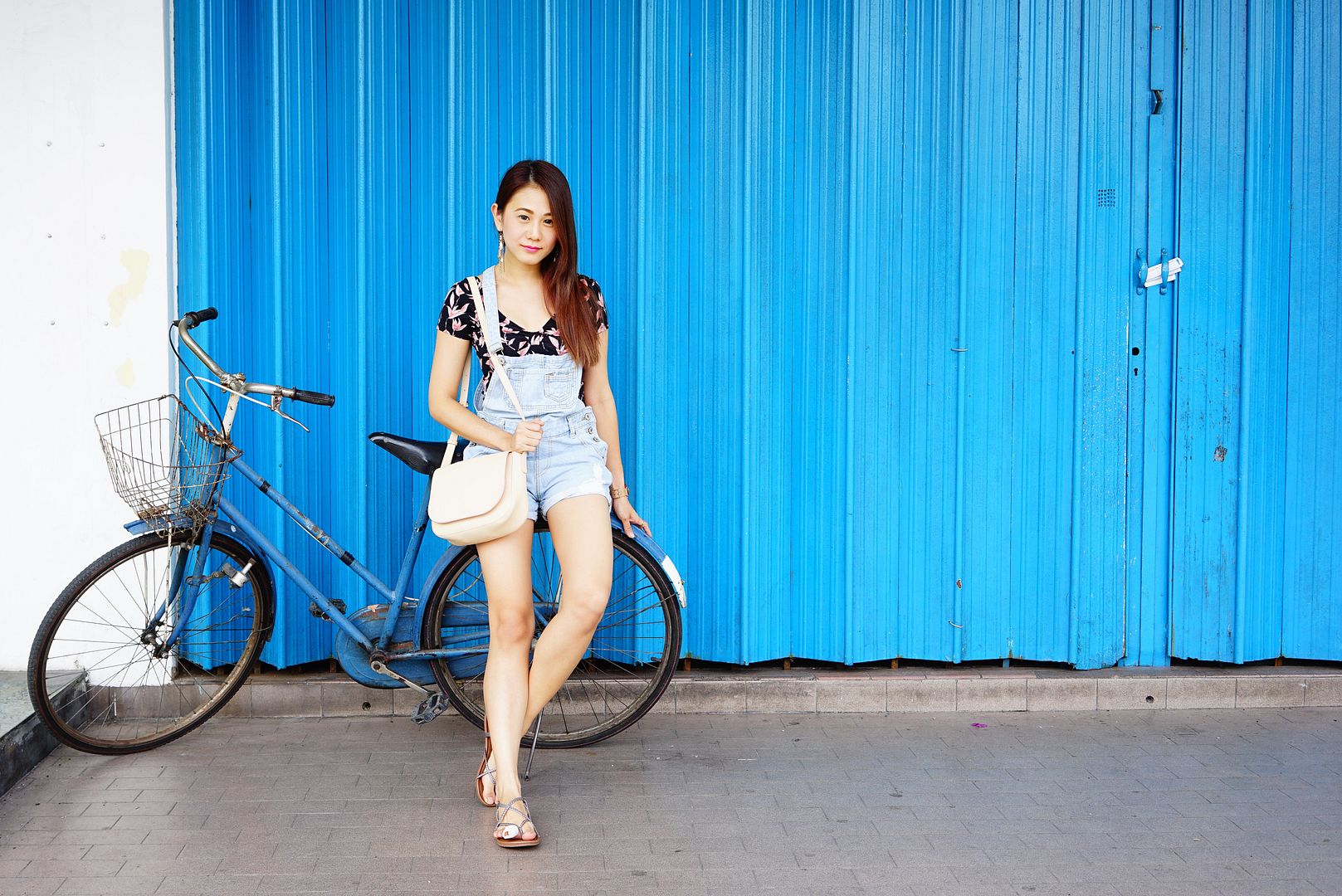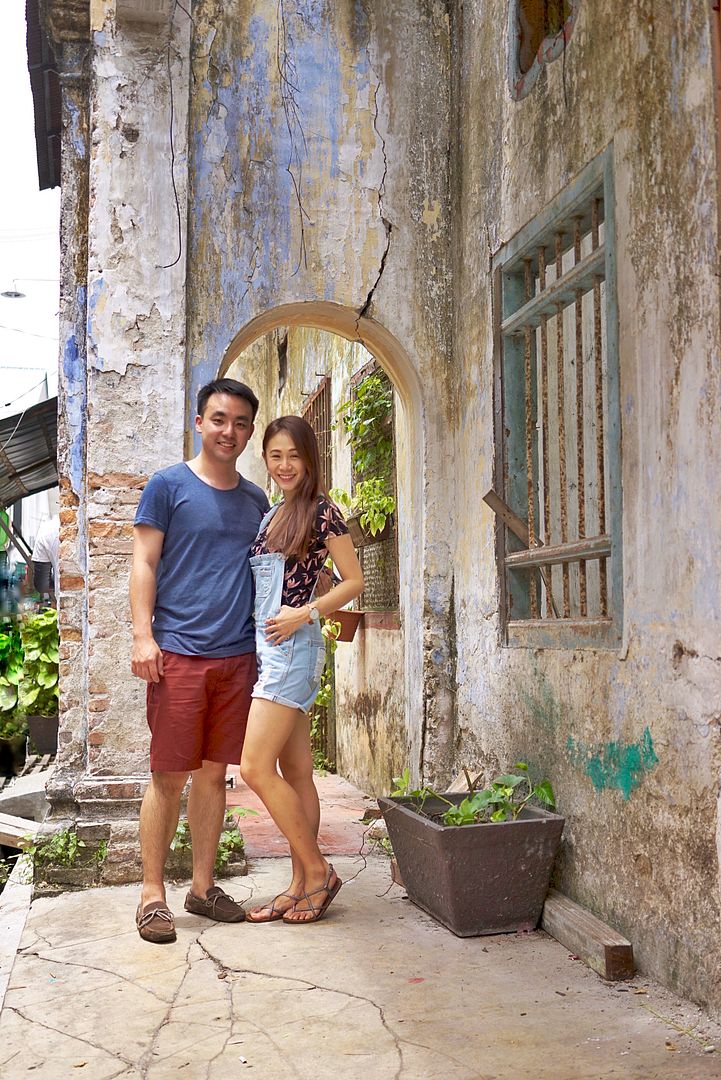 Photo with the ah gong who tried to stop passers-by from photobombing our picture! This is my favorite picture of us this trip!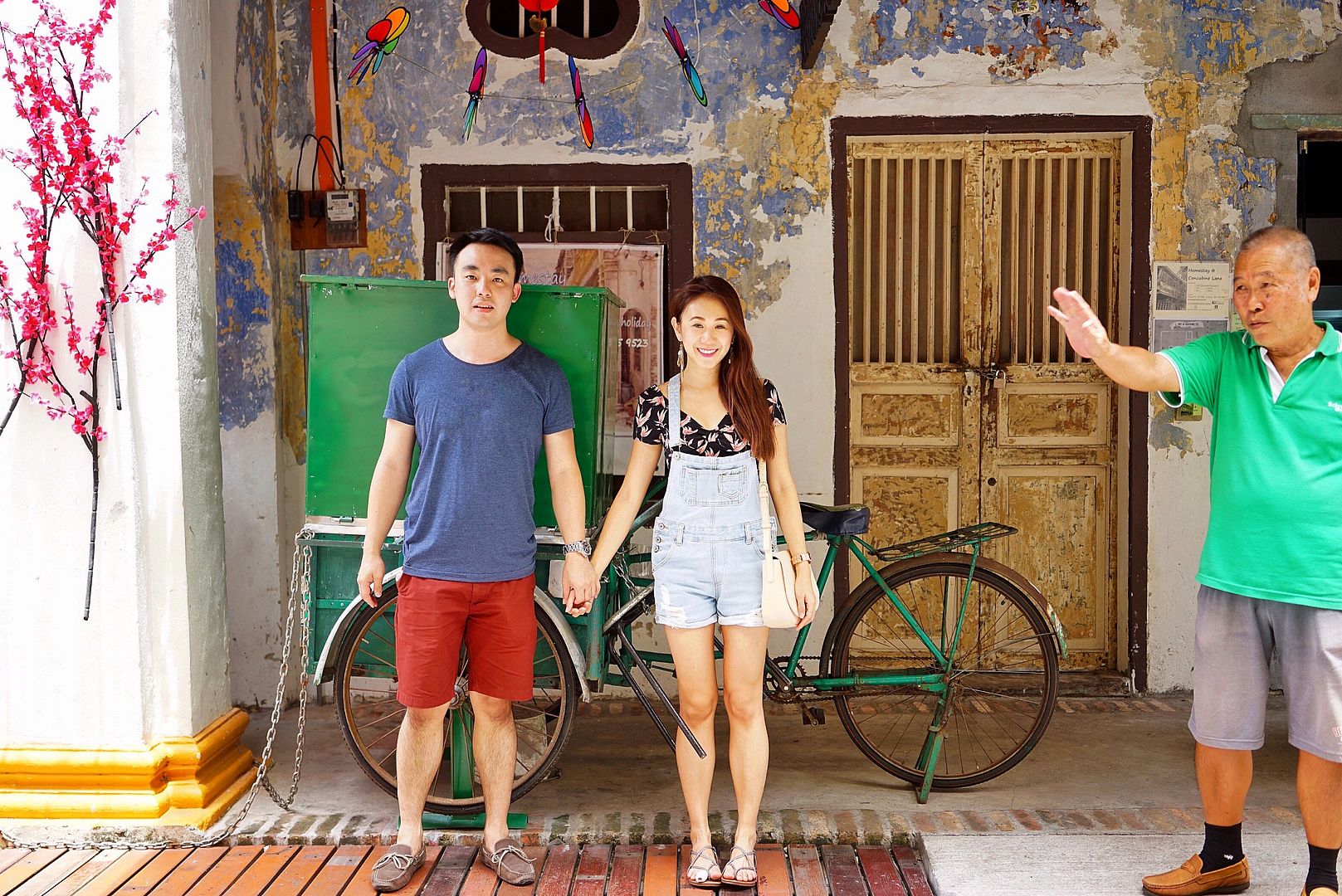 Thank you Ah Gong for being so kind!!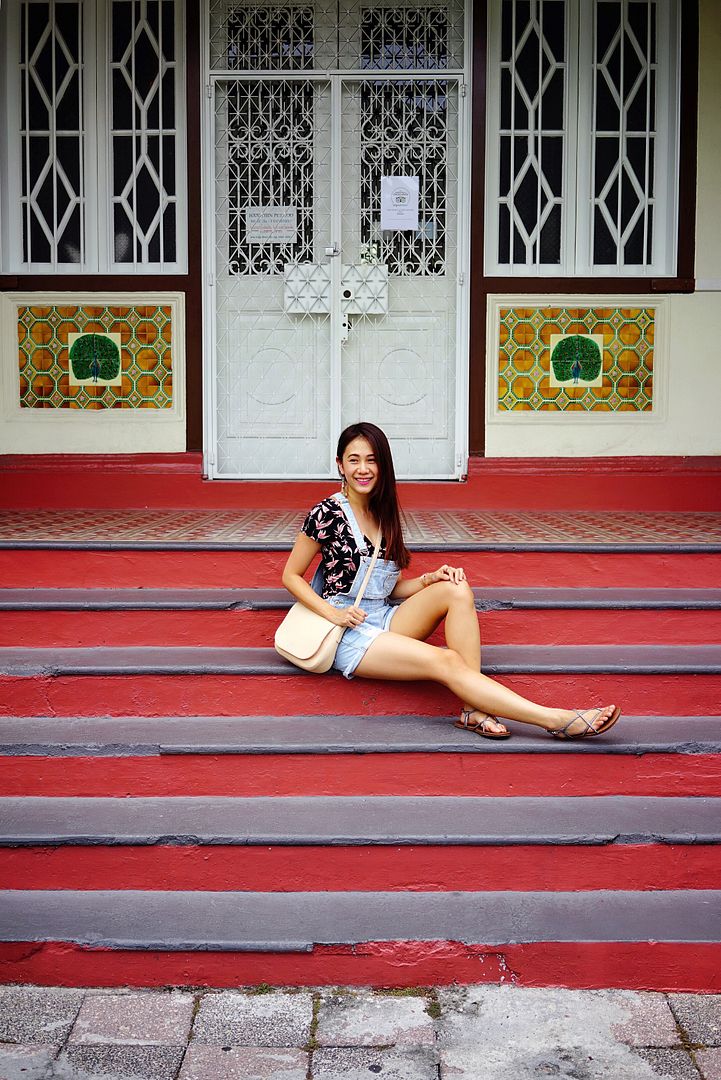 We walked on to find all the Ipoh Old Town graffiti walls! Love told me there were 6 but after I came back to pen this post, I
googled
and found that there were actually 7! We didn't capture Evolution because there were some renovations to the wall and we didn't even get to see Trishaw. Boohoo!
Here's the
map
to the 7 walls!
Old Uncle with Coffee Cup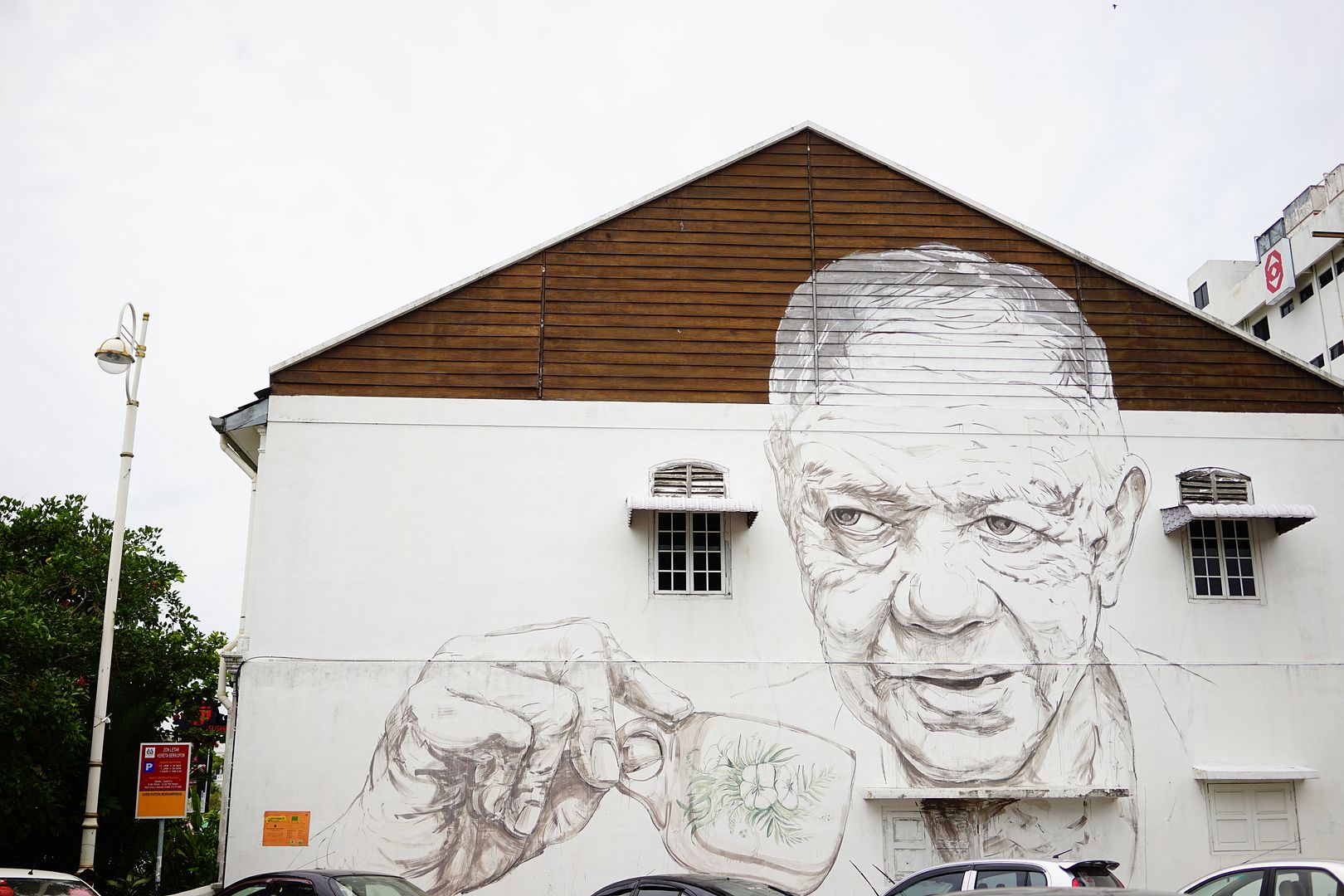 Road Name: Jalan Dato Maharajalela
GPS: 4.59787,101.076169
The mural shows a portrait of an old uncle drinking coffee. It's located nearby the famous franchise OldTown White Coffee eatery facing the Ipoh Field.
Paper Plane
Road Name: Jalan Sheikh Adam
GPS: 4.597715,101.076882
Nearby the first mural, just walk further down the road from Oldtown White Coffee and the Paper Plane mural can be seen. It shows 2 children enjoying their childhood with a paper plane.
Kopi-O
Road Name: Jalan Tun Sambathan
GPS: 4.597151,101.078703
This mural can be reached if you continued to walk along the road adjacent to Ipoh Field and across the main road. Kopi "O", despite being black coffee, is one of the murals to celebrate Ipoh as the birth of the famous white coffee.
Hummingbird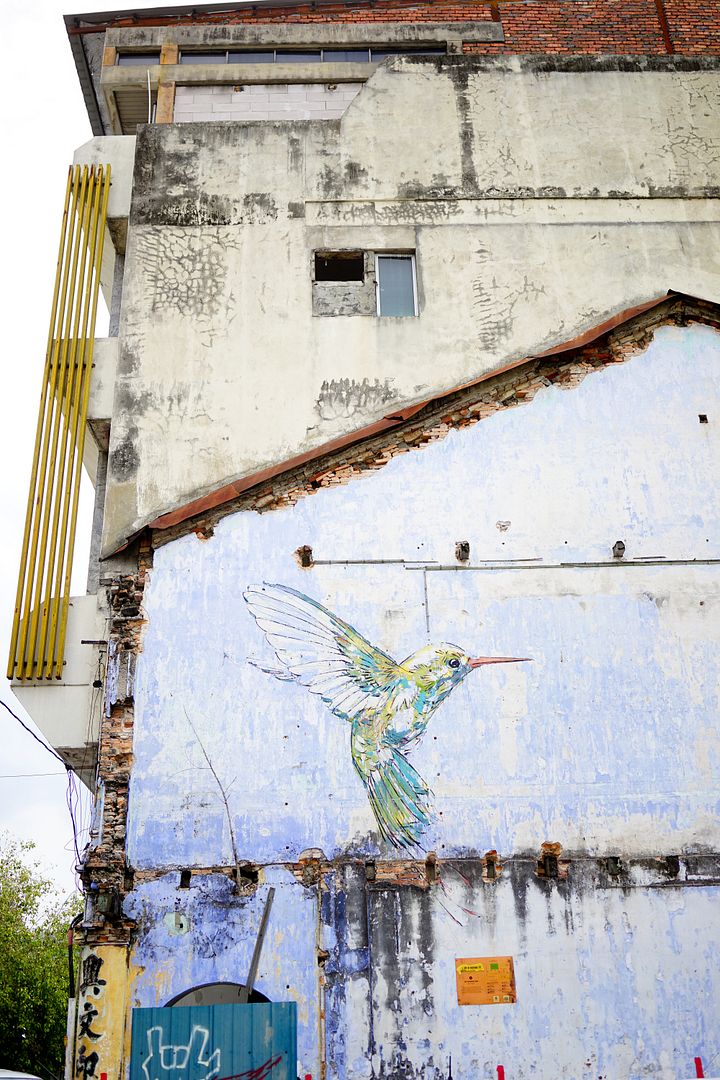 Road Name: Jalan Panglima
GPS: 4.596704,101.07843
The mural depicts a hummingbird hovering close by a tree in search of food.
Evolution
Road Name: Jalan Bijeh Timah
GPS: 4.596343,101.079138
This Chinese-style painted mural shows Ipoh's evolution from a tin-mining town back in the colonial days.
Girl
Road Name: Jalan Bandar Timah
GPS: 4.597004,101.078213
The mural illustrates a girl tiptoeing on a classic red plastic chair while reaching toward a cage of birds.
Trishaw
Road Name: Narrow Road off Jalan Bijeh Timah
GPS: 4.59525,101.078556
The final mural shows a man making a living in the town of Ipoh by stacking black plastic bags containing rubbish or recyclable items onto a trishaw!
Went into Everyday Lifeshop (cafe) which was nearest to where we were cause we were too tired and perspiring buckets from finding the 6 walls!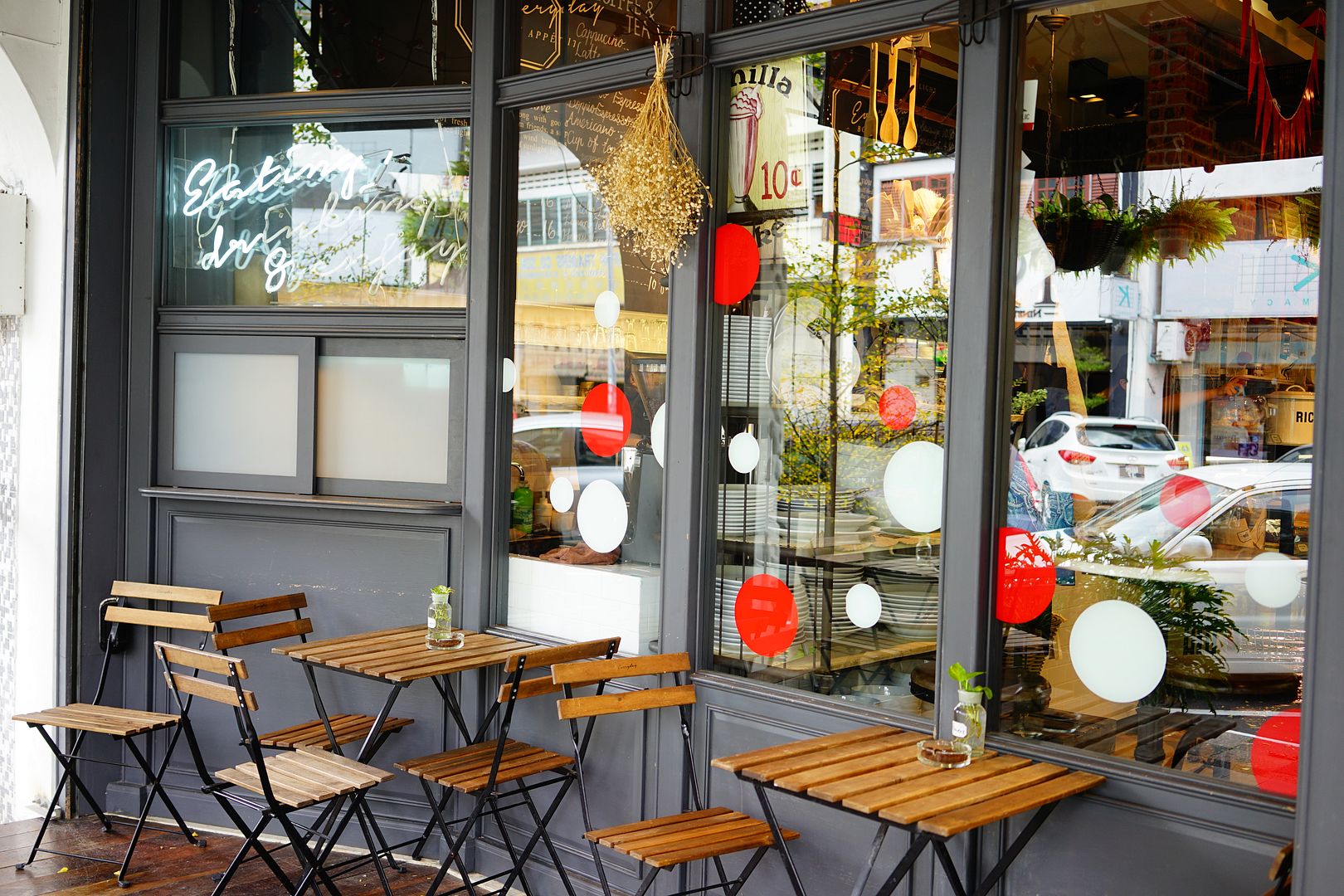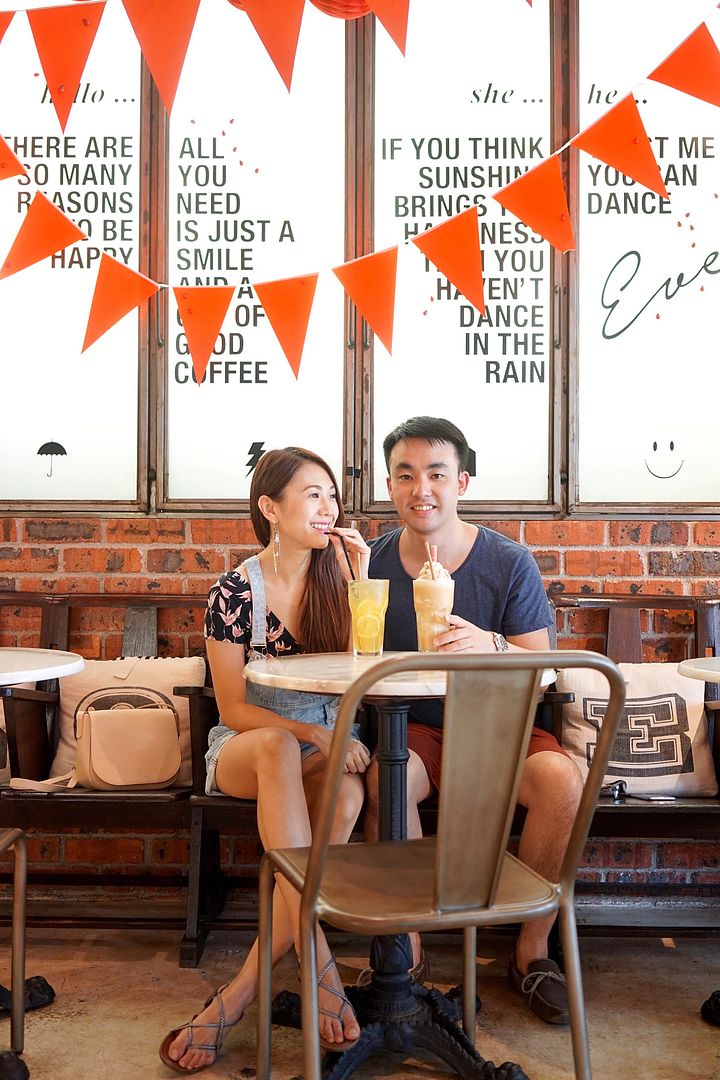 I only order teas while he always gets coffee!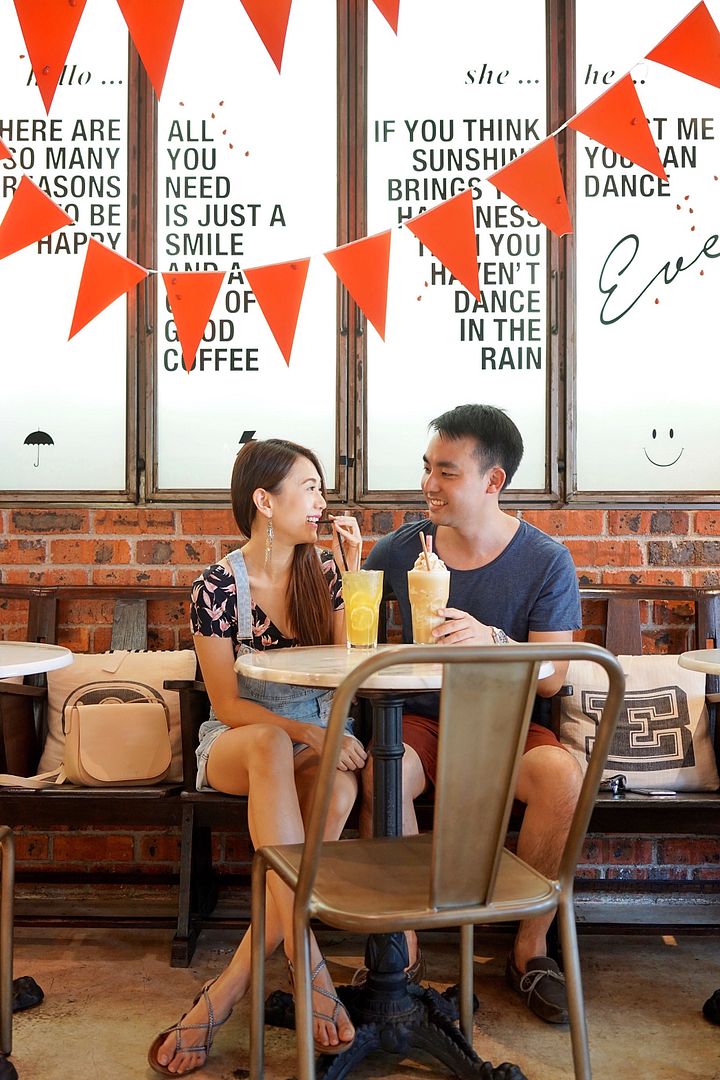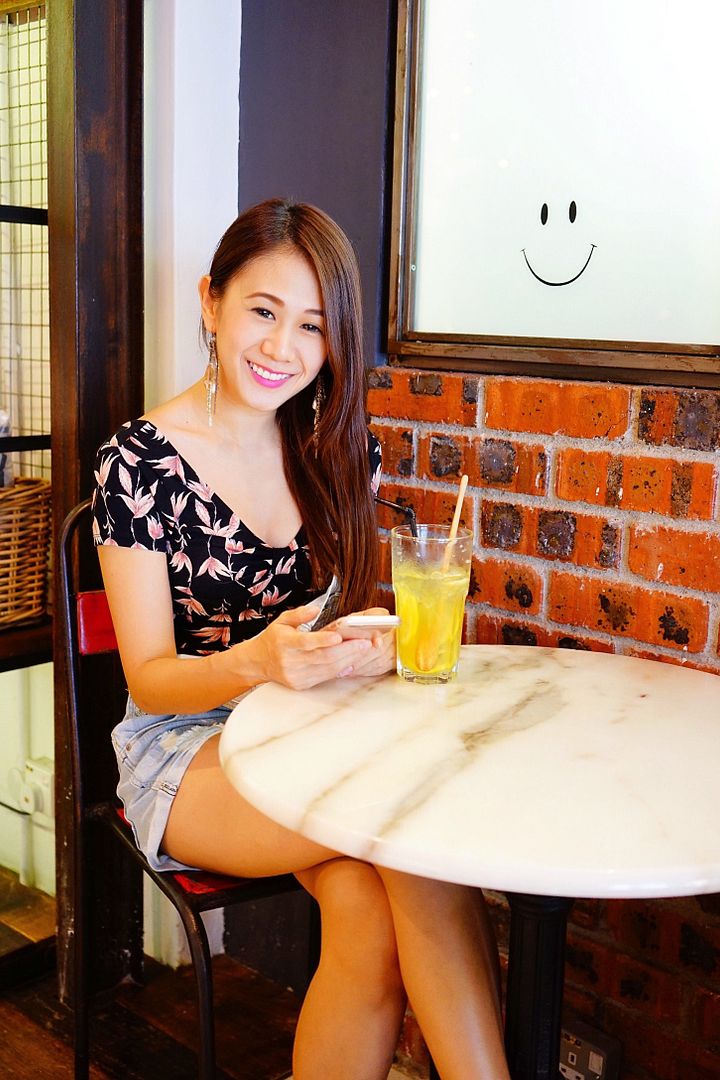 That smiley face on the wall! (:
We also visited a temple, Ling Sen Tong Temple, which was just nearby before heading back! This is the most colorful temple that I have been to! And it has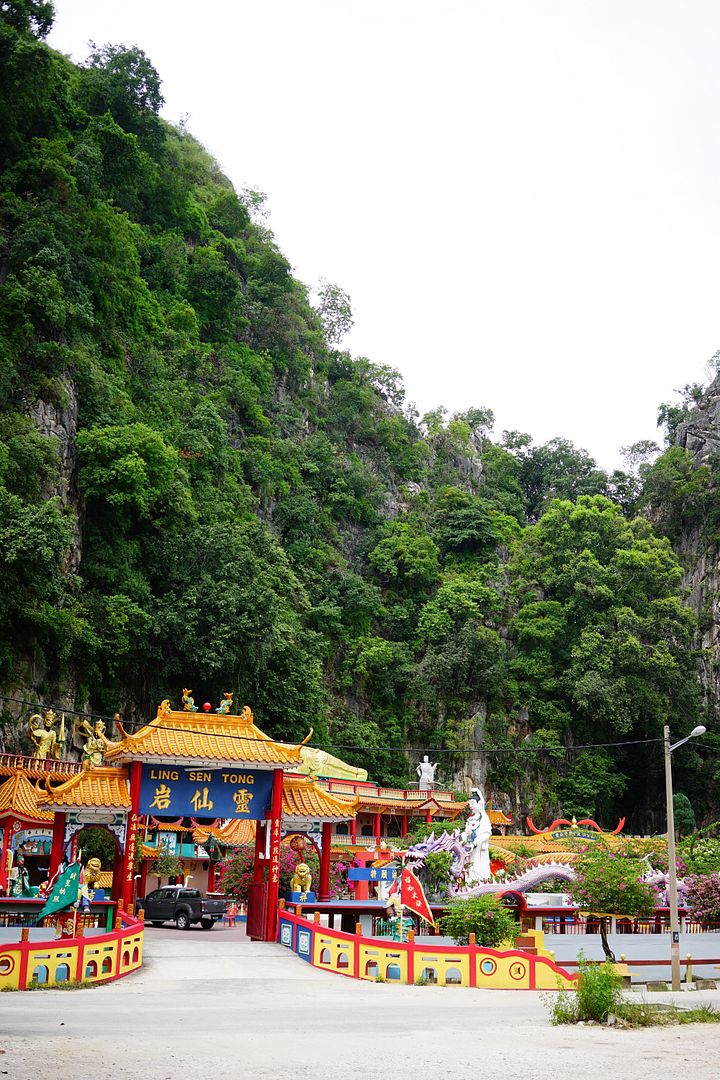 Ling Sen Tong is a beautiful Taoist cave temple located at the foot of a limestone hill in Ipoh, Perak. The name is literally translated as the Rock of Heavenly Spirits. Ling Sen Tong cave temple is located next door to Nam Thean Tong and Sam Poh Tong just off Jalan Gopeng on the southern outskirts of Ipoh.
The main compound of the temple is adorned with many statues of various designs - there are various animals, deities, and other characters from the Chinese folklore. The garden in front is decorated with colourful statues of characters from Chinese mythology such as the Monkey King from the classic tale Journey to the West.
Ling Sen Tong
Address: 31350 Ipoh, Perak, Malaysia
Headed back to our apartment and took a nap before we made our own dinner!
On the first evening, we went grocery shopping to get some simple food to cook together! We wanted to use the kitchen in our apartment but cause it didn't have any cooking essentials like oil, salt so we could only think of making pasta!