Dress down cause it was 22 degrees that very morning! So thankful that I brought lighter wears and skipped bringing boots hahaha!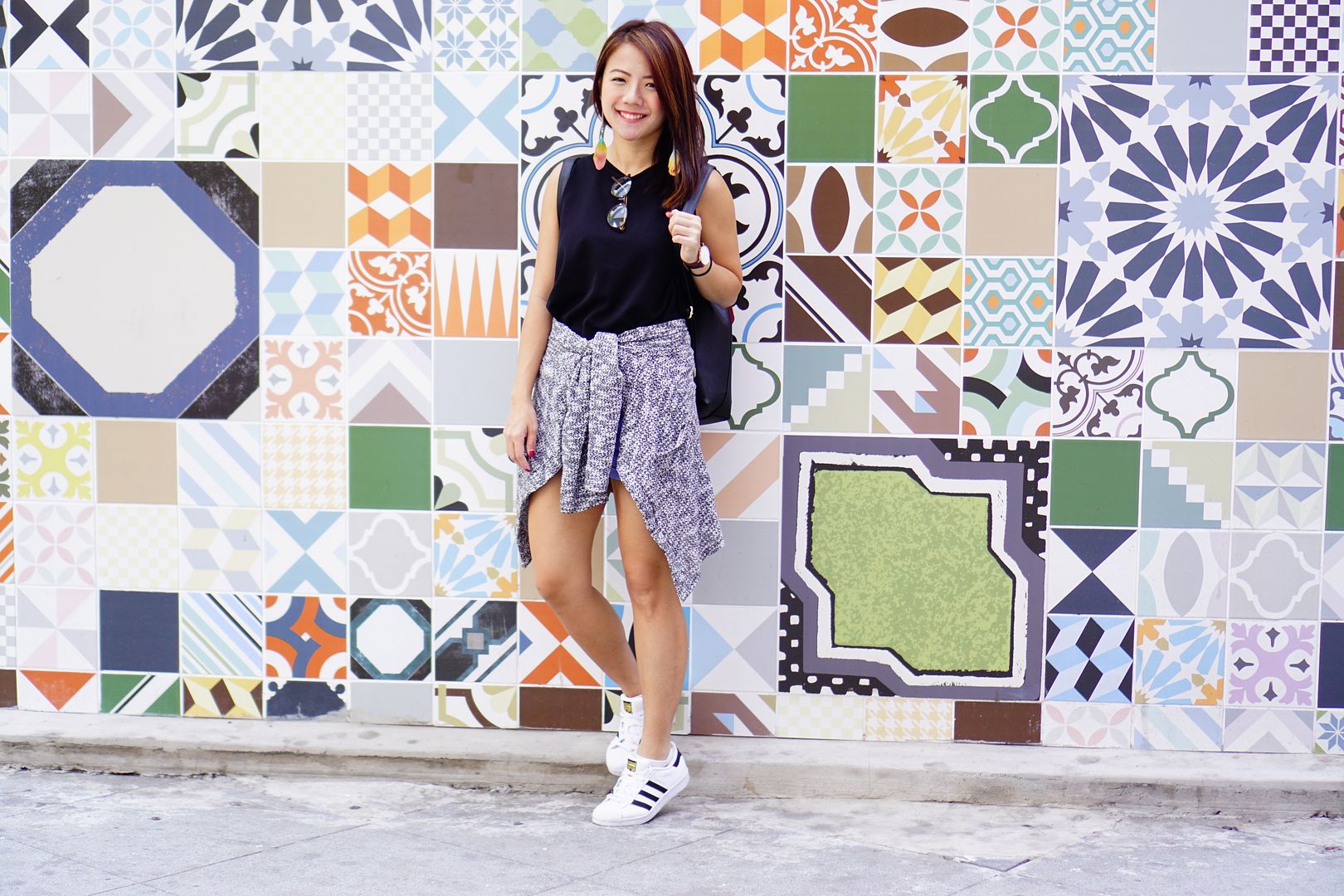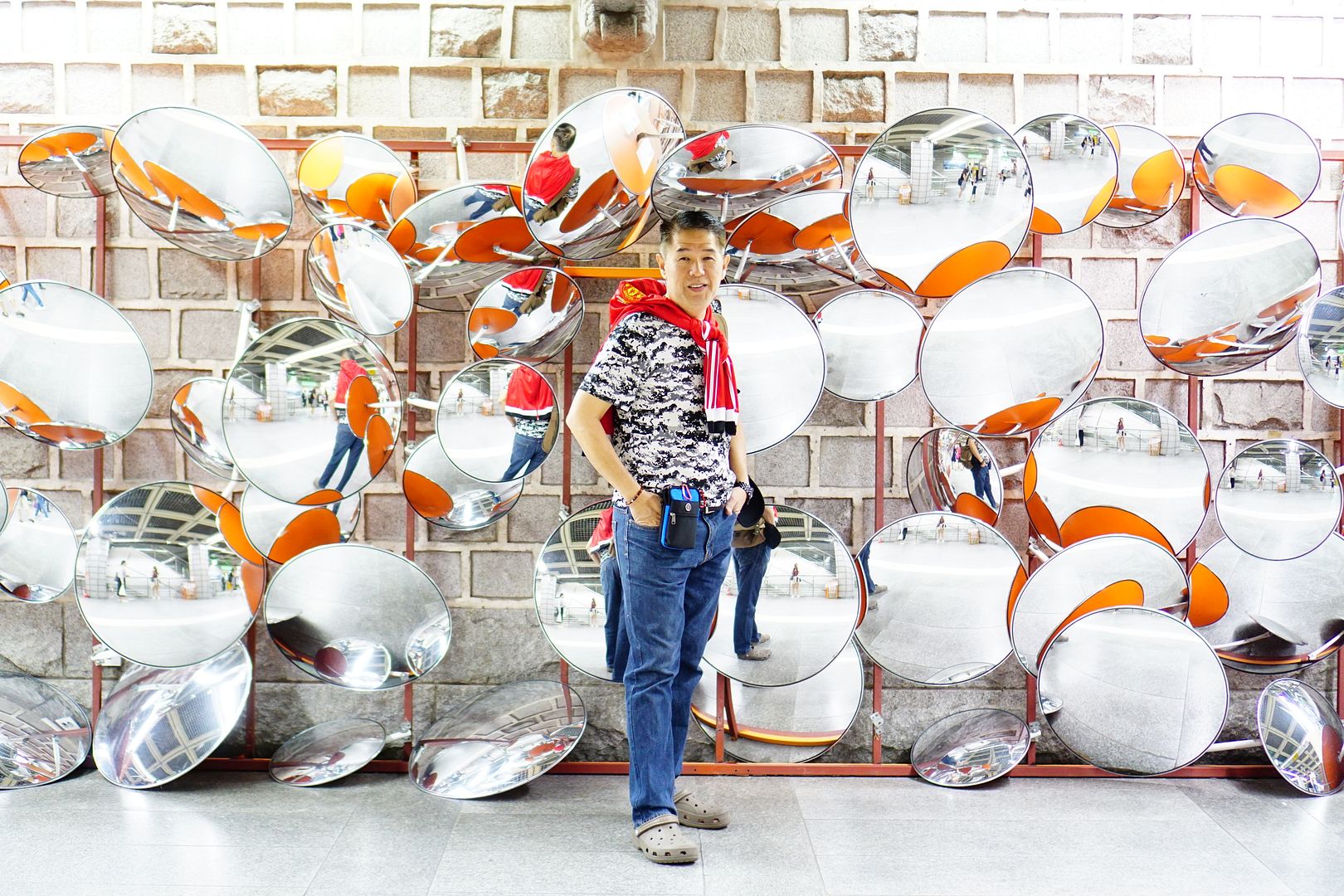 Daddy at the station with the many mirrors display!


Initial plan was to have Tosokchon Samgyetang at Gyeongbokgung but the queue was insane. The last time I was there for those ginseng chicken, we didn't even have to queue sigh. We moved on to look for another lunch place and ended up at Sejong Village Food Street.
There were so many choices, we decided to go into the one which was packed with locals!
The menu is only in Korean, at times like this we are so thankful for Zonia who can read most of the menu and helped us order. The service staff was also very helpful, she is China Chinese and so she very patiently explained and recommended some of the dishes to us!
We ordered 1 dry spicy pulled noodles, 1 pulled noodles, 1 cut soy-based noodles (somewhat like our mee hoon kueh) 1 seafood pancake, 1 omelette. The service staff even gave us extra bowls of soup which she highly recommended that they were very freshly boiled and no msg! Thank you, ajjuma!
The meal was very affordable too, 31,500 won for a table full of food! Again, because of the language barrier in Korea, It is tough to get the exact names and addresses of all the places I ate at! I will try my very best to pen down the directions, best to my ability. Hopefully, it is sufficient and useful for you to navigate there!
Daddy with his happy belly!
Noodle store at Sejong Village Food Street
Nearest station: Gyeongbokgung station exit 10
Directions: After taking Exit 10, turn left into Sejong Village Food Street which is right after a fruit stall. Walk down the lane for about 2 minutes, the noodles shop is on your right. You can't miss it because they have a little window where you can see locals enjoying their meals and the entrance to the shop is narrow.
Last 3 days in Seoul was basically to cover places that we wish to visit again. Zonia wanted to get a laptop bag she saw at Samcheongdong so we split up with our parents after Gyeongbokgung. (Went through GBG to Samcheongdong!) The palace had another show and it was free entry still, wha so lucky!
Clear blue skies!
Samcheongdong is comes to live on weekends so we only chose to go back on Saturday. It was bustling with people like how it was exactly a week ago when we were there. At this point of time, all we had in mind was wow? Time flies and we were going back to Singapore very soon.

No time to waste! The sisters shopped, Zonia had her 2000 won beer, I had the 1000 won fried Tteokbokki and we walked the whole of Samcheongdong.


Right at the end, we found this pretty Jinsun Book Cafe! Jinsun Book Café has a quaint garden/terrace out front and quiet, relaxed interior perfect for reading one of the books on display at the café. The first floor has books on economics, business administration, history and culture while the second floor is home to specialty books in photography, art, hiking and travel, as well as a selection of children's books.

The Jinsun Book Café has a wide selection of specialty books compared to other book cafés, and therefore attracts college students and those in specialized fields!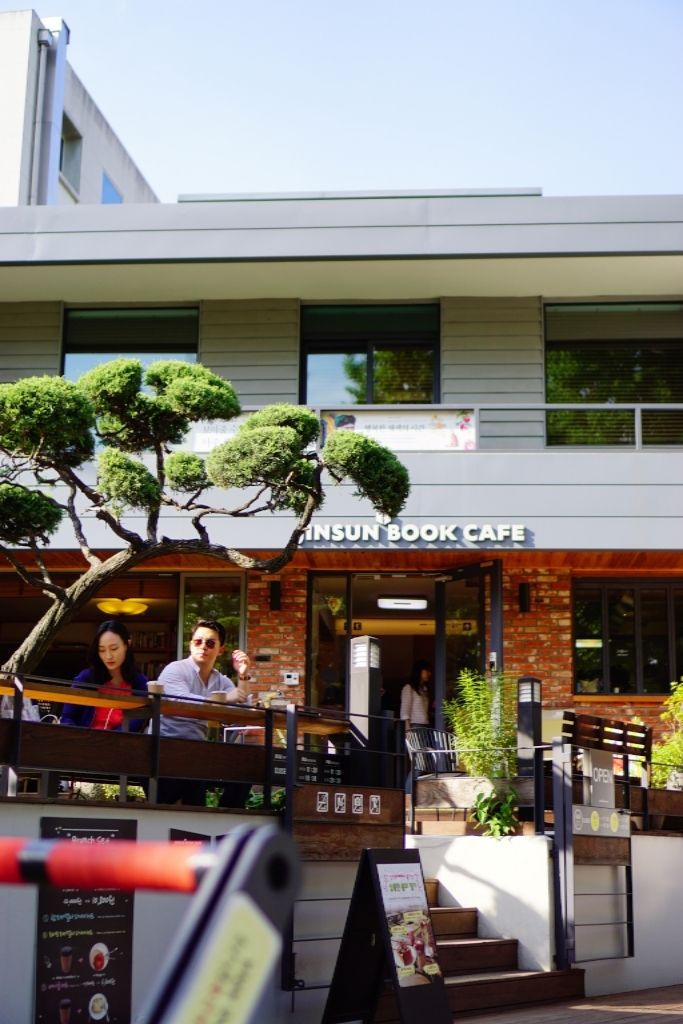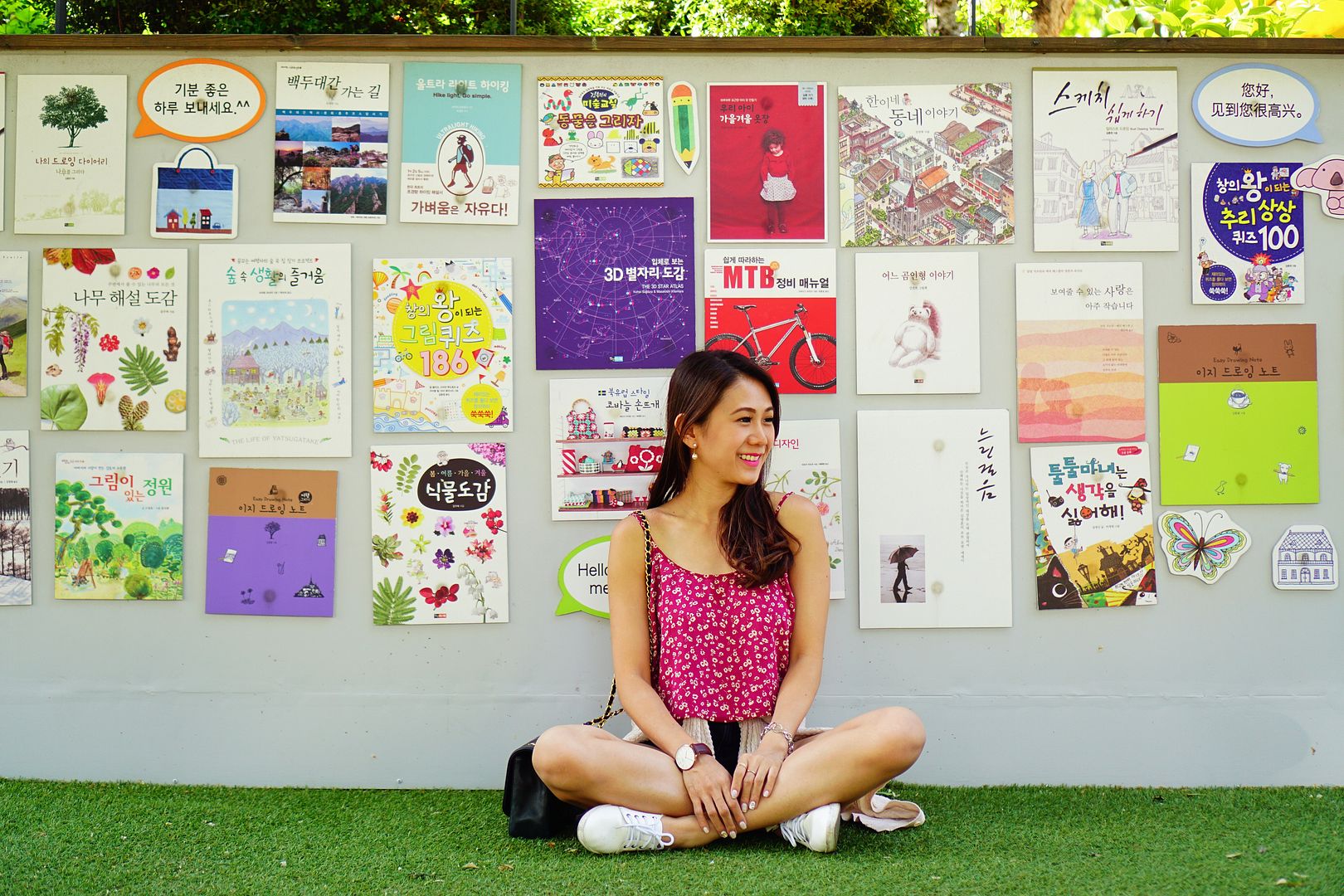 Jinsun Book Cafe
Nearest Station: Anguk Station (Line 3)
Address: 150 Palpan-dong, Jongno-gu, Seoul, South Korea
Phone:+82 2-723-5977
After we finished every lane possible, we were on a hunt for the churros Zonia had on Day 2. We only remembered it was near Anguk Station.
She enjoyed it cause it was piping hot, fresh and more importantly, it was very cheap. The cheapest churros we had, just 1000 won for the original flavored one, churros with cinnamon sugar- just the way we enjoy our churros.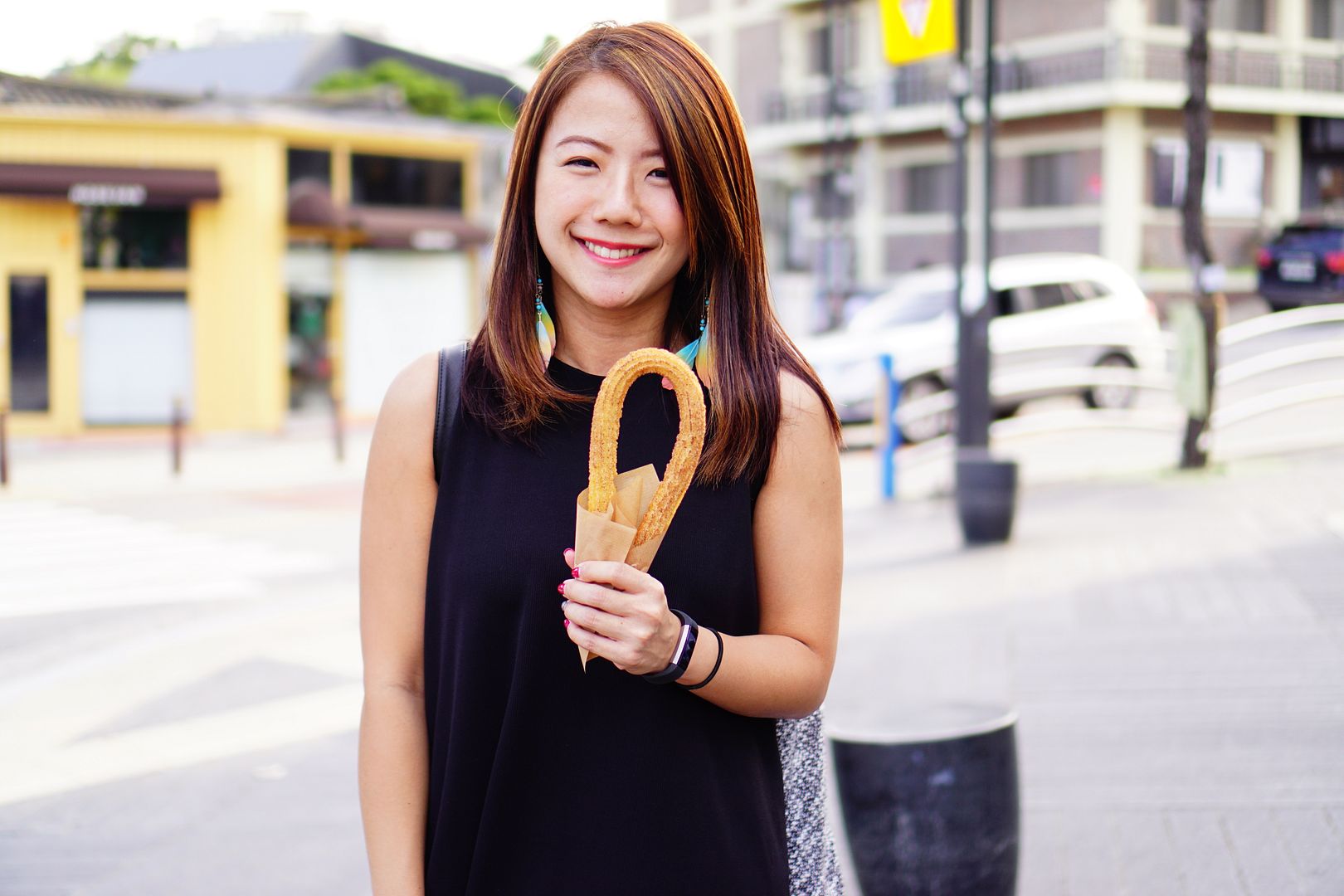 Churros and supermarket street!
If you manage to find this churros place, go to the supermarket next to it! The shop sells a lot of snacks and some of them are even cheaper than Lotte Mart like these Honey Butter Chips which we paid 1500 won elsewhere but only 1200 won there.
Here's me trying to stuff the chips into the backpack! We have been switching around The Sophia Label's backpack and sling bag throughout this trip! Very very handy to carry a backpack to stuff all your shopping!

Samcheongdong
Nearest Station: Anguk Station (Line 3) towards Jeongdok Library
Boarded the train at Anguk Station and to head back to Myeongdong station, we have to change st Chungmuro Station. Another golden find for us, me at least cause I'm the snack queen haha! Weigh and pay for your own korean snacks. Like how we buy candies at candy empire. There were rice cracker snacks, cookies, sweet potato chips and more!
They are priced at 1750 won for 100g. If the ajjuma is in a good mood, she may even let you sample some of them! The sweet potato chips taste very good, I bought 2000 won of them for mama and I!
Pick your own snacks stall!!
Directions: Chungmuro Station, towards line 4.
Dear reader, because of the language barrier in Korea, it was a challenge to get the exact names and addresses of all the places I ate at! I will try to pen down the directions best to my ability. Hopefully, it is sufficient and useful for you to navigate there!