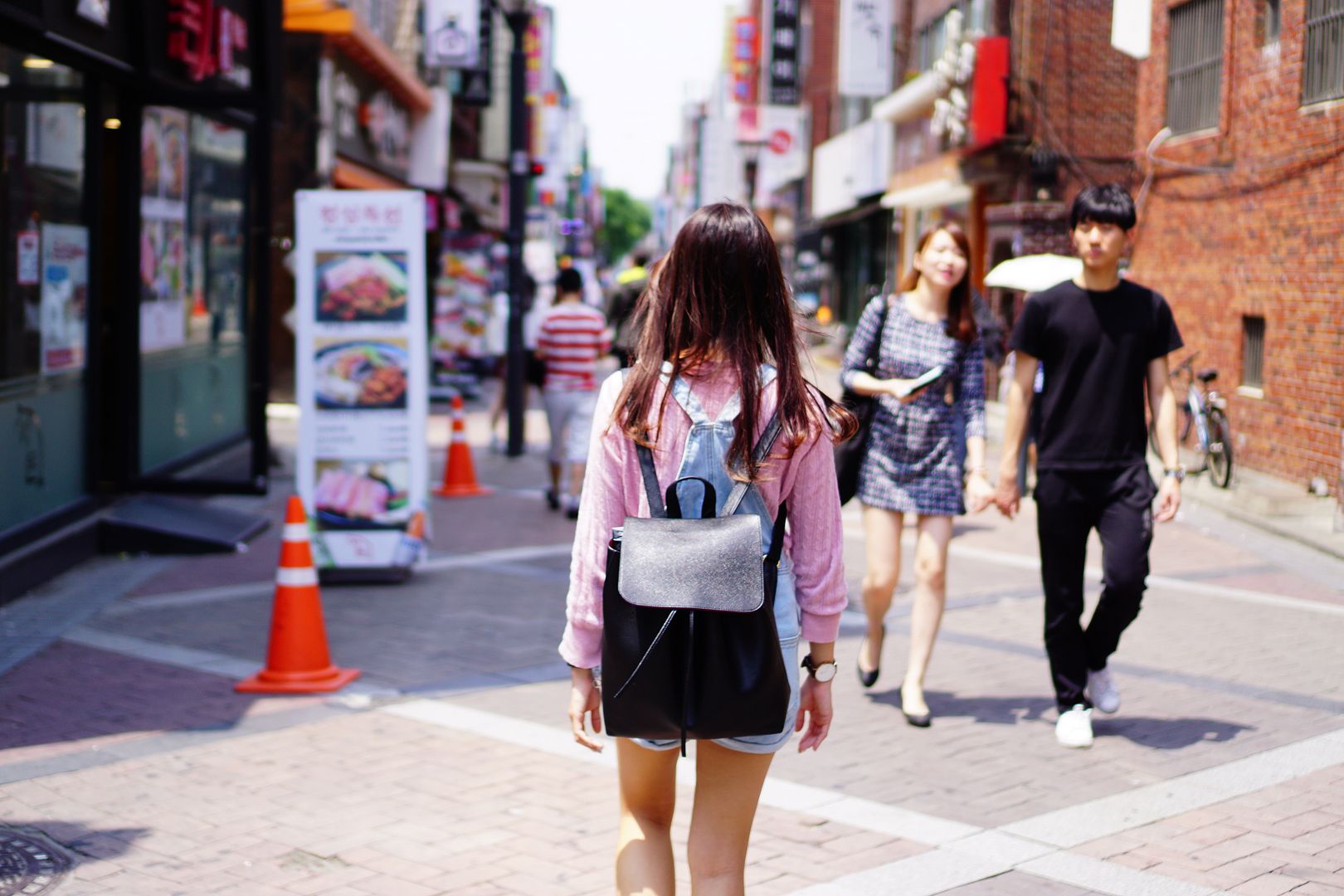 I remember Day 10 to be a rush day for us. The weather forecast said that it will rain from 2PM till the next day. I remember checking the forecast the moment, praying it may change haha! But it didn't, so I quickly woke my family up so we could start the day earlier! Got to maximize the day before the rain comes!
We took a train to Konkuk University where the popular Common Ground is! That's the place where you see all the cool and catchy blue containers pictures! It was outdoor so we had no time to waste.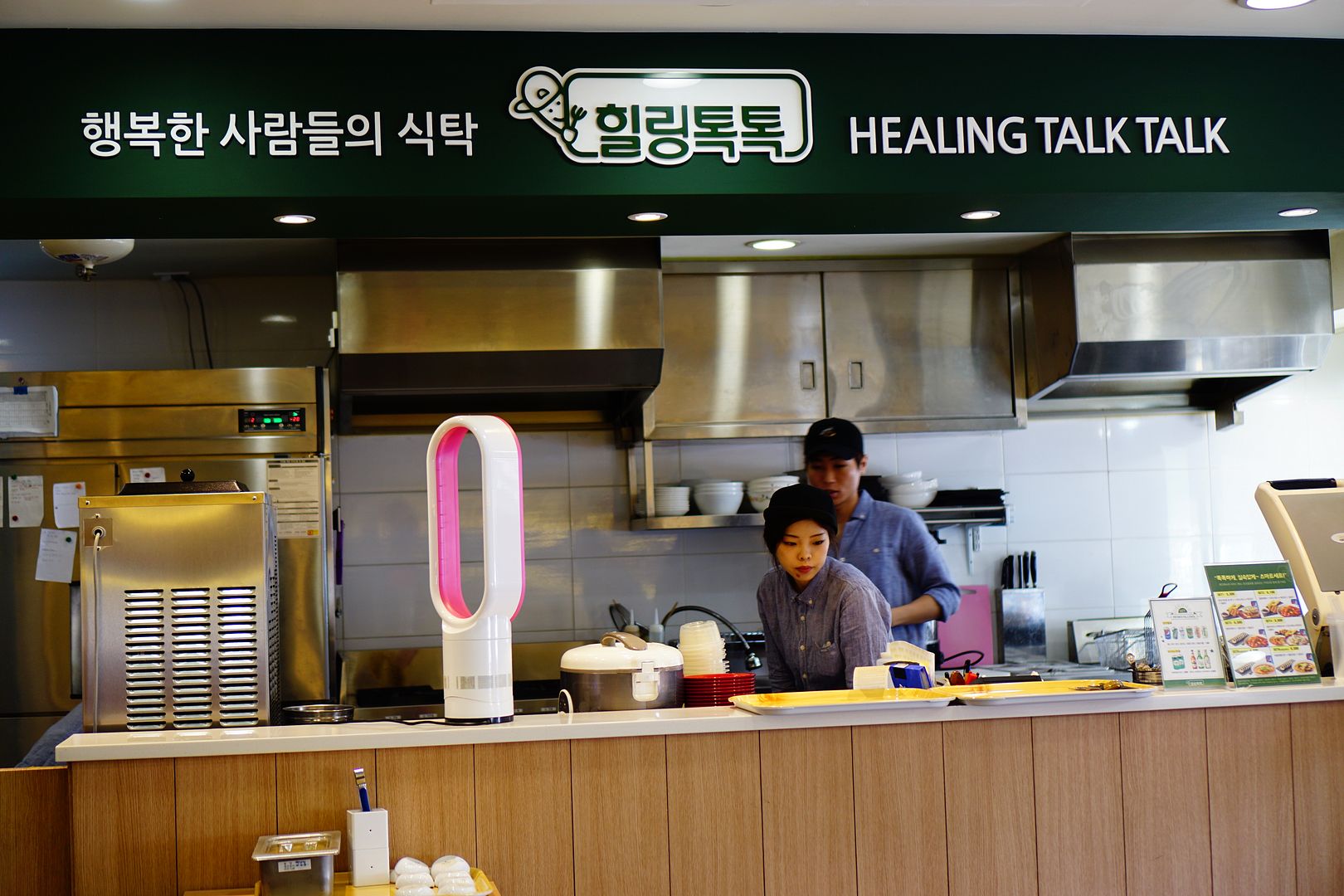 We had a quick lunch at Healing Talk Talk (so cute name?!) which kinda looked like a fast-food chain which sell kimbap and ramen.
There's a self-service machine but the machine is in Korean so we had a bit of a challenge. Thankful that the service staff could speak a little English and helped us with our order!
Food was prepared on the spot and it was soooo good, Zonia loved the kimbap and mommy loved the ramen. Daddy loved the steak rice burger a lot too, he even asked me to make him his at home next time! We ordered a ramen and original kimbap set, crabmeat kimbap, steak rice burger, fried finger food set and it cost just 17,900 won. One of the cheapest meals we had yet no less of quality!
Healing Talk Talk
Nearest station: Konkuk University Exit 5
Time for some pictures at Common Ground! The place is hard to miss, you can see huge blue containers from a distance! We couldn't take much pictures cause they were holding an event there. Here is Zonia's take with the famous Common Ground container!

Common Ground is Korea's first pop-up store built with shipping containers, Common Ground is approximately 5300 square meters in scale, made up of 200 large containers and is capable of transforming into different structures or moving into different places!

And my takes were yoga poses haha! I actually have a whole album of pictures at Common Ground, so I will need a post just for those pictures haha! :X
COMMON GROUND
Directions: Konkuk University Exit 6
Address: 200, Achasan-ro, Gwangjin-gu, Seoul
서울특별시 광진구 아차산로 200 (자양동)
Opening Hours
Store: 11:00-22:00

Pub 11:00-02:00
We left Common Ground at 1:45pm and it started to drizzle?! How can the weather forecast in Korea be so accurate? Everyday, the forecast is on point! We decided to head back to Express Bus Terminal Station to cover the lanes that we didn't finish on Day 5- Lotte World day.
The mall was just as packed as it was. And I went home with another 2 pairs of shoes. That made my total shoes buy for the trip: 4.
I also bought 3 more lipsticks which made my total lipsticks buy: 5.
Macqueen Pink-up Girl Pink
MacQueen is my favorite! I got this from Ewha. This is the color from
Lotte World pictures
!
Dear reader, because of the language barrier in Korea, it was a challenge to get the exact names and addresses of all the places I ate at! I will try to pen down the directions best to my ability. Hopefully, it is sufficient and useful for you to navigate there!