I have been surfing and shopping
Rakuten
this week! The website is soaked with CNY deals to usher in the Lunar New Year that is less than 3 weeks away!
Navigating the website so much now allowed me to know where to get the best deals, what is a must-do when you are on
Rakuten
! Since CNY is drawing so close now, to save everyone the trouble of exploring, I have shortlisted 5 of the best tips (these are my favorite 5!) which will definitely benefit you when you shop at
Rakuten
too!
P/s: Do follow me through this post because I have got some exciting contest where you can shop for free to share with you!!
1. Sign up for
Rakuten's Direct Mailer!
coupon codes, curated items for the best buys daily which is usually made happen through a combination of shop discounts +
Rakuten
's discount!
2. Check out the Deals Corner!
Don't we always have a habit to check out what's the good deal happening now, what's on sale whenever we shop, be it brick or mortar or online stores?
Rakuten
has a
Deals Corner
page where I check out most frequently! Like the write up on page says "Get up to 80% off sale in
Rakuten
Singapore. Enjoy great savings through
Rakuten
Super Points, coupons, free shipping, product discounts and many more. We update featured best deals at least once a day so check back often to make sure you don't miss out on our latest daily offers and promotions.", there is no reason why we should not check out this page more often!
11 Malts
is new on
Rakuten
and they have got some great Japanese whisky deals going on there! Purchasing a bottle over at
Rakuten
actually earns me some good points!
Purchasing 2 bottles of Nikka Taketsuru 21 Years Whisky gives me 3250 points which equates to $32.30 that can be offset in my next purchase! At
Rakuten
,, $1 = 1 point. Every 100 points earned = $1 credit off
The ladies in my family have been users of
SKII
for years now and glad that I can make some purchase over at
Rakuten
, get some savers and earn 5X points now. S
K-II Full Line Trial Kit
is at 5% off and yet still clock 855 points for my next purchase!
Besides beauty products,
Rakuten
also carries fresh food like
Kaiho (海宝) Seafood
!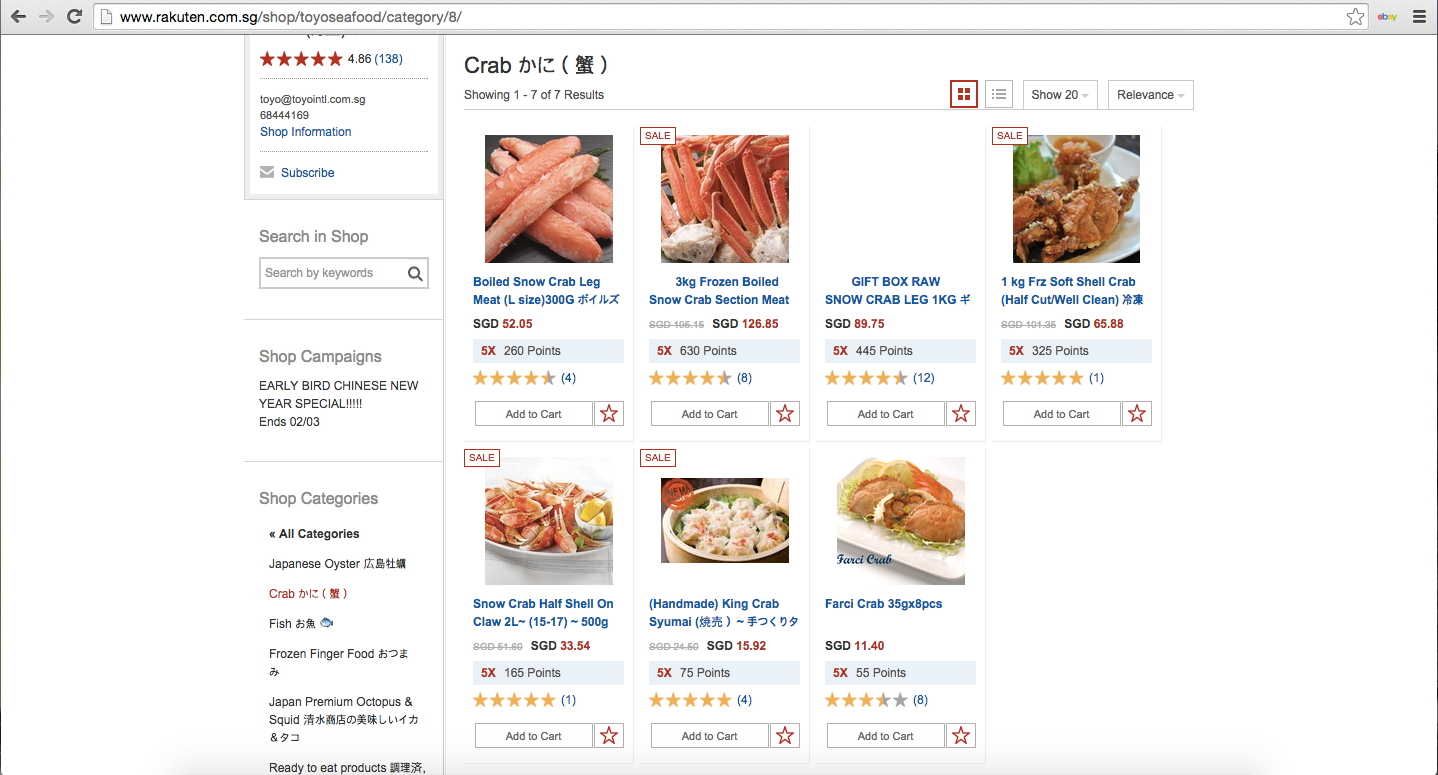 This is going to come in handy for those parties! Fresh quality seafood to our doorstep!? Look at these crabs!! Convenient and I get to earn points, how awesome is that?
Checking out some stuff for the house too!
Nissho
carries popular interior goods from Japan that are high in quality yet affordably priced! I am a big fan of pretty plates for my food flatlays and immediately wow-ed by
Acacia's
catalogue!
These wood plates are so pretty and they come in a few sizes and a wide array of colors! My kitchen and I need to own a few of these plates!
3. Purchase with friends!
My friends and I have a habit of asking around in group chats when we want to buy something, especially when it is from overseas. You should also gather your friends to buy items in bulk at
Rakuten
! Most of the Japanese shops on
Rakuten
sell in big quantity ie.
Ramen
/
Miso Soup
/
Rice seasoning
/
Diapers
/
Mineral water
etc. and you can save as much as 60% when you share the great deal with your friends!
One of such deals to look out for are
saver packs
! One of the saver packs that caught my eye is
KAO MegRhythm Hot Eyemask (Lavender Sage) x 3 Saver Pack
!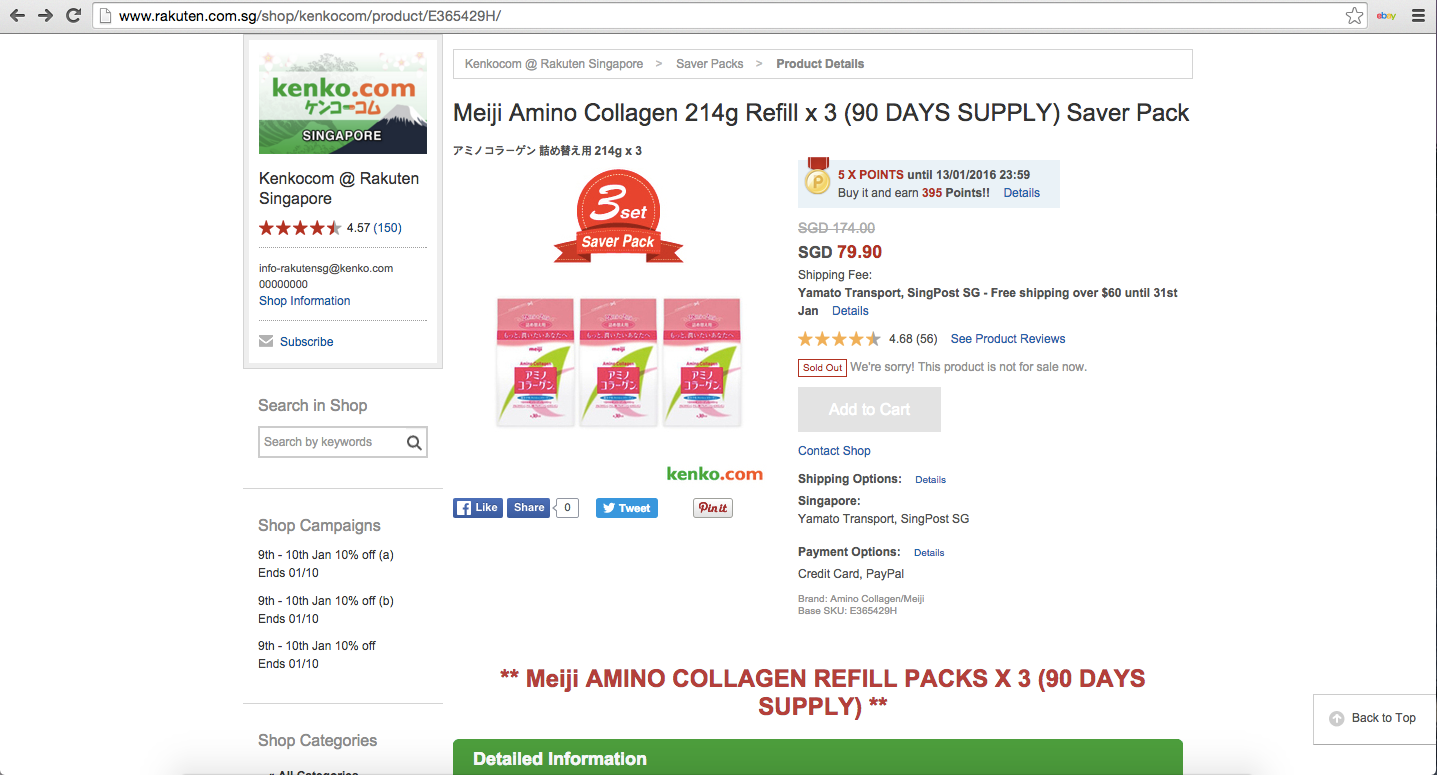 By buying a saver pack of 3, you get 10% savings immediately and earn 270 points! Get
Meiji Amino Collagen Starter Saver Pack of 3
and you save 54% and earn 400 points!!
4. Subscribe to the favorite shop's R-mail!
Besides signing up for
Rakuten
's
direct mail, you can even subscribe to your very own favourite shop's R-mail! The shop will directly inform you when there are new arrivals or promotions. This email comes directly from the shop themselves.
5. Payment Discount Day!
This probably comes with age. But now that I dine out, it has became a habit to check if the restaurant has collaborated which any credit card for some discounts! I can now apply this "good habit" at
Rakuten
to enjoy some savings! So do look out for payment discounts day!
Rakuten
has special partnerships with banks and credit card companies such as
MasterCard Tuesdays
! Only on Tuesdays, check out with your MasterCard and get an additional 5% off your shopping cart!
Here's a summary of the power of my tips, combined!
KAO MegRhythm Hot Eyemask (Lavender Sage) x 3 Saver Pack
= $54.90
Savings: $2.39 (5% Mastercard Tuesday) + $2.70 (Rebate) = $5.09 3 packs: $49.81
1 pack: $16.60
1sheet: $1.10
Cheaper than Guardian or Watsons!
I hope these 5 tips will help you enjoy your shopping spree at
Rakuten
better! Before I sign off, how about winning some free
Rakuten
Super Points just by signing up for an account?!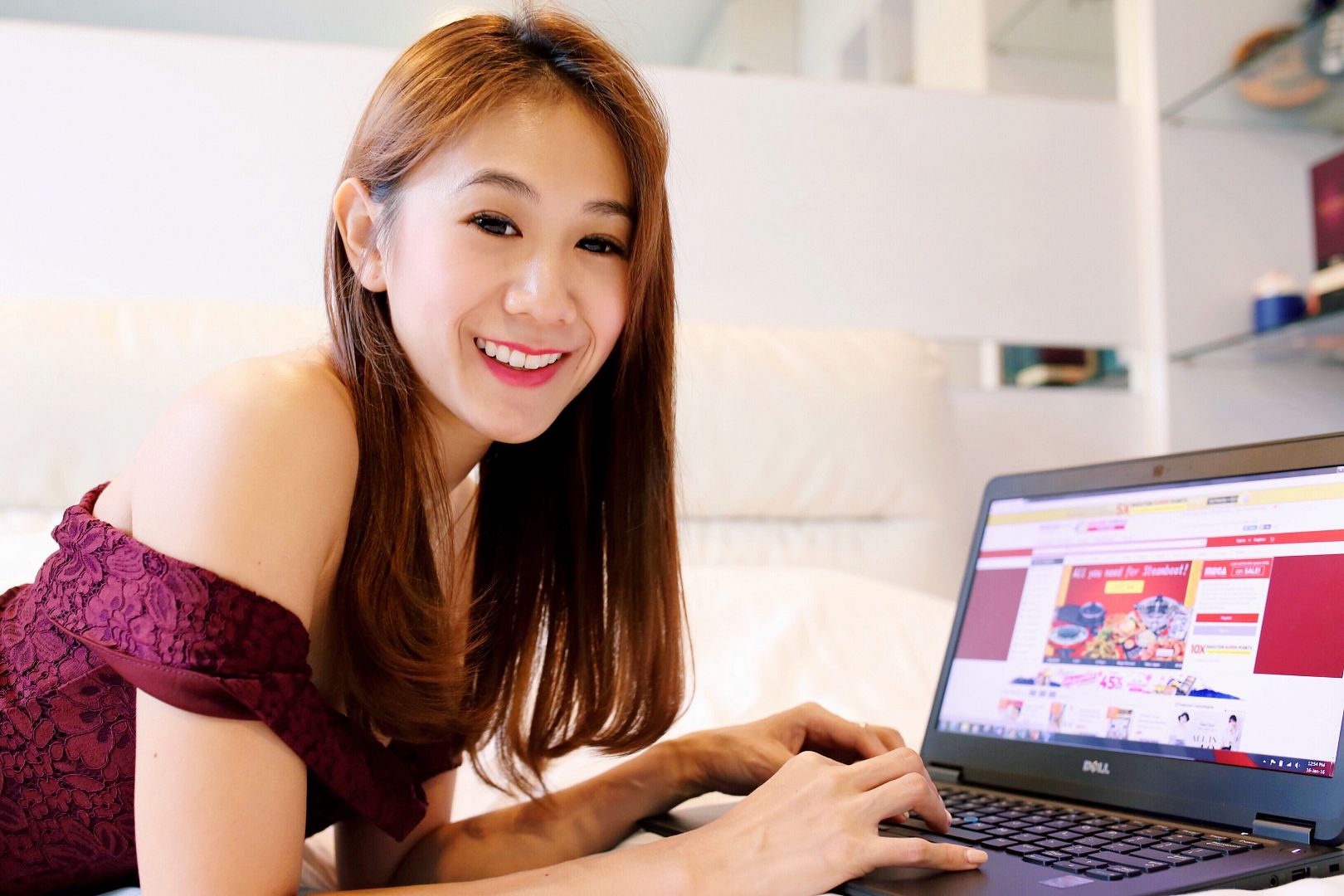 Wait no further, sign up
here
and participate in
#rakutenangpaogiveaway
contest! All you have to do is:
Sign up as a new member at Rakuten
3 bloggers garnering the most number of
Rakuten
member sign ups will each win $1000 worth of
Rakuten
Super Points (100,000 RSP)! I will not be keeping this winnings all to myself! Instead, I will be splitting it amongst the first 50 who have signed up. So each of you can gain at least $20 Rakuten Super Points if I were to win!
Contest runs from 25 Jan 2016 to 29 Feb 2016 and points will be credited into your
Rakuten
member account on 8 March 2016 for you to shop right away!