Continued. If you have not logged into my page yesterday, please read
here!
If you have, please read on! HEHE!
I ended last night's post with these;
"11.30AM: Met Rachel at Redhill Mrt.
12.00PM: Fareast Plaza for lunch.
01.00PM: Nails at The Nails Status.
(Look out for tomorrow's post!!!! Goodies, discount coupons and loads of pictures assured!)"
Tadah! A few more pictures of Zonia and I before i headed out to meet Rachel at Redhill Mrt!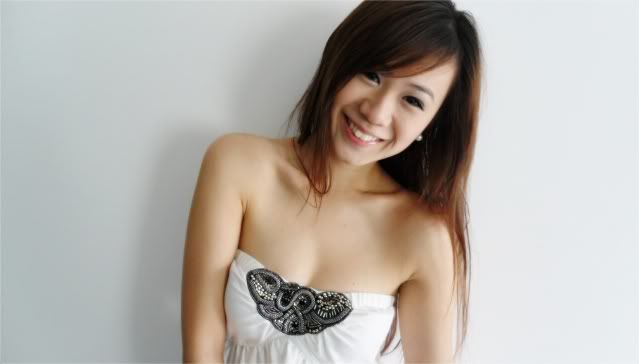 Pretty blinged sequins on the bust area!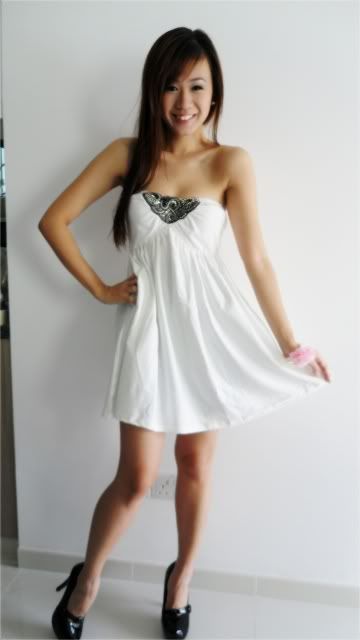 11.30AM:
Met Rachel and took Bus 132 to town from outside my Condo.
(She played with my new baby camera on our journey there!)

12.00PM:
LUNCH!
Rachel had cravings for Shilin's mee sua. And we had them. Not a fan of their mee sua, but i'm really not fussy on what's for meals.
P/s: I love oysters tho! HAHAHA!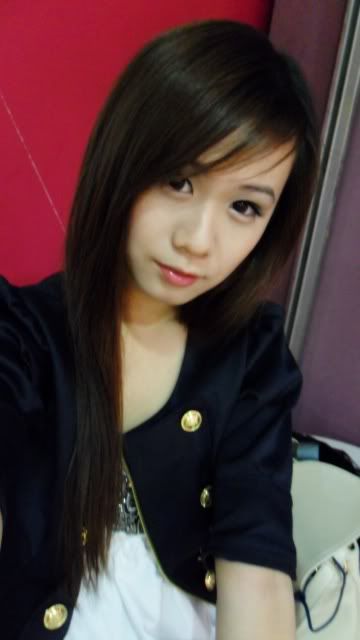 I took these pictures myself! Using the front camera on the Samsung camera! There's this screen just next to the camera lens, so i can see myself and the smile detector triggers when i smile and snaps! Woohoooo! Good Stuff!!!!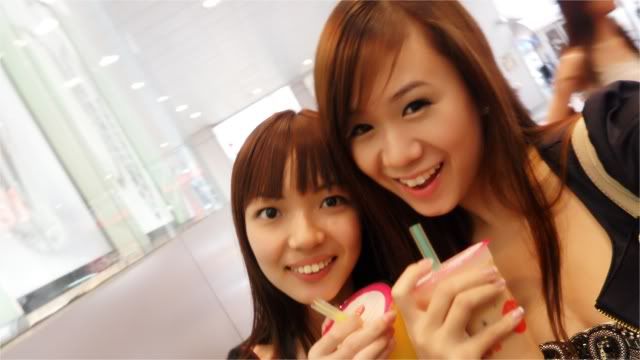 How could we not have bubble tea when we visit Fareast! HAHA!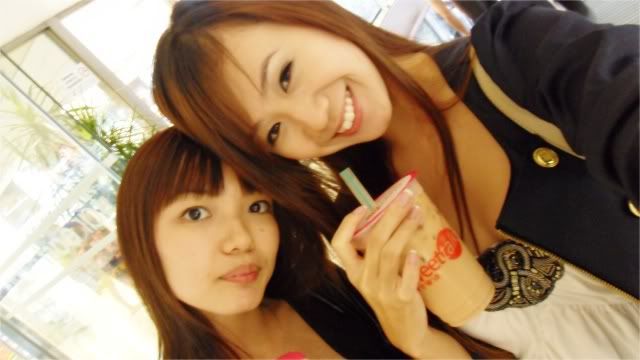 I don't remember a time i don't get a cup of Milk Tea without pearls when i am at Fareast. Sheila loves them too! Its a must to get before manicure!
01.00PM:
YES, I said, MANICURE!!!! Oh lalalalalala!!!!~
Check out my sexay babe! She has been doing my nails ever since Rachel recommended me there! Sheila, have since been visiting them every 2 weeks!
Haven had a chance to share this place with you cause they are really strict on this
NO PHOTOGRAPHY
policy in their cosy place! I heard that there were people who steal their pretty designs and creative ideas. Boo!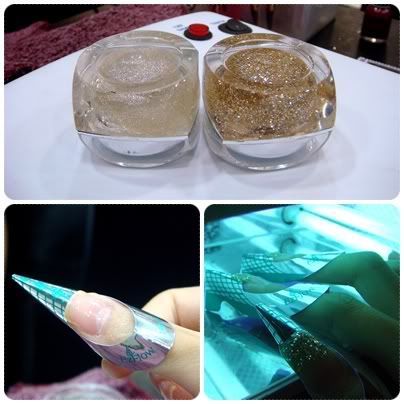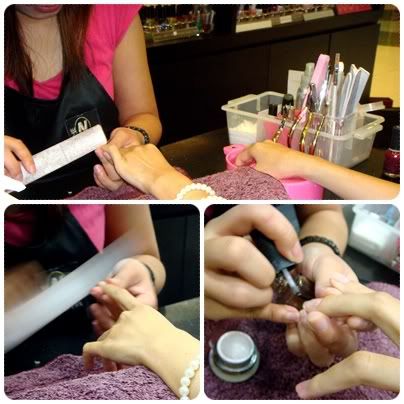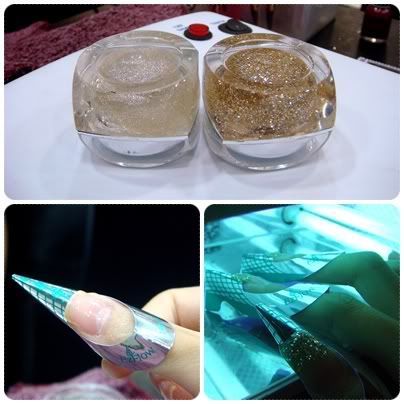 See the gold and silver! Its my 2 tone base color! Maybel picked the colors that compliment my skin! (: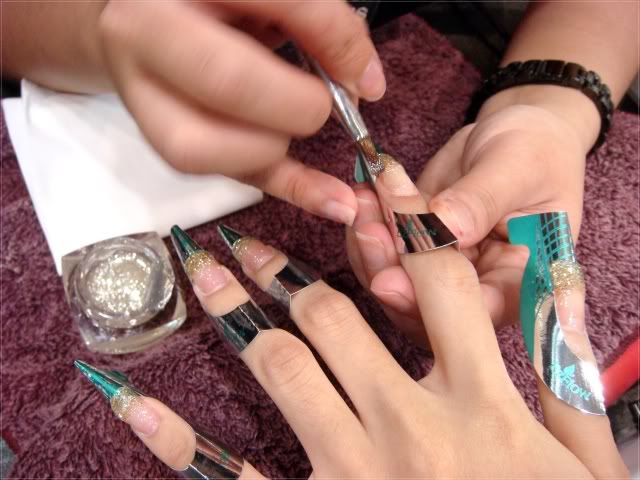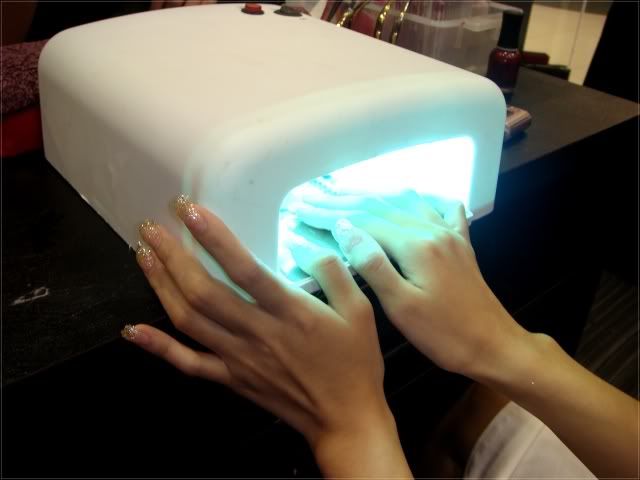 Last heating before the designs come in!!!! The blue light does wonders. No heat but the gel hardens!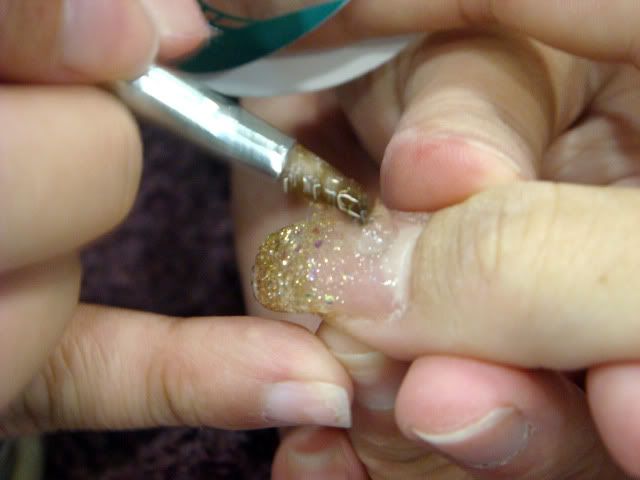 Process of blending the gold in, with the silver gel (: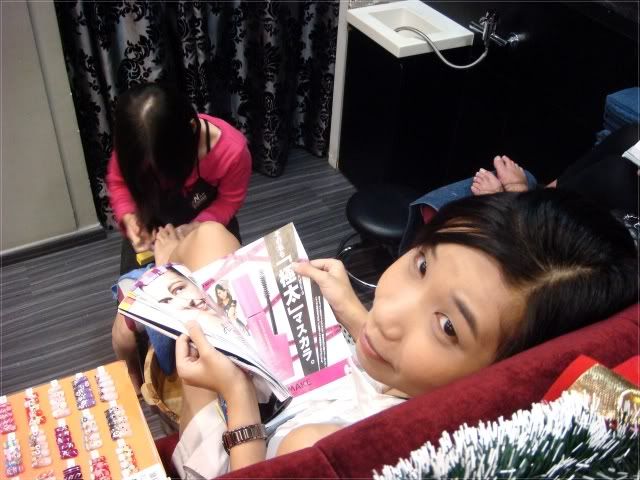 Damn sad. This is the only photo of Vanessa dear at manicure! She was doing pedicure whilst Rach and i were in front doing our fingers!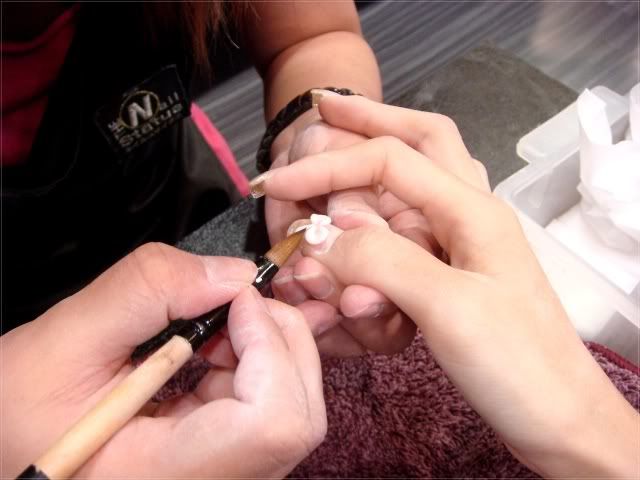 Look how well maybel does! Using the powder, she slowly shapes. Not a flower, but a ribbon!!!!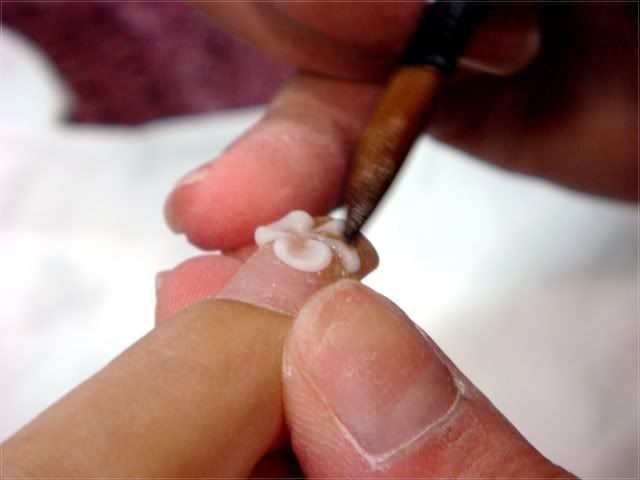 Look at those cutesy tails that accompany the bow!
I like that. I like that. I like that!!!!

Super Christmasty!!!


Picture of the finishing work! One hand down, one more to goooo!!!

.
.
.

End product: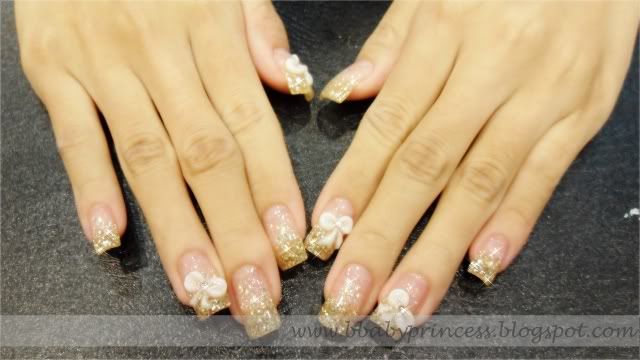 And my really good and sweet manicurist, Maybel! Shes so funny, it will never be boring spending 3 hours doing gel nails!!!!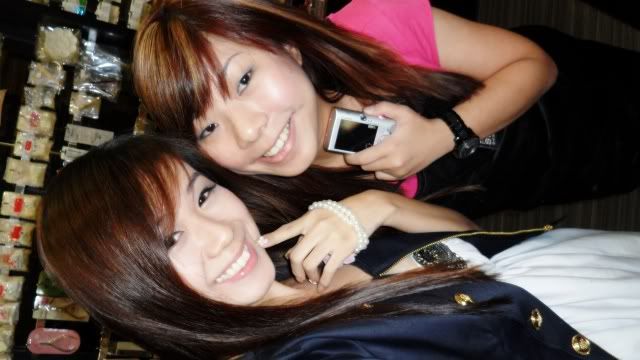 04.30PM:
Happily left The Nail Status for
camera pouch and strap shopping
!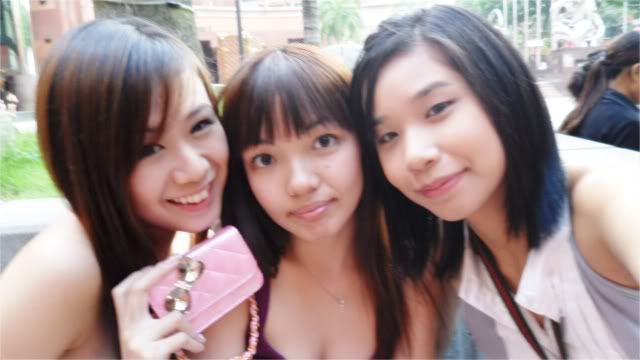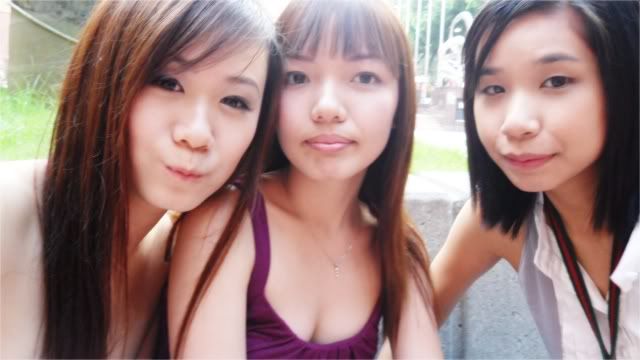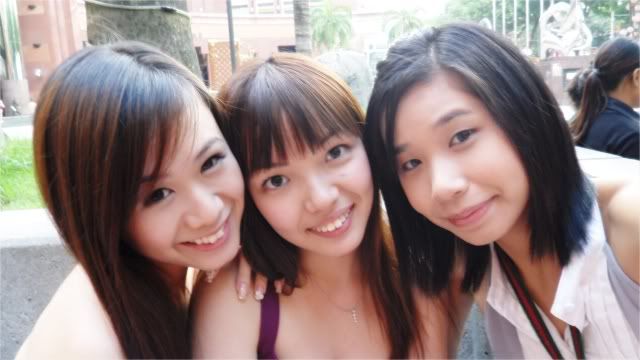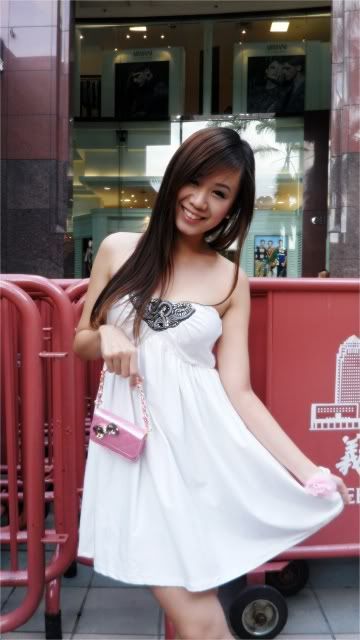 A silly photo of me with my new camera pouch.
The nails must have gotten the ribbon fetish into me!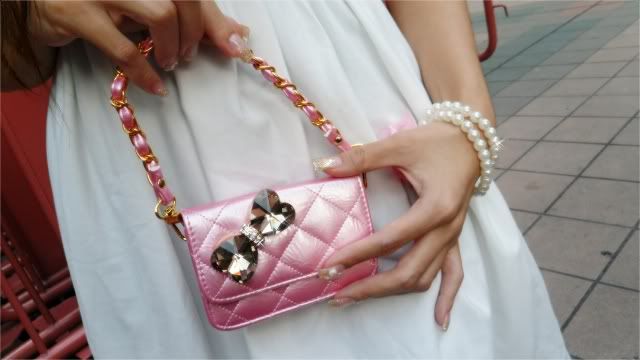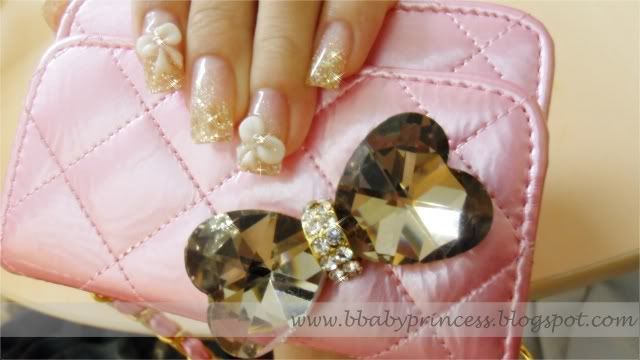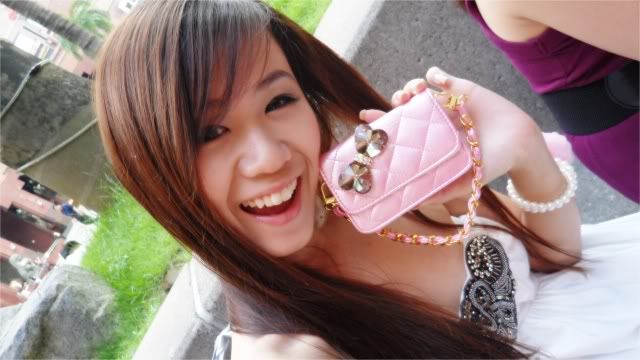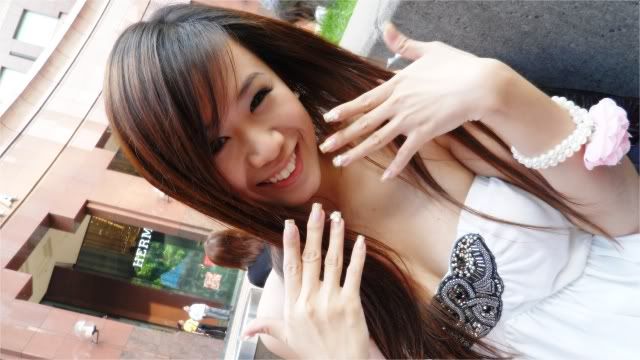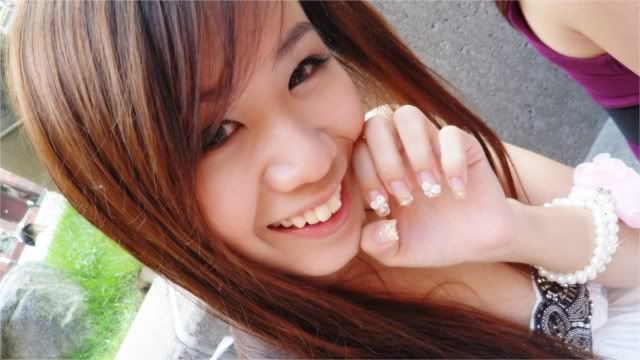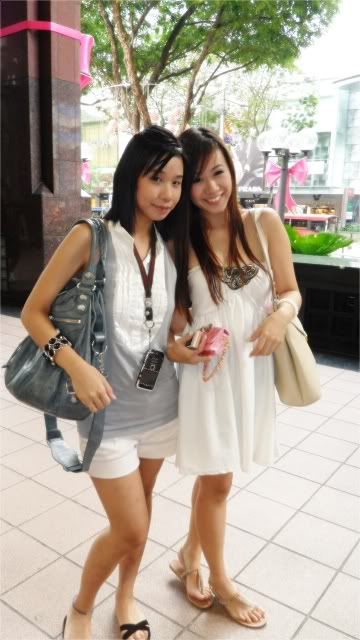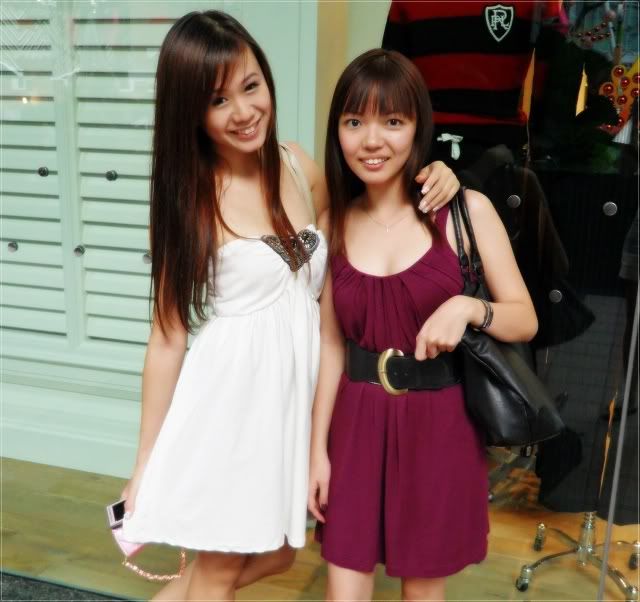 05:30PM:
Accompanied the babes for their dinner at Lucky Plaza!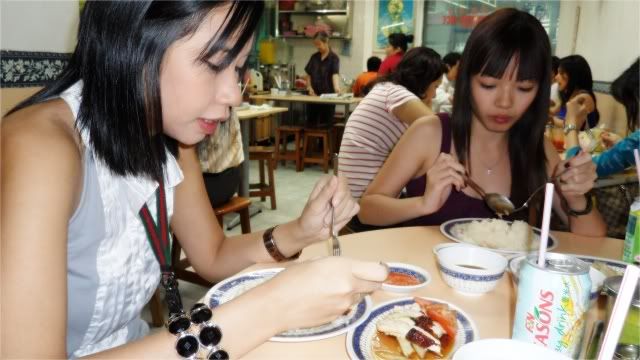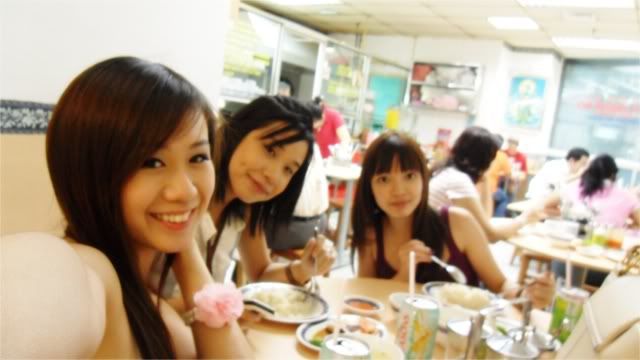 07:00PM:
Dinner time!!!
Had dinner at Paragon's Fish and Co.!!! I like the eggs from the prawns!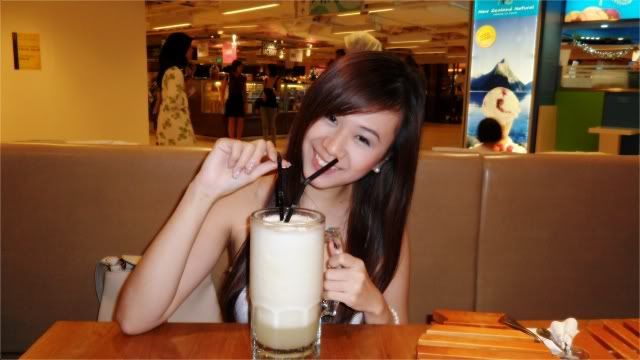 08.45PM:
Walked The Market Place and i went home right after! It was a rather long day huh?
Considering having an appointment with Von for hair coloring!!!



And for those who are reading this, i managed to get a 3 different promos for you!!! You can bring a bestie and get pampered with full mani and pedi at only $68 OR 15% off any nail service OR The Nail Status membership at only $48! This membership (USUAL:$80) entitles me to 15% off all services and i get 50% off on my birthday month!!! I can do anything there, and go everyday even!!!! On top of this price offs, i get discounts off the nail products and other products there toooo!!!! (:
Soooooo, all you have to do is:
1.
Make an appointment!
2.
Print this e-coupon!
3.
And you are all ready for nails like mineeeeeeeeeeeee! (:
P/s: How can it get easier than this?
Reminder: Get your Christmas nails done!!!