So last week's entry was for the benefit of the guys. Why should guys have all the fun?
So this week, I'm introducing something that's gonna help all those ladies out there!
NEW GATSBY Double Protection Deodorant Series!
No! this
isn
't used by the ladies. In fact, it's for all you guys out there.
(And yes, your manly smell

isn

't quite good enough for us. )
Why is this new Deodorant Spray good? Firstly, it has 2 anti-bacterial ingredients-to fully kill off bacteria that causes body odour. Meaning your boyfriend, brother, best friend, etc's body will be so fully protected from bad odours that the only thing you can smell is the fresh morning scent that comes from the deodorant spray itself.
I absolutely recommend this product simply because of the powerful and effective ingredients, the fresh and crisp scent of ocean marine, and most importantly-it works. At
$5.80
, this deodorant is a clear winner-small investment for guys to easily turn on their charm!
.
.
.
Now I'm got an even greater scoop for everyone!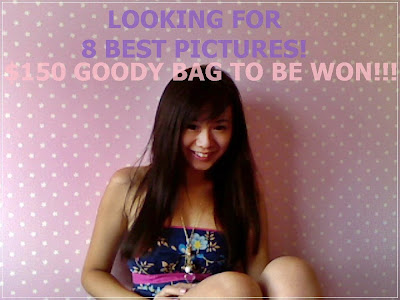 I'
ve
decided to organize a mini competition here at
bbabyprincess
!
This is the first, so do support me yeah! If this is good, i will hold more so there's something for everyone! (:
Requirements:
To have a go at this competition, all you have to do is purchase a bottle of
Double Protection Deodorant
! Priced at only $5.80 and you can grab a bottle at
Watsons
or
NTUC
outlets!
What are the prizes?
"Prizes are the most important!!!! I will only join if the prizes are attractive

lor

!"

If this is what you are thinking, here's what I'm giving out!!!!
8 pictures
with the best poses with instantly get a gift into your mailbox!
(I promise exciting and wonderful gifts, of course!!!!
HEHE
!)
These 8 pictures will have their pictures thrown into a voting system! At this stage, you gotta get your friends, family, neighbors
blahhh
.. to cast votes for your awesome picture!!!!
AND THE
GRAND WINNER
will receive a
Goody Bag
worth $150/-!!
YAY
!!!!
( And
i'm
sharing what I'm throwing into this huge goody bag okay! )
What to expect in the bag:
A bottle of
Victoria

Secret's
Fragrance! Pretty Bag, clothes proudly sponsored by blog-shops and makeup products!
How does this sound!
So, what do you have to do?
Take a photo with the NEW GATSBY Double Protection Deodorant bottle and send it over to me!
1) You could do a couple shot
2) Get your boyfriend/brother or even DAD to pose with the mini deodorant bottle!
I don't care how to take it!!! Leave it to your creativity!

All you need to be accepted in the running is a GUY in the picture!
Here's the email format:
Name:
IC
number:
Address:
Handphone
number:
Attach the winning picture and send it over to me- bbabyprincess@hotmail.com!
I will revert the email once entry is being received!
(Remember its double b in my email!!!!)
Its as simple as that!
CLOSING DATE: 16

th

AUGUST 2009, SUNDAY!
You and your guy have exactly 2 weeks to get the $5.80 bottle of
Double Protection Deodorant
at
Watsons
or
NTUC
outlets and send me a picture!
.
.
.
Girls, time to get your boyfriends (or guys in your life) the GATSBY Double Protection Deodorant! But don't blame me if he starts getting extra attention from the ladies around him!
MUAHAHAHA
!
Gatsby girls in Jan 2009's Dance Competition at Zouk (: