SOLD ITEMS WILL BE REMOVED.
1) The chic weekender bag
(Inner bag's color is the same as the outer)
The total package. Stylishly sleek, with room to carry days' worth of vacation obsessions. Hold it by the handles or with a detachable shoulder strap. Imported nylon with patent trim.

22" x 9" x 12". Orig. $150 USD.

Now @ $80/-
1piece left

♥

Zoe's Preloves;
Most are only worn once/brand new (:

#1-Pink Tote
BRAND NEW
Yours at $28
BRAND NEW from HK! A bag to a shopping date or to school! (: Fits laptop as well as small pouches for small necessities!
#2- Fields
Yours at $15
Future State top/dress.
#3- Checkered
Yours at $15
Tagged M, fits size S to M (: A Steal!!!
#4- The little Red Dress
Yours @ $35
2 Side pockets.
Original price: $89 from My wardrobe, Fareast Plaza.
Pageant Dress for Miss Veet 09 and Attic Shoot with Chester.
#5- Black lacey
BRAND NEW
Yours @ $20
PENDING
#6- LOVE PINK
BRAND NEW
Yours @ $20
#7- Elegance
Yours at $25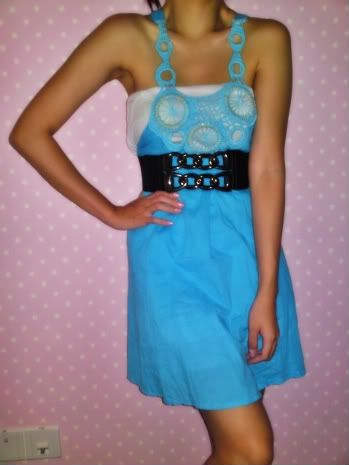 This is a true red dress, not a long t-shirt (:
#11- Maxi Dress (In PINK)
BRAND NEW
Yours at $25
#11- Victoria Secrets
BRAND NEW
Yours at $25


Please transfer to POSB SAVINGS 228010235 AND EMAIL TRANSFER DETAILS to bbabyprincess@hotmail.com with
Name and

Number

AND ADDRESS. (:
PLEASE ADD $0.50 FOR POSTAGE.
MEETUPS for those who buy more than 3 items (:
Thanks! (: