SBCD is the new kid on the block at Tanjong Pagar Centre, the newest tallest building in Singapore that is situated directly above Tanjong Pagar MRT station. This new kid on the block is the biggest shop at TPC!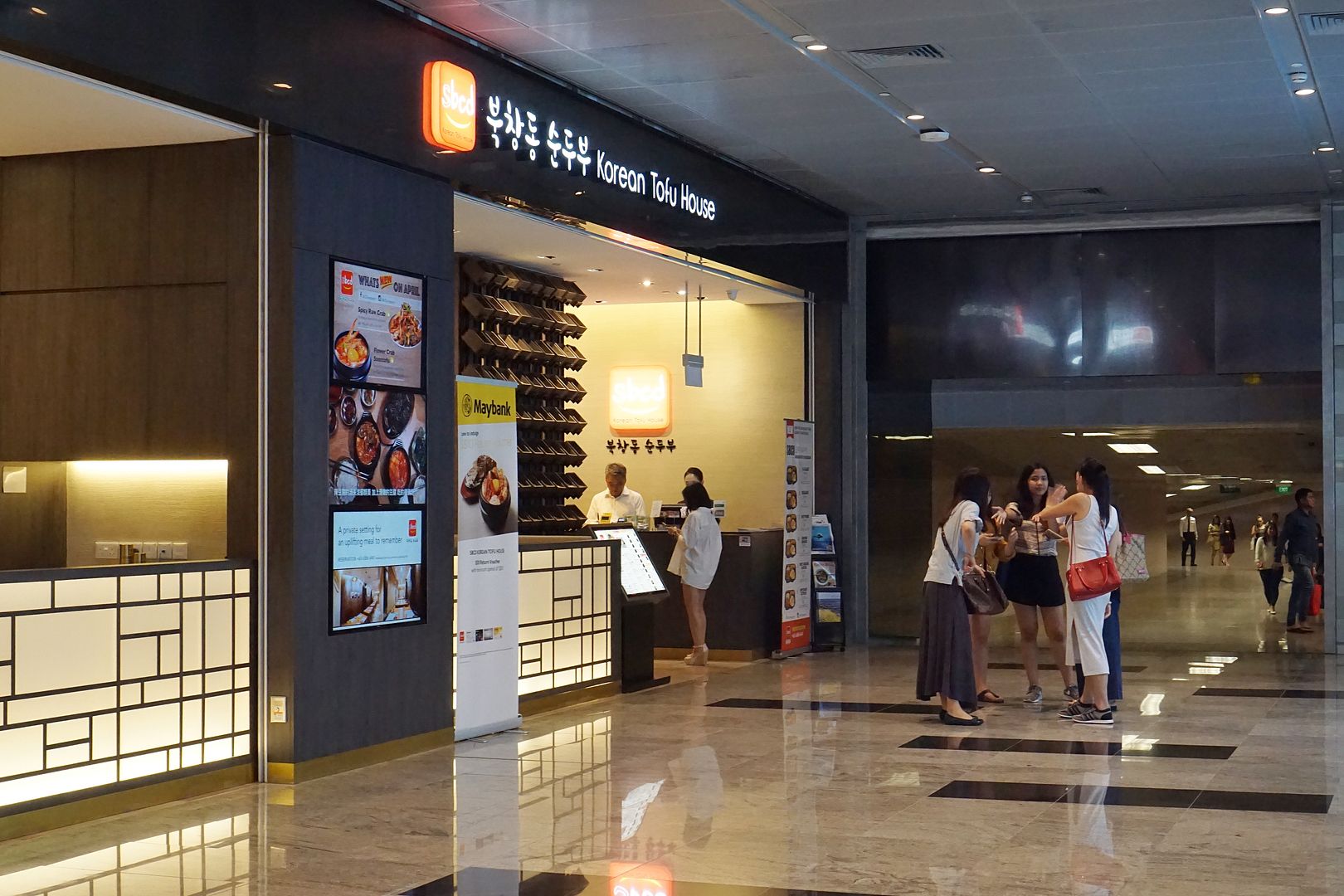 It's a big restaurant which can seat 100+ guests!
SBCD Korean Tofu House specializes in a variety of Korean soft tofu soup, where the "soon" in "soontofu" means soft. It upholds the kitchen philosophy of serving uplifting and complete meals, and every soontofu dish is created with soft and silken tofu that is hand-made fresh daily, and prepared in 4 different levels of spiciness for the broth – mild, medium, spicy and crazy hot! Zonia can't take spicy so she goes for the mild. My dad is the medium spicy kinda guy, me the spicy and my mom is the chilli queen; it's really 1 level for everyone!
amongst the health-conscious for being low in cholesterol and carb content, while being a good
source of protein and calcium. Each soontofu soup is served with an egg and individually prepared
in a rich, savoury broth along with generous portions of a variety of meat. You can choose between meat or seafood which gives you the option of clams, prawns, flower crabs, abalone, oysters! It's a party in your Soontofu!
I am a soup person!
Abalone, flower crab seafood soontofu. This is so flavorful because of the flower crab!! This bowl makes me miss Jeju so much, I remember having so good abalone there too!
Seafood and meat soontofu
Ham and cheese soontofu which tastes like army stew soup!
Sesame Soontofu for those who can't take spicy and want to taste every bit of the tofu!
SBCD serves 4 banchan which are the kimchi, seaweed, pickled green chilies and spicy squid strips and unlike most other Korean restaurants, one of the unique offerings of SBCD Korean Tofu House lies in the banchan that includes a whole fried croaker fish prepared to tender perfection. I usually do not take fish because I can't take the fishy-ness but this croaker fish is not at all, it is so tender and light. My dad- the fish lover in the family had 3!!
My favorite spicy grilled chicken!! I finished all the onions too cause the sauce is so good!
For those who are craving for a serving of some of the favourite Korean meat dishes such as L.A.
Galbi, Spicy Grilled Chicken, and Spicy Baby Octopus, they can opt to order those delicacies as a
main dish or to include them in the combo meal along with a soontofu soup of choice.
Teriyaki grilled chicken that wasn't spicy so Zonia finished most of them. My Dad and sister love this meat best.
Address: 7 Wallich Street, Tanjong Pagar Centre, #B1-01/02,
Singapore 078884
Opening Hours: Monday through Sunday 11.30am-10.00pm
Seating: Private Dining Area – 24 Seats (4 sections combined), 8 Seats (per section)
Main Dining Area – 96 Seats
Contact: 6386 6441
Email: sbcdsingapore@gmail.com