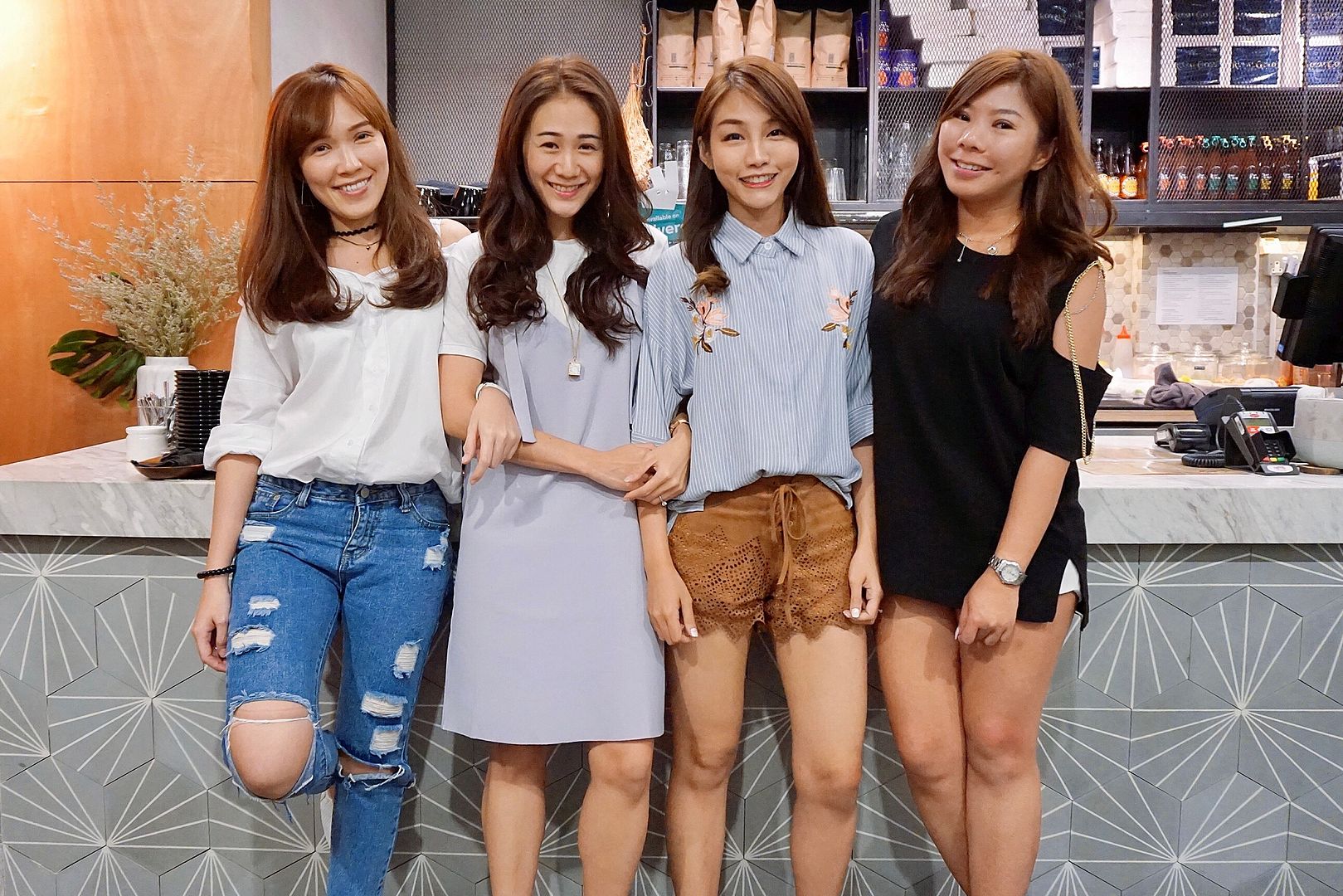 Ninja Cut for having my girl pals over, we had a great catch up!
Ninja Cut is opened by Darren Wee who also runs the forever-crowded Ninja Bowl at Duxton Road! If you find this time familiar, Darren used to be a DJ at Power 98FM! He very kindly went through why Ninja Cut came out with the new menu. And how the dishes were made because of a childhood favorite and how he grew up with these food but now elevated.

I got a refreshing coconut, lemon drink while I waited for the girls to come!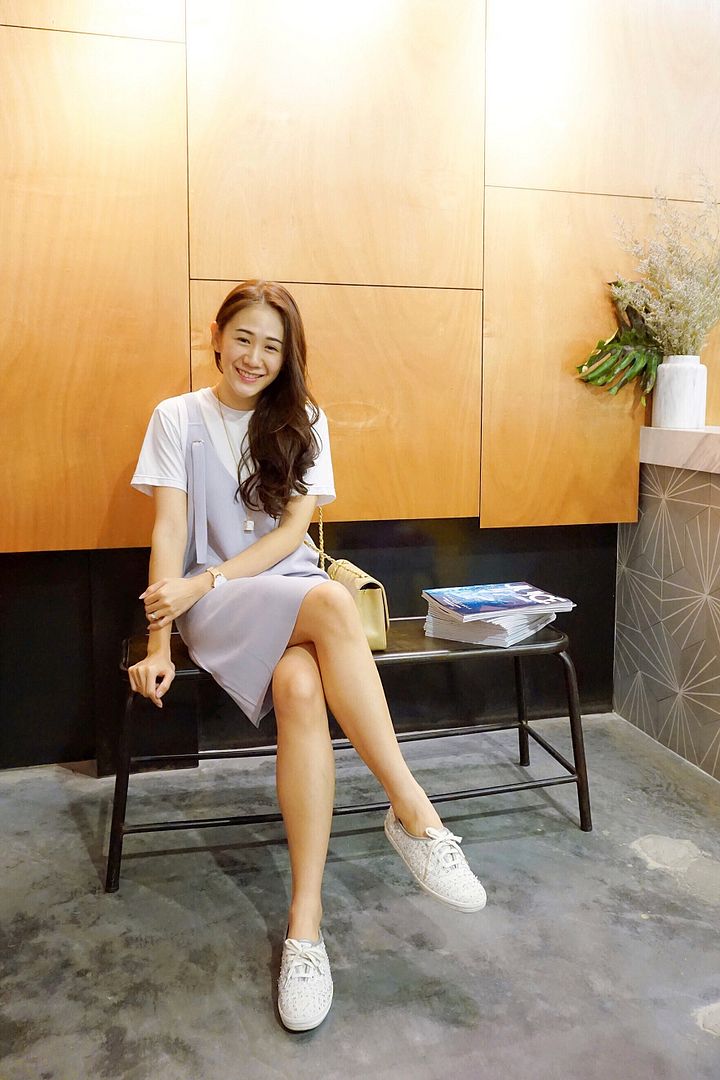 Here's our menu for the evening! We were lucky to be there on Friday which was the day of the launch of the new menu!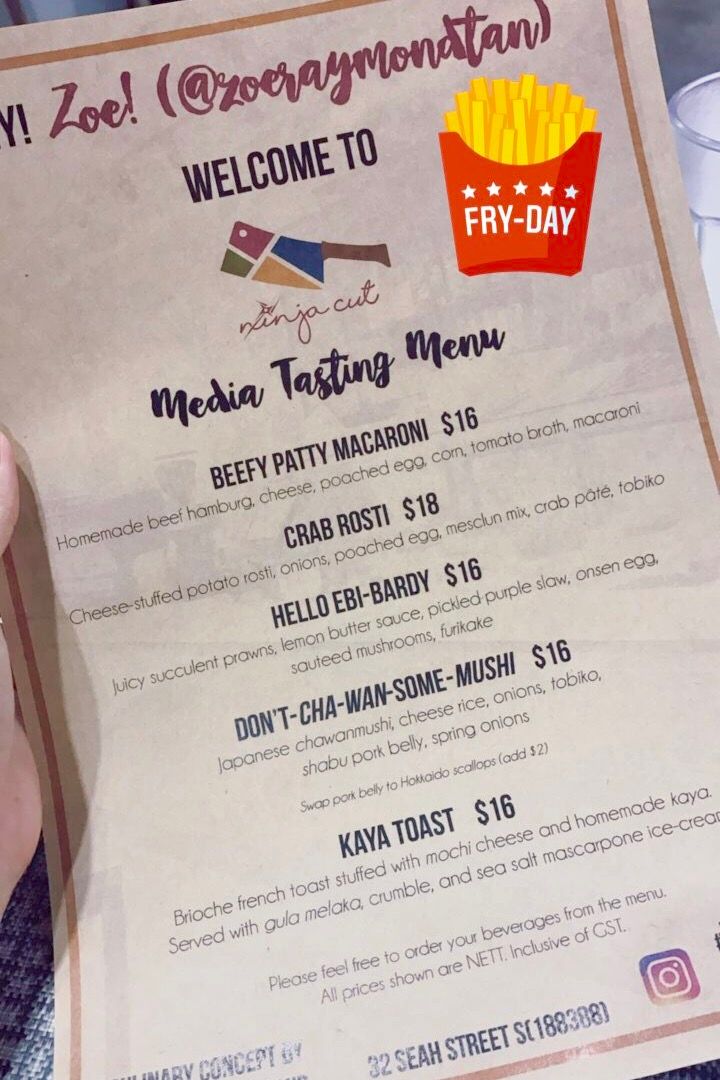 Beef Patty Macaroni $16
Homemade beef hamburg, cheese, poached egg, corn, tomato broth and macaroni. So Darren shared the story behind this dish. It was something he and most of us, Singaporeans, have pretty often at home. Macaroni. We often have it when we were younger, after we got home from school, on a rainy day. Macaroni soup can never go wrong. But now at The Ninja Cut, we get an elevated version! We really like the beef hamburg which was made of the best quality ground beef.
Hello Ebi-Bardy $16
One of the cutest names on the menu! We heard that the names were harder to create then the dishes! :P
Crab Rosti $18

Crab pate, Cheese rosti topped with poached eggs and tobiko! The rosti isn't like our usuals, The Ninja Cut added something special, that made the rosti unique and addictive! The ingredient is not on the menu, so you got to try it for yourself to find out! Cheeky!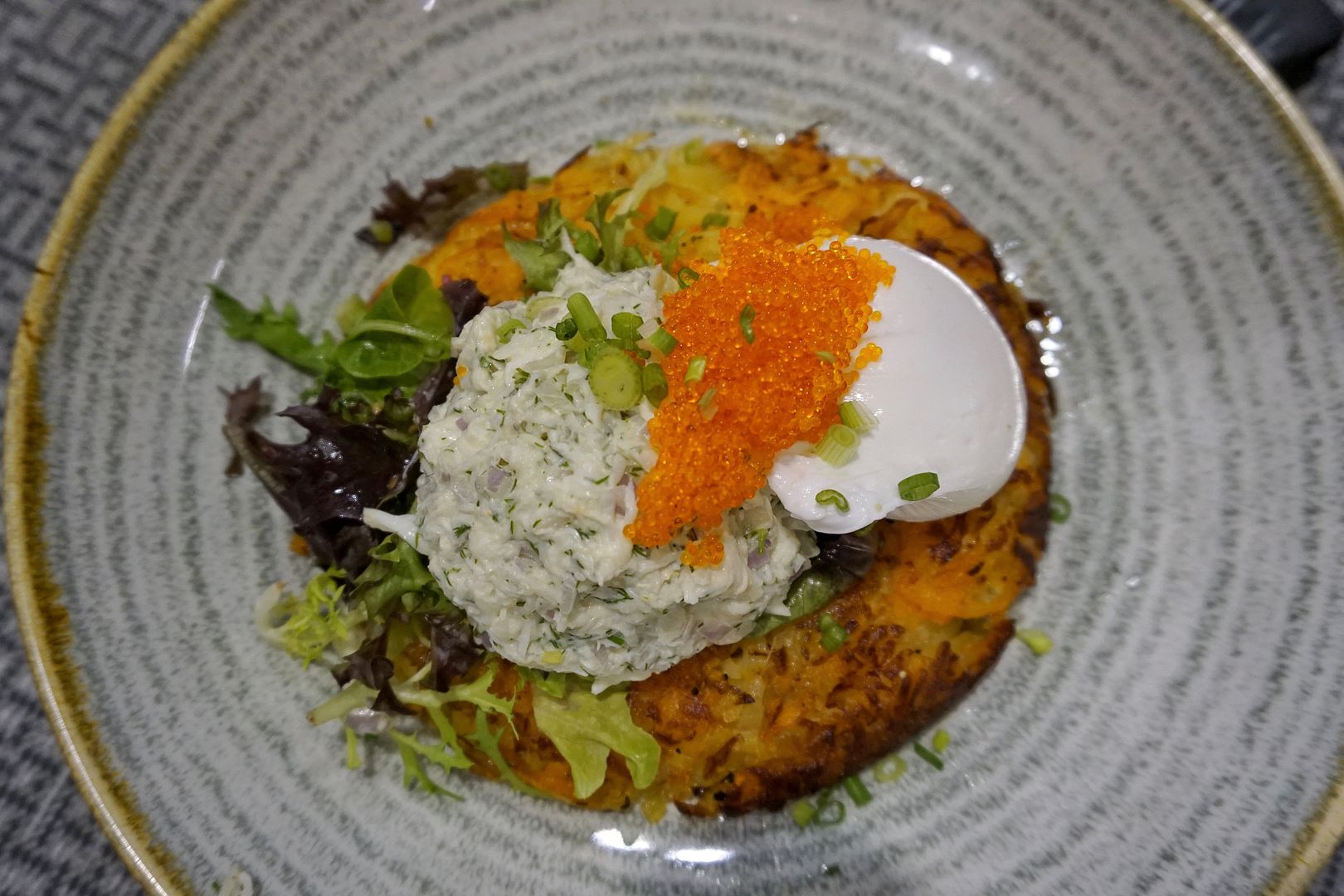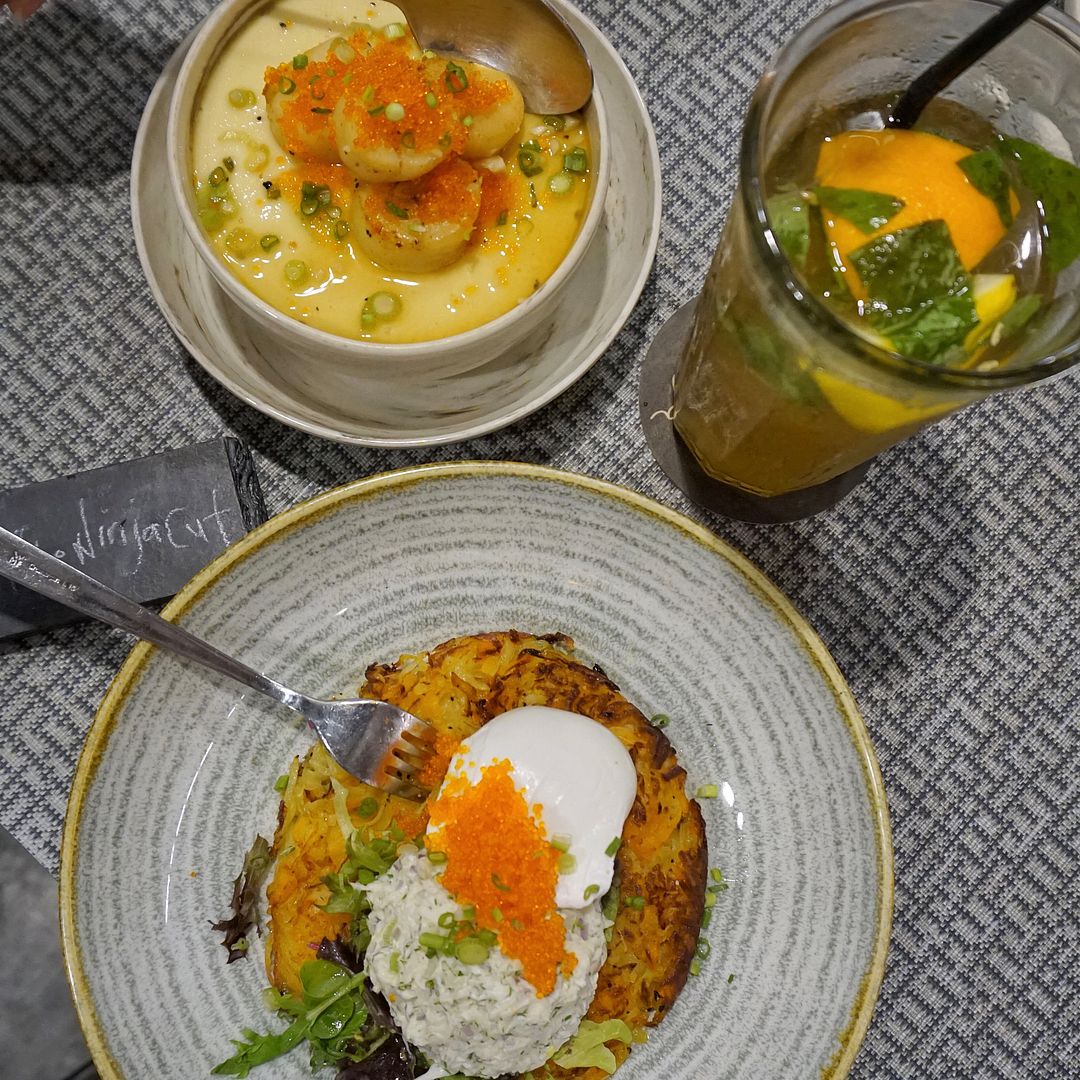 Don-cha-wan-some-mushi $16
Hot silky steam egg, and cheese, rice topped with pan-seared scallops and tobiko!
We enjoyed the steam egg but not too much the rice as it was a little too much and sticky for us. But if you like a hearty meal, this dish is for you. Non-seafood lovers can go for shabu pork belly instead of scallops!
Kaya Toast $16

Brioche french toast stuffed with mochi cheese and homemade kaya. Served with gula melaka, crumble, and sea salt mascarpone ice cream. This is another Singaporeans' favorite but 100% instagram worthy and 200% level up from our usual kaya toast. 2 to share amongst 4 girls really wasn't enough! I am a big fan of cheese so every mouth of toast with melting cheese was too good and addictive.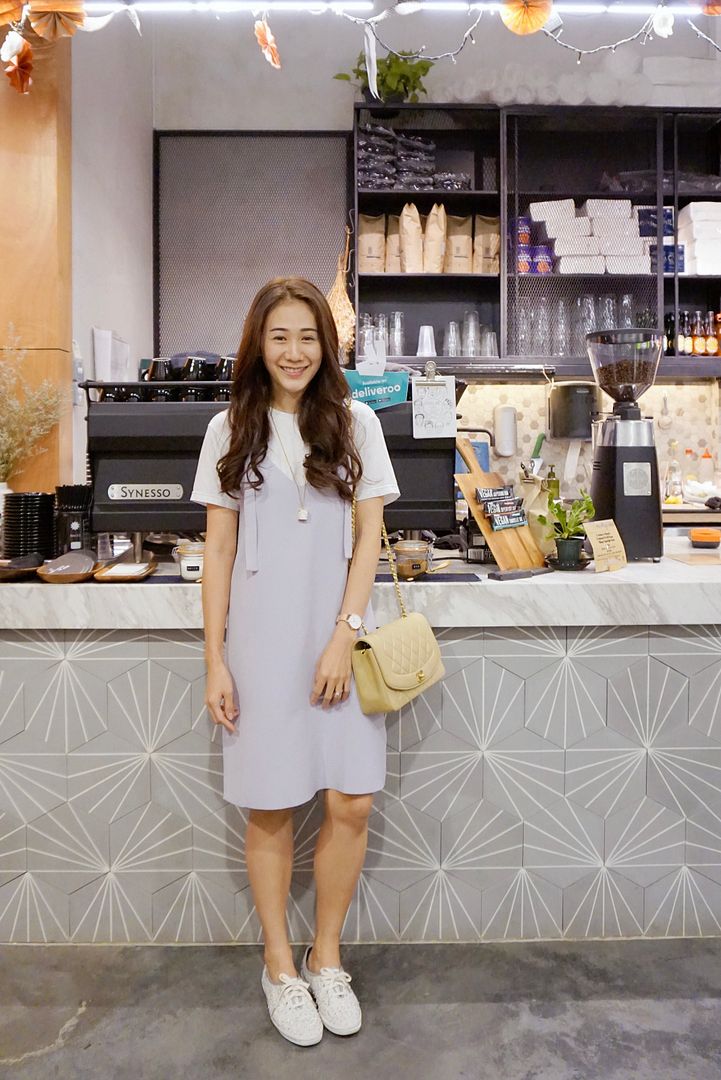 Ninja Cut
is bookable via
Quandoo
, an online table reservation with over 15000 restaurants!
Ninja Cut
Address: 32 Seah St, Singapore 188388
Opening Hours:
Monday-Friday 9.30am – 7.30pm
Saturday & Sunday 9am – 6pm
Tel: 6264 7727