I always enjoy receiving Bio Essence's skincare products because their ranges are always formulated with really luxurious and superior ingredients for my skin.
Today, I am reviewing Bio Essence's 24K Bio-Gold, an anti-aging skincare range that helps to target early signs of aging. I have just turned 27 this June and since 2 years ago, my Mom have been constantly reminding me to never be complacent and to take care of my skin. My Mom is a skincare junkie and she too, loves the Bio Essence products I have reviewed and so, if she raves about it, it is definitely worth sharing and trying!
Like the name suggested, 24K Bio-Gold contains 24K Bio-Gold, which a superior anti-oxidant that helps to fight against free radical aging!
I have been using the 24K Bio-Gold Miracle Finisher since 30 May, that makes up about 3 weeks now and therefore, I am ready to share what I love about this finisher. Complete with pictures to show you the real deal.
I still start my skincare regime as per usual. With my day cream, moisturizer and sunblock!
I apply 24K Bio-Gold Miracle Finisher at the last step of skincare!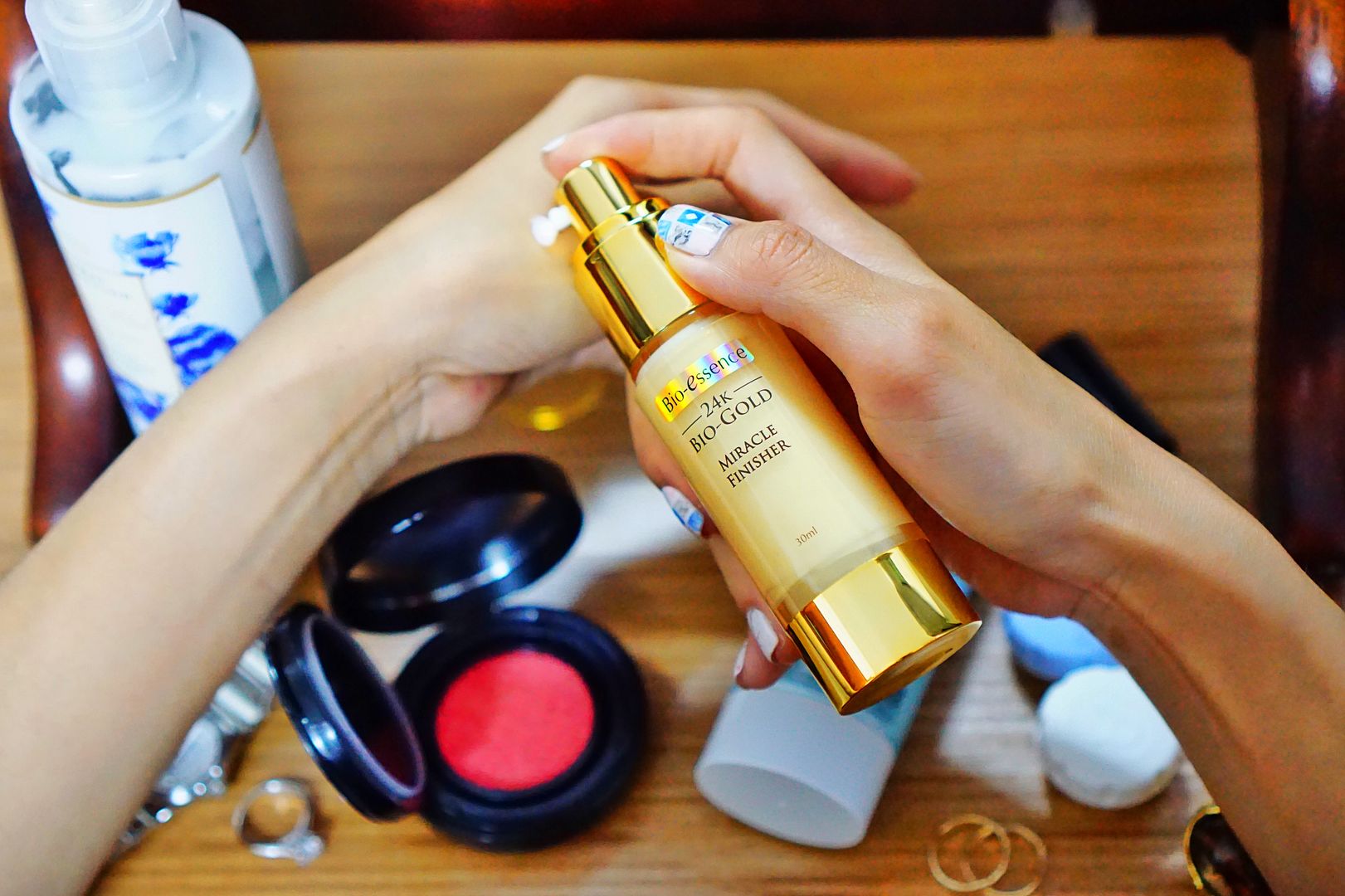 I apply 5 dots around my whole face and gently use my middle and ring fingers to evenly dap them into my face. The cream is easily absorbed and most importantly, non-sticky.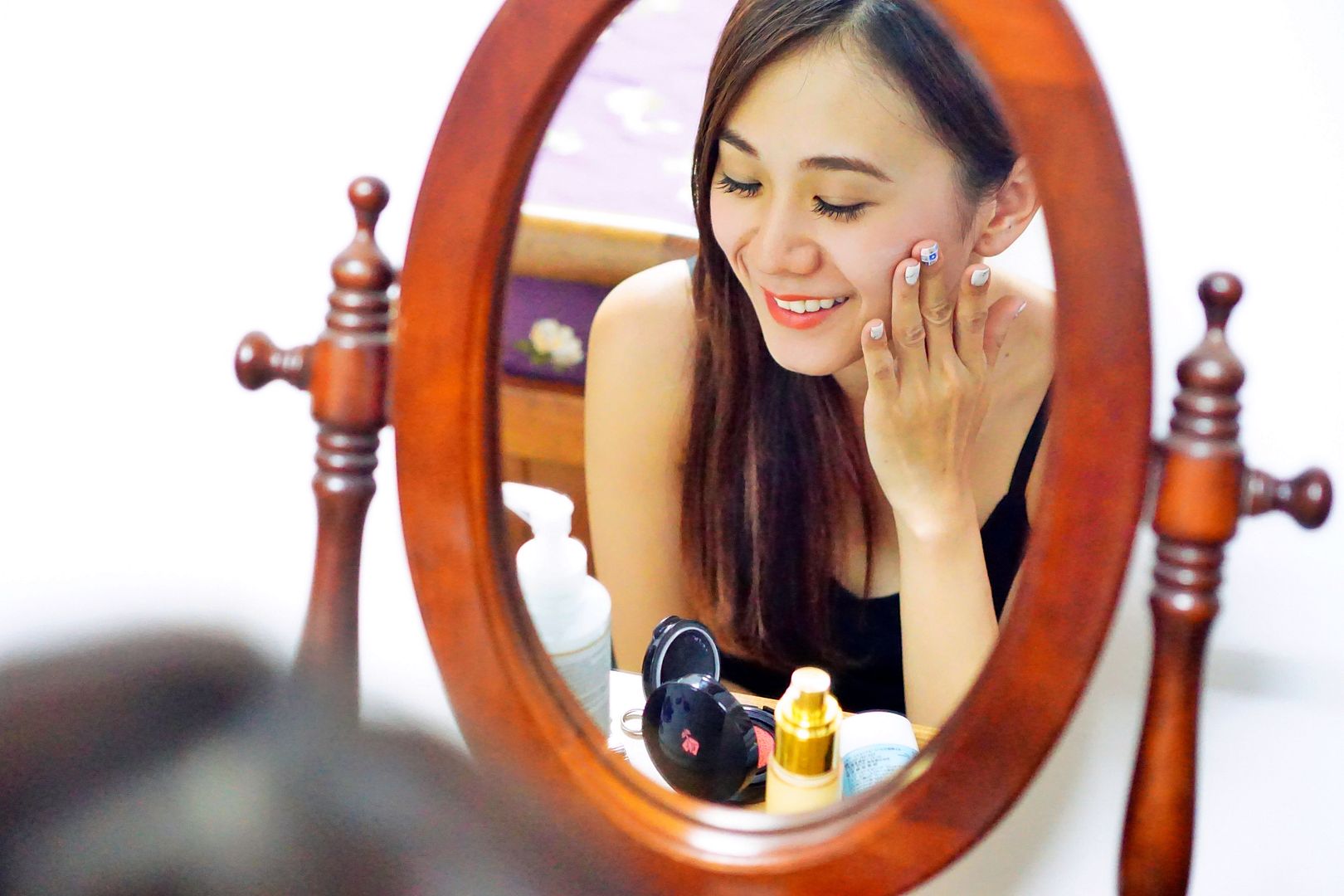 Here are pictures with 24K Bio-Gold Miracle Finisher application. I haven't put on any BB cushion/ foundation or blusher. You can tell from the unevenly colors around my eyes, my dark rings are pretty serious!
This Miracle Finisher gives a smooth, matte flawless, natural finish. I felt as if I had a light powder on after I evenly applied the finisher over the face. My skin felt smooth and I was really amazed because it was definitely a cream which I have applied earlier. How did it become lightly powered and matte?!
These pictures are not edited, you can actually see some small obvious pops on my forehead. I must have too much chips, not enough sleep and rest that week!
Like what you see? And how is it that this little gold bottle can achieve this look?
24K Bio-Gold Miracle Finisher contains real 24K Gold flakes! I have heard so many beauty gurus talking about the vast benefits of 24K Gold flakes in beauty products. I have looked at the products they have recommended and seen the hefty price tag of them. I have since a 24K Gold flakes serum priced at over $600!
So you know now why I have not got around purchasing them. But, the RSP of 24K Bio-Gold Miracle Finisher is at an affordable $39.90!
Some of the best benefits of 24K Gold flakes are:
High in anti-oxidants that helps protect the skin against harmful free radicals
Rich in trace minerals which promotes blood and oxygen circulation, improving skin metabolism and resulting in smooth and radiant skin!
Like the word Finisher in 24K Bio-Gold Miracle Finisher suggested, we apply this at the last step of our skincare regime! That is after your moisturizer!
24K Bio-Gold Miracle Finisher acts as a seal, locking in prior skincare nutrients and reduces loss of moisture!
Besides locking in all skincare nutrients and moisture, the finisher also:
Protects skin against harmful makeup and pollutants!
Gives a smooth, matte flawless finish.
Forms a protective shield over the skin to fight against free radical aging
Visibly reduces pores and wrinkles!
Helps with easy application of makeup and allows makeup to last longer throughout the day!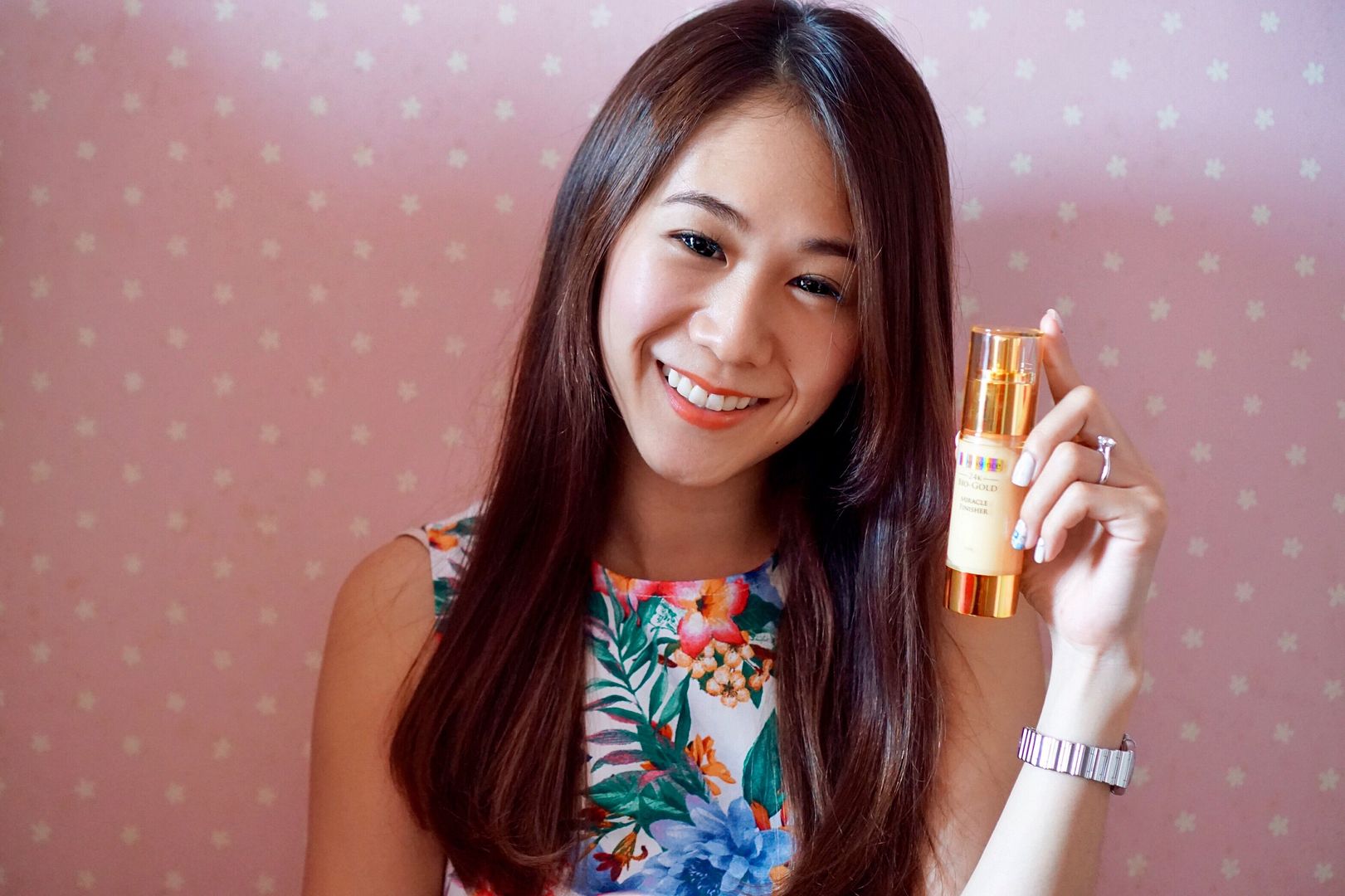 Point number 5 is one of my favorites and so I must highlight a little more on!
I took these pictures at 4PM on a weekend, after a day out.
I only touched up my lip color and a little blush. You can really tell that my skin still looked matte and my BB cream lasted pretty well!
24K Bio-Gold Miracle Finisher is retailing at $39.90 and it is available at Watsons, Guardian, NTUC Fairprice- literally available at a store near you! You can find out more over at Bio Essence's facebook page
here
!