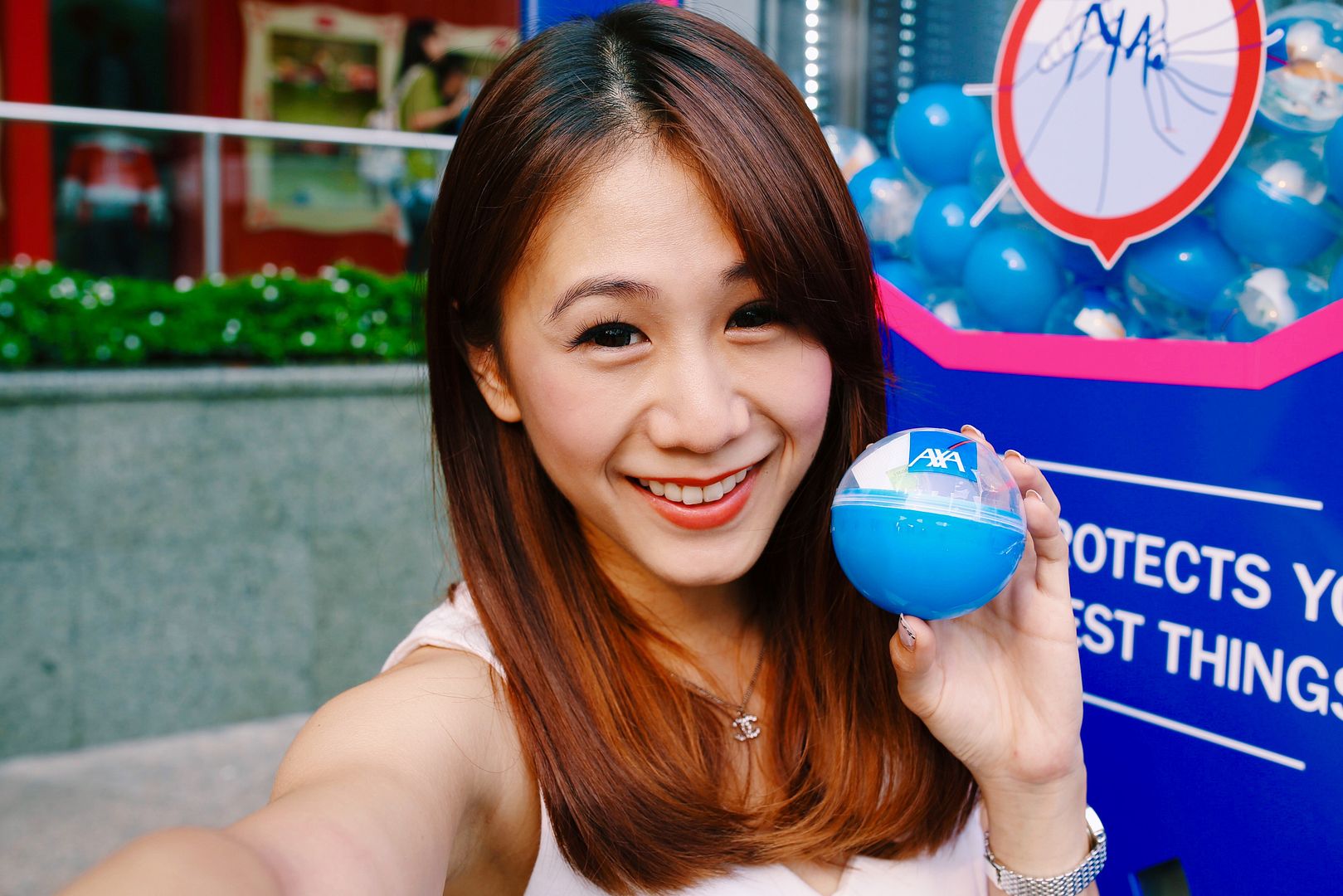 AXA Born to Protect.
As I watched this TVC based on a true story, it reminded me of my family. For the past few years, I have seen my Dad and both my grandparents being critically ill. Above this, my grandparents are in their late 70s and insisted to live on their own with a helper, there were times where they injure themselves, losing their steps and falling over.
This particular TVC shows a fire in a Japanese restaurant that wreaked the kitchen and injured the chef's arm. It then shows how an AXA Claims service manager Kenny, helps by getting to expediting his claims, getting a doctor and physio to treat the chef's arm, a social worker to help his elderly mother and make sure the renovations begun immediately.
To demonstrate this Born to Protect spirit, AXA has launched a "Safer City Contest". Therefore, we need your help to submit protective ideas on how/who/where to make Singapore a safer city! AXA will pick 3 ideas and turn them to reality!! How cool is that? Besides getting rewarded, you get to see your idea come to life and see how it can benefit others!
There are no wrong ideas, so it could be as simple as anti-slip mats in the disabled toilets or glow in the dark signages in estates like Toa Payoh and Redhill where there are more elderly people!
The first 100 entries get $30 Taka shopping vouchers! So hurry, SMS to 76677 in this format:

AXA Name NRIC your ideas

Winners will be announced on AXA Singapore Facebook page on 16 November! Good Luck!!

Wait. That's not all, AXA has brewed something exciting for us all! Met up with my best girl pals for dinner just over Friday evening! We were headed for some steamboat at Pomo and so we met up at Plaza Singapura! Coincidentally, I had wanted to drop by the huge bus stop at Plaza Singapura to check out this AXA dispenser.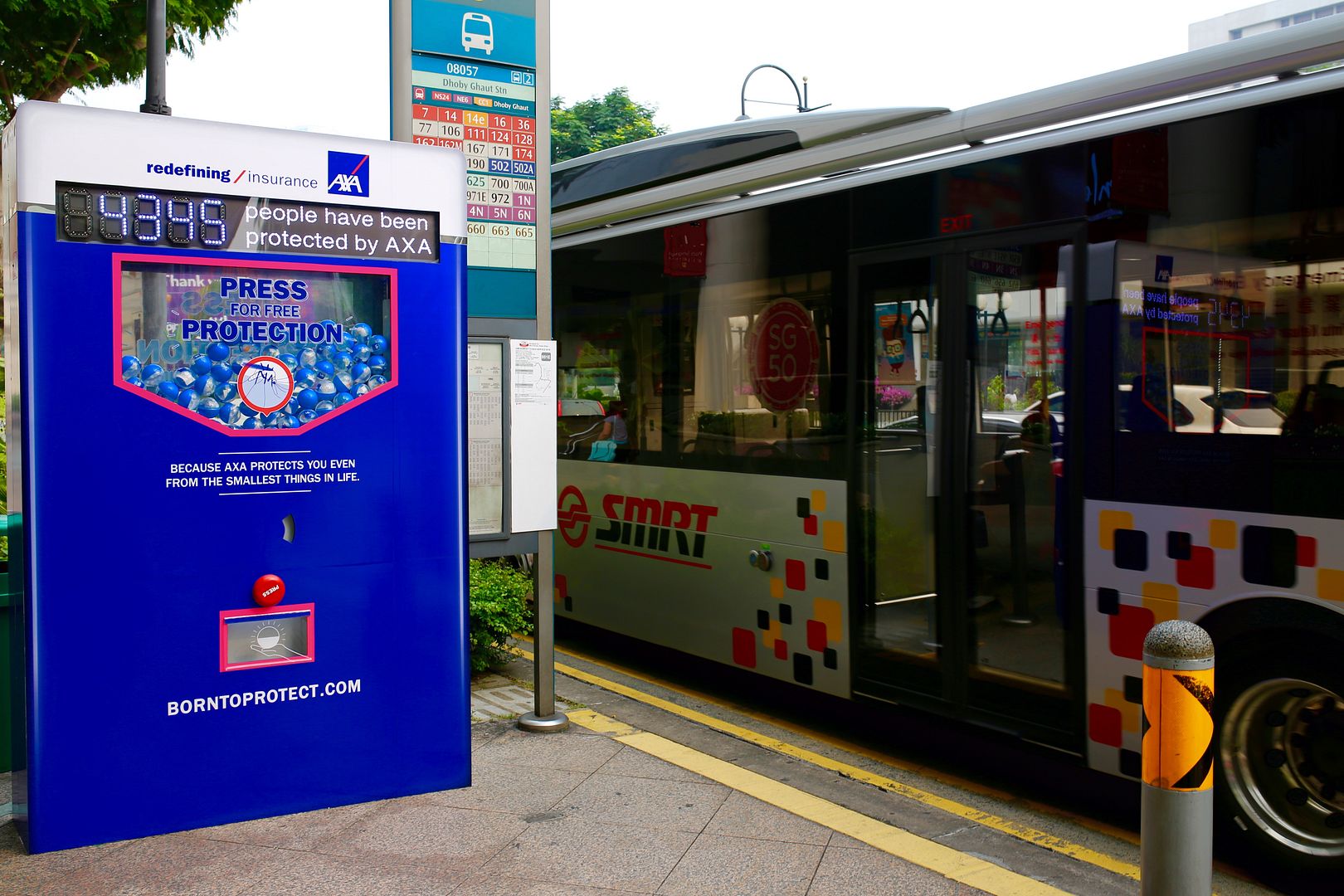 As I waited for En to meet me, it was fun people-watching. I saw how some a little shy to go up for a closer look, some getting real excited to hit PRESS for a little capsule surprise. But they all share a similar expression, they were curious of this big, blue dispenser.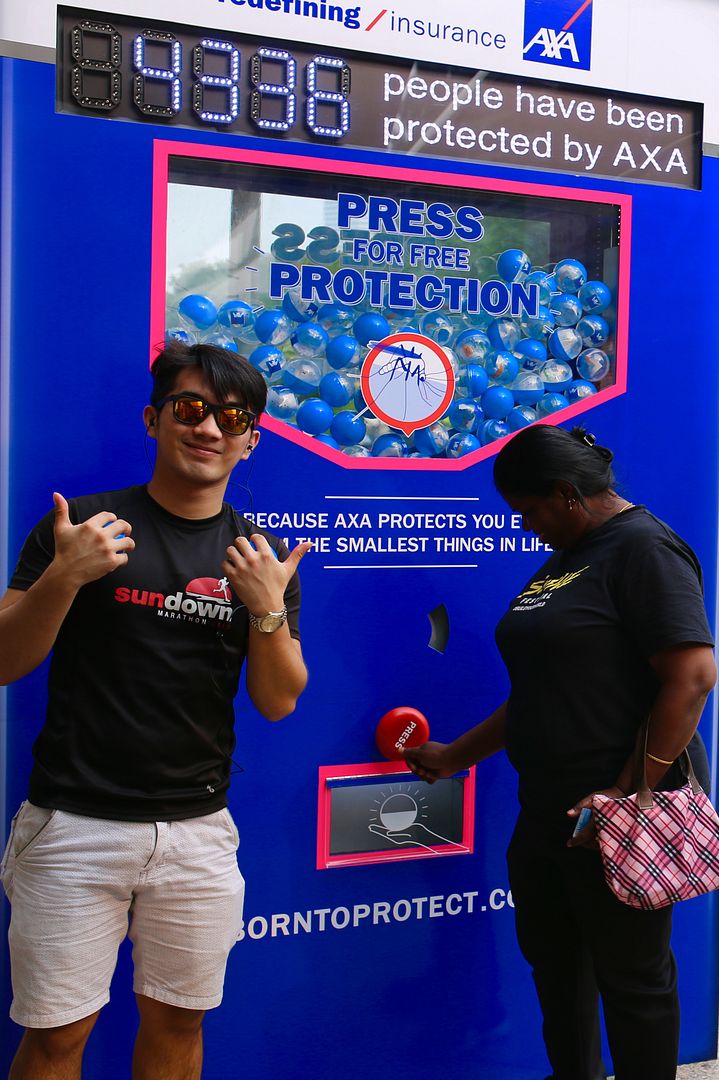 Sunshine guy who just got his capsule looking really happy here!
Auntie looking super surprised, she must be very happy with what's in her capsule!
En and I had some fun and laughter with the dispenser as well! I really love this marketing concept of the play of capsules! These capsules surely reminded us of our childhood days, spending most of our pocket money on the capsules- wasting a lot of money most of the times for we did not get the toy we wanted! But this time round, we didn't have to pay a cent and yet get something useful!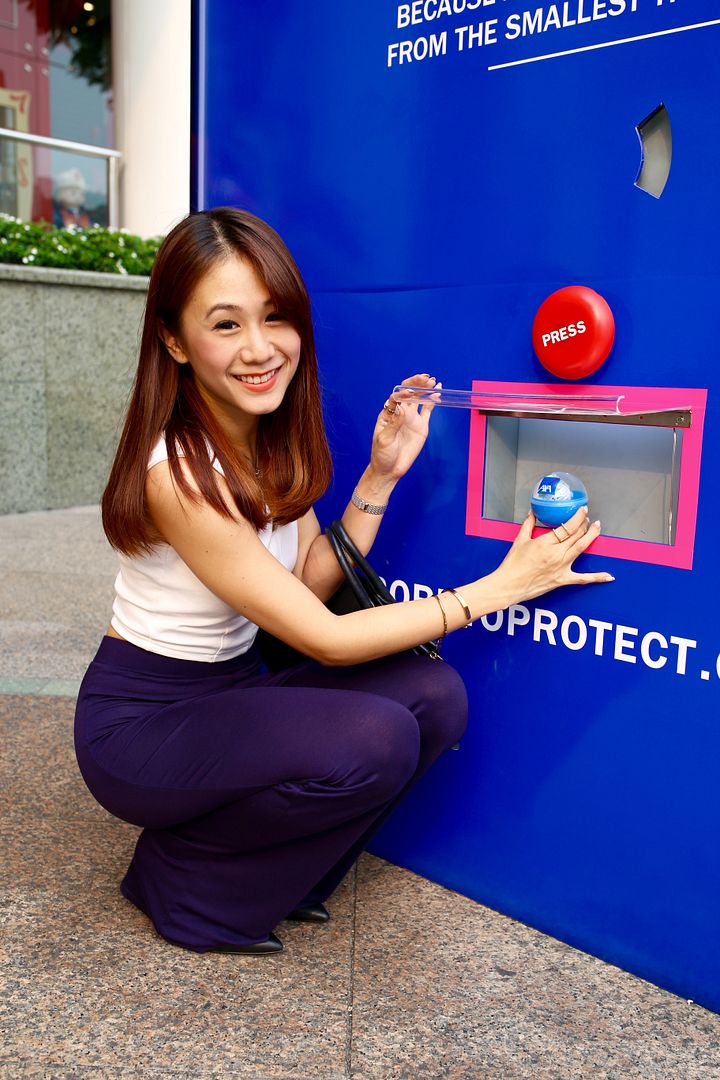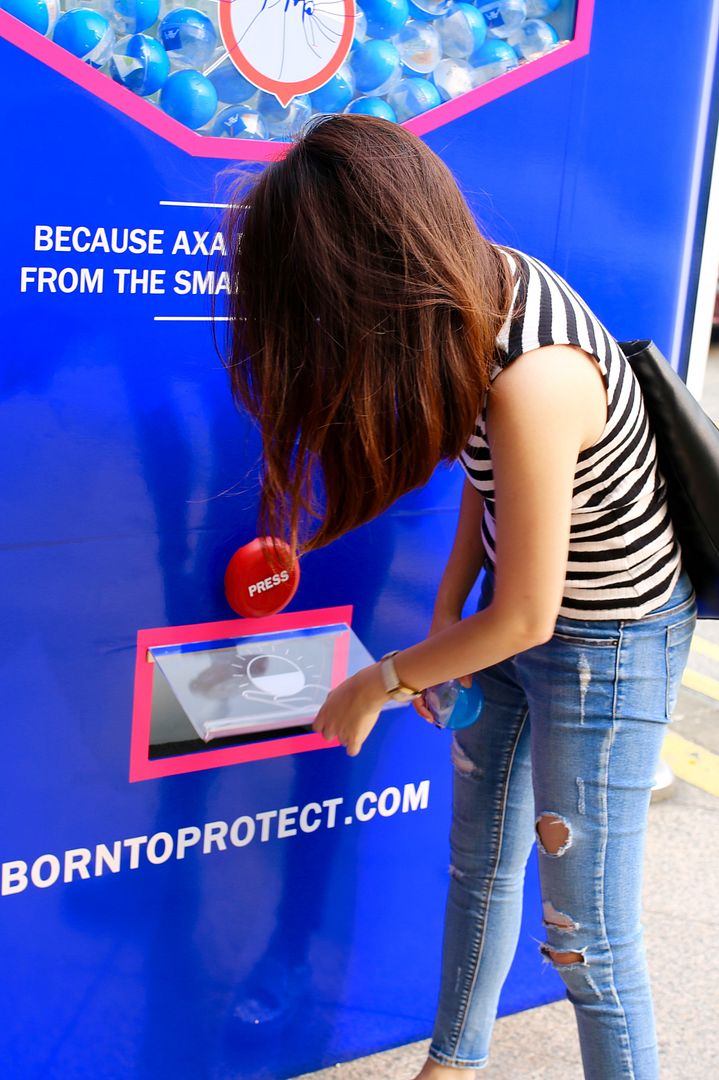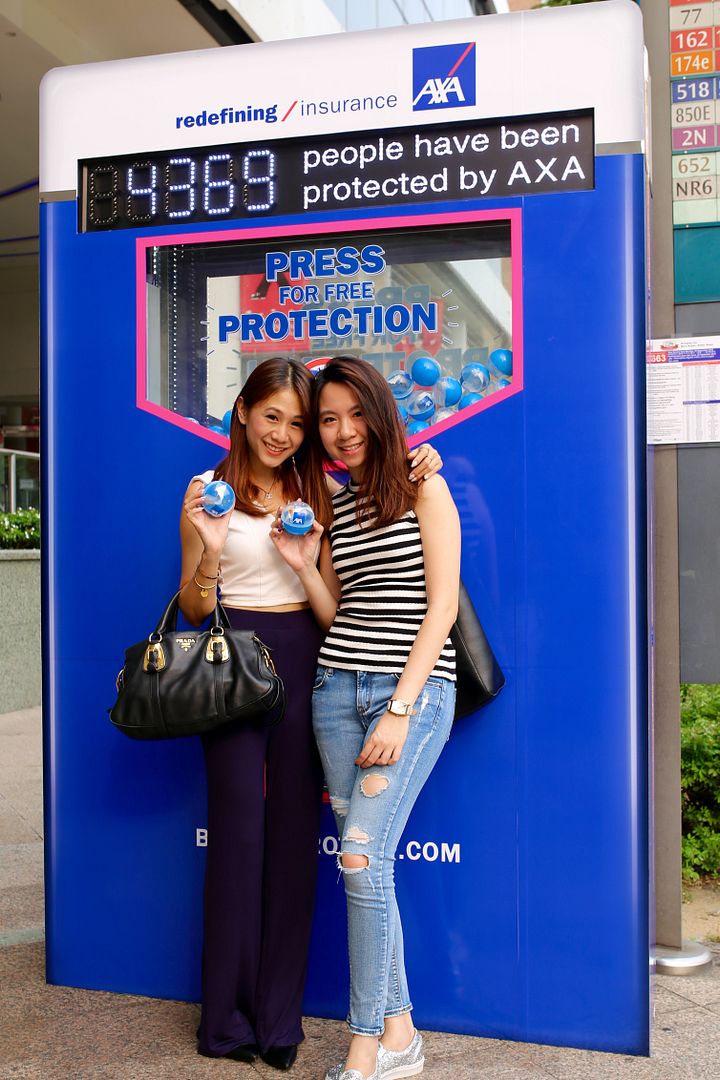 As I took this shot, my butt hit the PRESS button and another capsule came rolling out. :X
Besides this one at Plaza Singapura, AXA has transformed four bus stops' posters into mega-sized capsule dispensers!
Inspired by toy capsule dispensers in the 80s, all it takes is a push of the button on the dispenser to receive free capsules containing Band aids, Mosquito patches, Medicated ointment and cough drops!! The four different capsule items will be rotated on a weekly basis!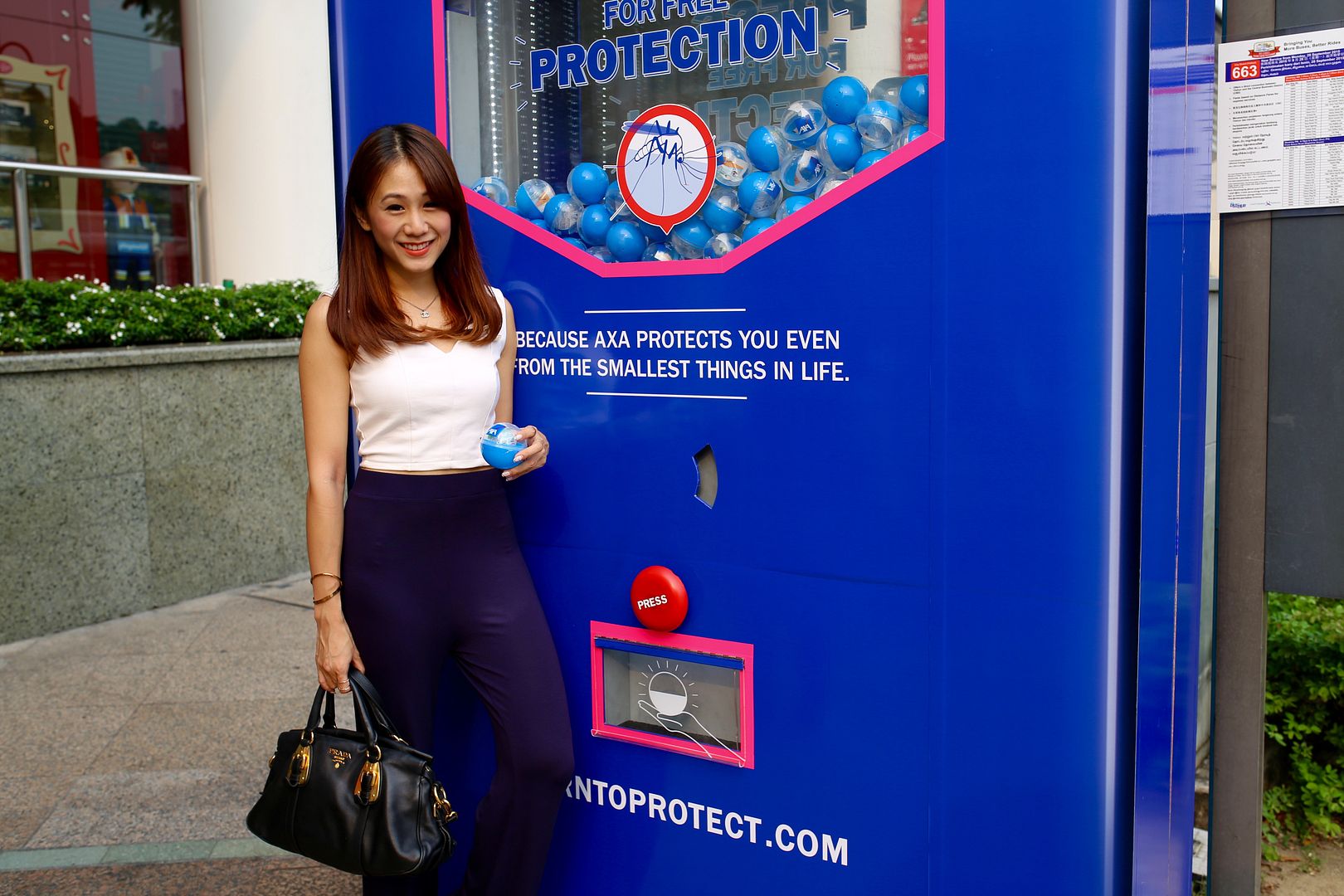 The locations of the four bus stop dispensers are located at:
Bugis Street (opposite Bugis Junction)
Dhoby Ghaut (at Plaza Singapura)
Marine Parade (beside Parkway Parade)
Church Street (beside OCBC Centre)


Head down to the bus stop nearest to you and revive your childhood capsules memories with AXA!