Always a tradition to wear red on National Day! This 9th August was no exception! I was at the Marina Barrage with fellow Singaporeans! Check out how many families & friends were there for a picnic on that beautiful Sunday! They were all there early to book a good spot for the live screening of NDP where we could actually watch the celebrations against spectacular city skyline? For those who didn't get tickets for NDP could actually catch the celebrations on the Green Roof which was just as beautiful!
It was a beautiful sight to see so many mats being laid, family and friends enjoying each other companies through kite flying, board and card games, a yummy homemade sandwich and iced drink. One of the rare times today where we put our phones and tablets away for a great day of bonding!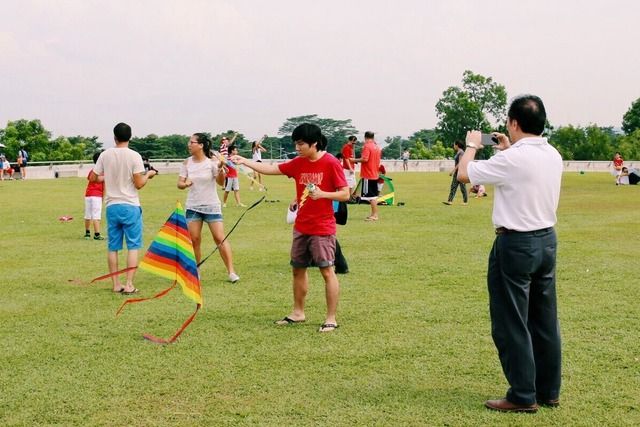 For those who headed down to Marina Barrage enjoyed carnival activities like Black Knights aerial display, performances by the SAF Music and Dance Company, food trucks, childhood games, inflatable bouncy castles!
5 stones! I recently revived my childhood at a friend's place with a game of 5 stones! We were teaching the millennium babies how to play this game. I remember how my Ah Ma used to sew them for us to play, we had extra fun playing with our favorite colored 5 stones set!
I also remember this being one of my other favorite games in school, the pick up sticks; only that these are mega long sticks!
PUB
is no stranger to National Day Parades, having been involved in the parades since the 70s.
PUB
is a statutory board under the Ministry of the Environment and Water Resources. It is the water agency that manages the collection, production, distribution and reclamation of water in Singapore.
Thank you for making us, this little red dot, self-sufficient in water.
Visit
PUB Singapore's Instagram
and
Water Chatter
for water stories!