I made lunch!
I don't know if you enjoy bitterness of bitter gourds! Cause i do! Especially when it's with generous amount of eggs. Yum yum!
Meat balls with Onions and Tomato Dressing
Bitter gourd with eggs (:
If you are planning to make these dishes. Its easy!
Bitter Gourd with Eggs:
Slice the bitter gourd thinly.
Throw the vegetable into pan with hot oil.
Fry till you see the color changes and vegetable becomes softer.
Beat eggs and pour in evenly.

Fry Fry Fry for about 3 minutes.
Serve!!!! (:
Note: Slice bitter gourd as thinly as possible. Reason is if its too thick, you will get sick of the dish after a full mouths cause its gonna be too bitter!)
Meat balls with Tomato Paste:
Boil meat balls with hot water.
Chop half an onion into small bits.
Throw onions into pan and fry before pouring in some tomato paste.
Add in a pinch of sugar.

Throw in meat balls and fry together.
Serve!!!!

Note: I ran out of food to cook, so i used the only meat i can find in my refrigerator! The meat balls i used are pork meat balls you can get from your nearest supermarket (:
After packing the food into boxes,
took a cab to Great World!
Lunch at Great World's Food court!
I ta pao the food there. And its not the first! omg.

At least i ordered Cheng Ting! My favorite sweet dessert! (: (:


New products from Dolly Wink that's not launched yet (:
Eye lash glue and eyeliner by Tsubasa Masuwaka!
Backtrack a bit, if you are aware that they came into Singapore a few months back, you would have gotten the eyelashes!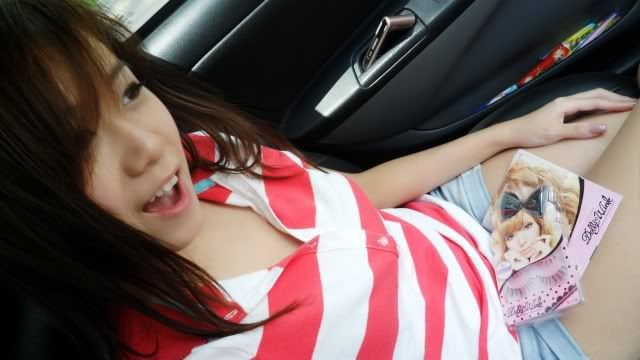 lashes on my lap! (:
Dolly Wink's Lower lashes and Upper lashes that were sold out in 1 day at Ngee Ann City's Watsons!

I'm going to start using it tomorrow! And of course, i will share too!
Really good stuff, and they are gonna be out soon! Hang on for it yea! (:
Walked Cold Storage after lunch!
someone is being annoying.
Wanting me to buy the Japanese Tuna!


snackssss!!!!! (: (:
Got this huge huge envelope in the mail!
and yes, my name written so so big!
Shilin
vouchers!
The other time before my appointment at The Nail Status, Rachel and I decided to have some
Shilin
for lunch! See
Post
.
The management at
Shilin
saw my blog entry and contacted me to mail me some vouchers! (:
My favorites are the XXL Chicken and new Plum Flavored snack!
Like my Cutesy Polka dress?
You must be Keen to see more of what Hana Secret is offering!
Here's some of the my many favorites!
Hana Secret
is having Storewide 30% Sale! And do remember to join
Hanasecret Facebook Fanpage
to get the latest updates and promotions!
The polka dress i got from
Hana Secret
is really pretty! And this dress comes in 2 other colors! To top up the cutesyness, there is a bow at the back of the dress! You won't need to use a waist belt cause the tying the bow will shape up your waist! You will love this dress so much cause it would really realllyyyy accentuates your curves!
P/s: Our part time maid is here for her first day of work!!! Gotta go! Do remember to visit
Hana Secret
!
Credits
Yuriko Black Polkadot Bustier Tube Dress:
Hana Secret