Pictures taken on the way in school, in the car!
.
.
.


Stay tuned for the next post on nails yah! (:
Headed to Von's after lecture yesterday.
I had wanted to have my hair curled, but wasnt successful. The chemicals doesn't go into my hair. And still goes straight. I have straight hair by nature, and the fineness of my hair rejects most hair chemicals.
Oh well, at least i had a good hair treatment as well as a fringe cut! (: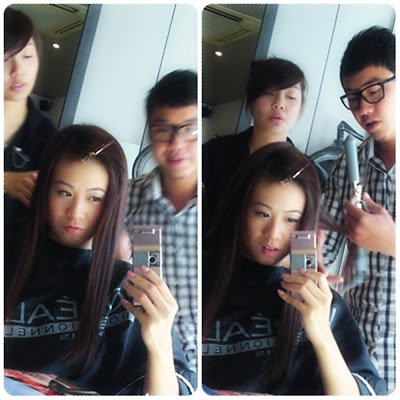 Pictures before the fringe cut (:
Many readers have visited Von after seeing the advertorial write-ups! And the rest of you should try there!
Entitled to 10% off any hair services if you mention that you're a reader of mine!
Von @ 92995052, by Appointment ONLY. Location: 34A Lor Manbong, Holland V (M.A.D Salon)
Girls, you can just drop him a text to check out the rates for his services! Von is really nice and won't bite! As many as 20 readers have been a regular with Von. My classmates are also making appointments with him even more regularly than me!
.
.
.


Since was at Holland V, headed to the Jap bakery!