Daddy is recrup at SGH, just home from the hospital. Visiting hours are over by 8.30pm.
Daddy is physically well now, so i guess this is a step forward. V told me not to expect so much, after all, Dad had just undergone a brain surgery 4 days ago.
A picture taken during Chinese New Year 09.
Before the op, Doctor said there was a 90-95% success chance. Which also meant 5-10% chance it might flop. And that Daddy will wake up at the same state. Unable to move his right hand and leg cause the left brain is affected. Left brain controls right body.
Miraclously, Daddy woke up being able to move his hands and legs which he was unable too. Which is already a blessing.
On the 2nd day, they removed Daddy's oxygen mask. What's more is, he is able to talk .
3rd day, Daddy can sit on a chair and have a proper meal. Didnt need to be on drip.
4th day, Daddy can walk without aid. He could listen to instructions.
The only thing Daddy cant do, is to speak properly. He cant express the words he wants to say. I get abit paranoid, very. Not being able to accept that Daddy was all well and kicking just few days back. It's a big difference, somewhat like he needs to learn all over again.
I need to learn to be patient. In the Neuro ICU, i can see. Not everyone is as blessed as Daddy.
Away from the chunk of words,
This was in my draft, 2 days after this event. So here's a short update on my blog.
Venue was at Jurong Birdpark. At first, Stella and i were wondering. Launch at the birdpark? HAHA!
There was a reason behind it. The function room was located where the flamingos were. So when you walk out the glass door, its a view of hundreds of the birds. Panasonic's aim was for guests to walk out the door and try out their cameras on the flamingos. I thought this was a really good take (:
Stella's and I were hired to play receptionist, launch the cameras with a short catwalk to guests and urge guests to try out the cameras. But, right after the catwalk and talk by the director, it was buffet. Everyone's focus was the delicious food. So our agent talked to the client, and soon later; we, ourselves were digging into the steak, prawns and salmon.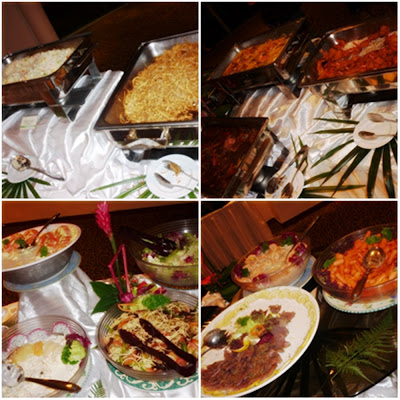 We ate for almost an hour. And after we finally finished, most of the guests have already left and the remaining ones were in little groups, engrossed in conversations. Most of them have already tried the cameras and so, the clients got Stella and I to get somemore food. Round 2. HAHA! This time we went for salads, appetizers. Totally wrong cycle eh.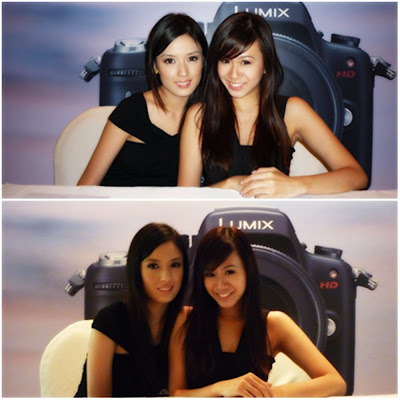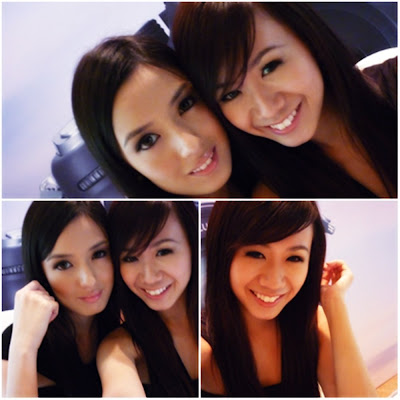 Our job, 4-8pm, past so quickly. Eat talk eat talk. One of the easiest event to date (:
And i made a promise to Stella; to meet up soon.
And!
Wont be working for Formula drift and WCG and the upcoming events. I need to be with my family.