There were so many girls asking me about the flowery top which Sheila got me sometime back! Now they are back with
MORE
!!!!
Exclusively manufactured by HollyhoqueMeasurements: 13" Across, 25" Down
Price: SGD21
Of cotton material and is double lined at the upper area.
Smocked at the back for good fitting
Holly Hoque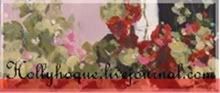 Frequent updates of prom dresses, evening gowns to bags and bikinis! A place that takes care of a girl's wants and needs.