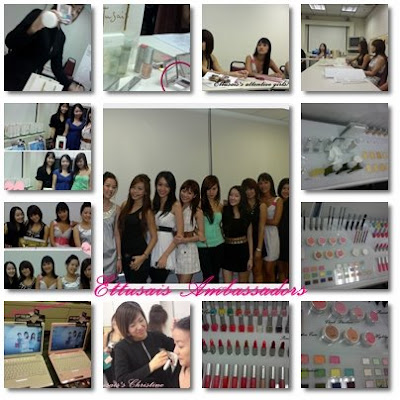 I need to share something to all my readers! I've been selected to be one of
Ettusais
Brand Ambassadors! WOOHOO!!!!
♥
Before I start gushing more, let me begin with "What is
Ettusais
"?
Ettusais
is a beauty brand under Shiseido which takes care of female consumers skin through their range of products, from skin care
(of course)
to base care and makeup.
Iris, executive for group brand marketing, had invited the 10 of us for a meet-up. There, we were enriched with beauty tips on which skin care products would cater best to our skin. Besides that, we were given a demonstration on how to apply the different kinds of eyeshadows.
Sweet and cute
,
Cool
or
Feminine
.
This is definitely something new to me! For i have always thought all different themed eyeshadows can only be applied one way!
Here's the range of
Ettusais
products we were introduced to!


As you can see, ettusais a full range of skincare and cosmetics. Not only does their skincare gives you clear & fresh skin, even their makeup cares for your skin too as they skincare ingredients in them! How cool!
♥
That's not all! Toshiba was there too!
Reason: They are the sponsors for this very event! So nice to see them again! Did a launch for them sometime back at Marina @ Keppel Bay!

oh boy, Toshiba not only has beautiful laptops, but also hot guys! HEHE!
♥
Lastly, and the most important!
.
Presenting the
Ettusais
Ambassadors!
9 of us. Sad to say Amanda couldn't get off work! ):
Model of the day, Christine. Youngest, Fidelis babe. Sizzling hot, Holly Jean. So Demure, Sarah.
♥
Zoe has this habit of washing her face the moment she reaches home;
Introducing the first product from the goody bag!
It's
ettusais
trial kit basic care (:
Three simple steps to go about;
1. Wash
2. Prep
3. Moisturize
The reason behind why it's in a soap foam is; it forces you to lather well.
The rich, creamy lather will minimize friction to delicate skin.
Cover entire face with lather.
Start with t-zone as that's the oiliest then go to your cheeks then rinse!
(Zoe does it for about 30 seconds)
Rinse of with generous amounts of water.
After drying face, dispense 2 drops into palm and apply to entire face. Once again, massage gently.
Dispense 2 drops onto cotton pad and gently dab onto skin.
1. Each wash increases the skin's resistance to pimples.
2. Skin absorbs acne skin version up moisturizer quickly, penetrates into the skin to protect it from dryness and pimples.
3. Moisturizer controls sebum, retains moisture and combats acne outbreaks!
The whole process takes
ONLY
around 7 minutes?
And if you realized, in Ettusais, there's no toners. Toners are known for tightening pores. But when it's tightened, moisturizers will not be effective as it cannot be absorbed.
They only have softeners. Softeners prep your skin so that moisturizers can be absorbed more readily.
♥
I'm starting with the
eye essence
for night, tonight! I need to do away with my dark circles! Zoe's next post will tell you if
Ettusais
's products work for me yea! (:
Stay tuned, please!
♥
I'm really ecstatic in what
Ettusais
has in store for us!
Iris said, " You girls have been shortlisted from 300 applicants! No, its 322 to be exact!"
Thank you,
Ettusais
for allowing me to be part of this journey (: