Last day in Tokyo already!!! Remember waking up feeling really low because it's almost time to go back to reality, Singapore and work. But argh, got to enjoy the last of Japan no matter what!
Last day's itinerary was visit to Tsukiji Fish Market! Regretted wearing a dress to the fish market lol because it was cold and freaking windy there!!
But my Stripes Aligned Skater Mini Dress from Hollyhoque is my new favorite and it's going off at S$17
here
!! Not many left! (:
Tsukiji Market is best known as one of the world's largest fish markets, handling over 2,000 tons of marine products per day!!! Took the train and stopped at Tsukiji Shijo Station.
Tsukiji Market consists of an inner market where most of the wholesale business and the famous tuna auctions are taking place, and an outer market whose retail shops and restaurants carter to the public. A few restaurants are also found in the inner market. I didn't wake up at 4am to visit the tuna auction held at 5am, but that's one of the main attractions at Tsukiji Market. And visiting the wholesale area is only open to visitors till 9am.

There were these 2 sushi restaurants that had a LONG QUEUE, they must be super popular to have locals and tourists queuing!!!
But of course, I wasn't prepared to queue for food. So we just went into this other sushi place which had just a few waiting guests.
There weren't many kinds of sushi available. These were all that's available. You either get them in the fixed sushi sets or individuals.
Also ordered these 2 platters individually! Both platters cost about 3600 yen (S$45). So so much fresher and each slice is so thick as compared to that of Singapore!!
Back to explore Tsukiji Fish Market!
Bought seaweed from this cute uncle!!
Wasabi plant!
Tamago!
I was looking high and low for snack shops like this cause Zonia wanted me to get her scallops. Because scallops are from Hokkiado so it's tough to find them in Tokyo.
There were 2 kinds. The individually wrapped one and the loose ones. Got 2 huge packets of the individual wrapped ones for Zonia. Each packet of 500g cost 1785 yen (S$22.50). I love my sister so much right? And guess what, the scallops are still lying at home. Fumes*
When in Japan, must eat Yoshinoya!
At the outer market is where the flagship store of Yoshinoya is situated!!! The beef bowl is so cheap there, at just 280 yen (S$3.50)!!
Yoshinoya in Japan also sells pork bowls but we do not have that in Singapore because ours are certified halal. Therefore, their menu there is so much more extensive!
My beef bowl!!
If you have been to Japan and tried their beef bowl, you would agree with me that it's 100x better than ours in Singapore. The beef is so tender and no beef-y smell at all. The meat is so fresh and juicy!!
Pork bowl
This pork bowl taste just as good as the original beef bowl. If you like your meals with sweet sauce, you would love this bowl. Again, the pork is so tender, it almost melts in the mouth.
Tsukiji Fish Market
Tsukiji Shijo Station
Outer Market: varies by shop, typically 5:00 to 14:00
Wholesale Area: open to visitors after 9:00am
Tuna Auction: open to visitors from 5:25am to 6:15am (restricted to 120 visitors/day)
In order to avoid interference with business, different rules should be followed when visiting the different areas of the market:
A basic map of Tsukiji Market: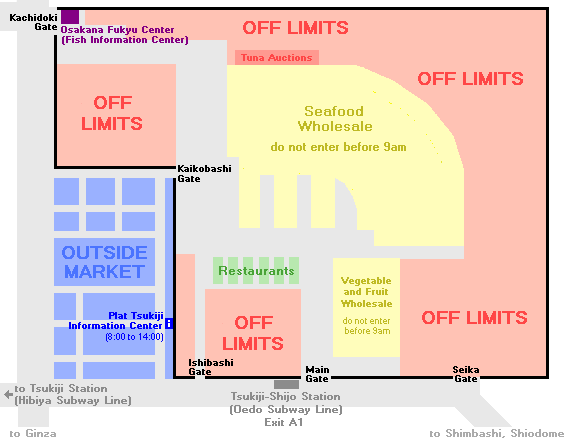 A few more general rules for visiting Tsukiji Market Since Tsukiji Market is a site where serious business is conducted, it is important for visitors not to interfere with the action by adhering to the following additional rules:
Do not enter areas restricted to authorized personnel!
Do not obstruct traffic!
Do not bring large bags or suitcases into the market!
Do not enter the market in high heeled shoes or sandals!
Do not bring small children or pets!
Do not smoke in the market!
Do not touch anything!
Ending the visit to Tsukiji Market with a picture of the toilet.
I was so urgent but scared to go to a fish market toilet. I mean, it would be smelly, wet and dirty. But I was wrong. Look at the toilet at Tsukiji Market!! So deserving a picture, right? (;
Left the market to the city! This time round, we are bounded for Isetan Department Store at Shinjuku! This Isetan outlet is the flagship store and it's huge. There are a few buildings of Isetan in the area.
Had our last meal at a random Ramen place because it was cold and I wanted something hot and spicy, aside from wasabi, haven't had spicy food for days!!
Ordering from the vending machine for the last time! ):


This ramen chain is really good! They have english menus upon request!! (:
My spicy ramen bowl!!