Crystal dear called last night and said her puppy is lost, and shes frantically looking for her puppy. Could hear how sad she was! Expected that the moment she said the puppy was lost. Crystal love animals, she takes care of dogs, husky etc when their families are on vacations. And i always tell myself silently; "You lucky dogs, got Chiobu to look after you!"
Hope the dear puppy comes home quick.
Boohoo! And i stained my shawl with oneh oneh brown sugar! ):
Wearing my sister's top which is too loose for me. But i had to, to match my skirt. WAHAHA!
Projects are starting to pile up! Gotta start to buck up, project due this coming Saturday.
My Favorite dessert that accompanied me last night! (:
And here's the part i promised my fellow Ettusais Ambassador! Jeanine, the owner of French Fleurs. I'm sure this blogshop is no stranger to most girls now!
They have brought in their new collection,
This is my pick! Love the look of this mini! (:
There's a special deal for you readers! (:
French Fleurs are throwing in
free postage
if you make your purchase for this leggings! (:
AHH Sweet!!! (:
French Fleurs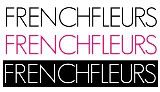 Sophisicated apparels accompanied with the word "Glam".